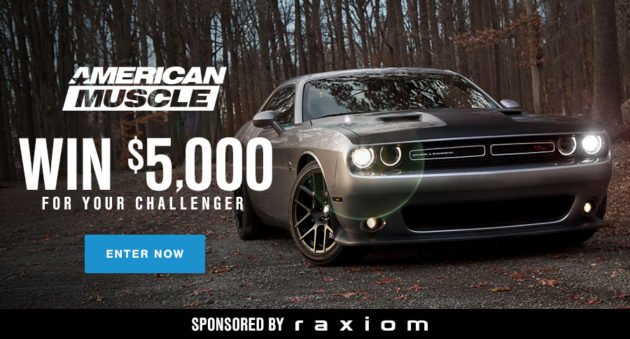 AmericanMuscle.com is just as serious about cars as they are about this awesome giveaway.
Are you the type of muscle car enthusiast who insists on adding the best of the best in parts and products that make your ride stand out?
Then you're in luck, because we were tipped off to one of the coolest, all-inclusive shopping sprees offered by AmericanMuscle.com, the number one source for muscle car parts and champions of the integral parts of American culture: freedom, power and speed.
All you have to do is enter, up to once every day, before the contest ends on December 31, 2019.
The giveaway is sponsored by RAXIOM, best known as leaders in the LED lighting and off-road performance parts categories. Even though RAXIOM is the cream of the crop when it comes to Mustang and Challenger parts, the winner of the giveaway won't be limited in what they can purchase with their $5,000. The entire catalog of AmericanMuscle.com parts is fair game. There's even a good collection of performance truck parts, well worth checking out if that's the kind of vehicle you're looking to spruce up.
AmericanMuscle.com specializes in basic parts for your Challenger or Mustang, but the selection doesn't end there. You can find side louvers, wheels, lights, and more, all available to be purchased by the winner with their $5,000 credit.
And don't forget about decals and racing stripes, the ultimate way to set your car apart from the crowd.
When you're ready, just click here if you're a Mustang owner, or here if you have a Challenger, provide the needed info, and you're officially entered.
What will you spend your winnings on?
The post You Could Win $5,000 in Muscle Car Parts Just By Entering This Giveaway appeared first on Wide Open Spaces.