YouTube: Dustin Warncke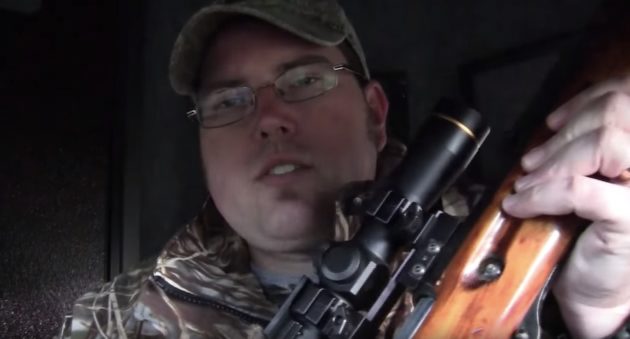 As this guy demonstrates on his hunt near Mason, Texas, the venerable Mosin-Nagant is still perfectly capable of filling the freezer with venison.
There's a certain sense of satisfaction that comes from hunting with a World War II-era rifle that could quite possibly have a lot of history attached to it. In addition to the long record of use with the military, untold numbers of hunters have taken Russian Nagant rifles afield in pursuit of game ranging from deer and moose to wolves and brown bear over the past century.
This guy mounted a Leupold scope on his bolt-action Nagant for deer hunting, but there are also plenty of hunters who prefer to use the old-school iron sights because they want a more authentic look to their deer rifle.
There's really no wrong way of doing it, though. Run of the mill Mosin-Nagant rifles like this hunter used aren't particularly rare or expensive, so there's not much to be lost by modifying them. I also sympathize with hunters who just like the look of those military surplus rifles and don't want to make any changes to them at all.
Watch the video below to see how his hunt went:
Nice shot!
The reaction of that doe after being on the receiving end of the heavy hitting 7.62x54R wasn't much of a surprise. Even so, it's still a good demonstration of what that ancient rifle and cartridge are capable of in the right hands.
So, don't be afraid of taking an old-school rifle like that afield for deer or feral hogs. As long as you do your part, you'll probably fill your tag and your freezer.
Like what you see here? You can read more great articles by John McAdams on The Big Game Hunting Blog. Follow him on Facebook, YouTube, & Instagram.
NEXT: THE 7 DEADLIEST RIFLES OF THE LAST 100 YEARS
WATCH
The post Deer Hunting in Texas With a Mosin-Nagant appeared first on Wide Open Spaces.