By Charles "Green Thumb" Drago, Editor, OEL Magazine
Original Sin happened in a garden.  Don Corleone died in a garden.  But have no fear … we can survive the gardening experience with ease and grace thanks to the tools I briefly look at below.
---
FAMARS – It's no coincidence that some of the world's best designed garden tools come from Italy, where gardening is almost a holy rite.  FAMARS, makers of some of the most coveted shotguns, rifles, and knives on the planet, offer two extraordinary examples.
The Fiore Knife and Multi-Tool is complete with sharp pruning shears, weed remover and sharp saw. Complete with a quality and durable sheath that clips right to your side, the Fiore has a hand ground blade, is hand finished, has a razor sharp edge, and is hollow ground.
The Giardino Knife and Multi-Tool has a hand ground blade, is hand finished, has a razor sharp edge, and is hollow ground.
The Giardino comes complete with an exquisite presentation box with an additional outer gift box. This knife also comes with a Certificate of Authenticity which is registered in FAMARS' historical log book. Only 600 knives have been produced.
When we're feeling our oats, we might think of our backyard gardens as urban jungles.  Stalking the wild tomato and all that.  Take it from me: I own both of these tools, they are utilitarian in use, ergonomically designed, and the perfect sidearm when taking down squash flowers for the ultimate harvest appetizer.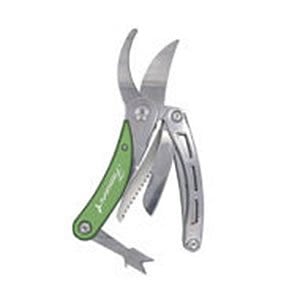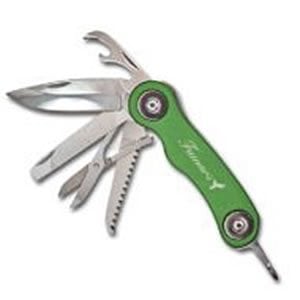 ---
Japanese Hori Hori Digging Tool – Uprooting a weed that won't give up the ghost?  Dividing flowers?  Transferring plants?  Whether the job is difficult or delicate, this durable tool with its 6.5 inch stainless steel blade gets the jobs done.
The versatility of the Hori Hori cannot be overvalued.  It can even be applied to the unique rigors of hunting and fishing.
You won't find a Hori Hori in my shed – at least not yet.  But I'm intrigued by its many possible applications, so perhaps a Halloween treat from the Great Pumpkin may be in store …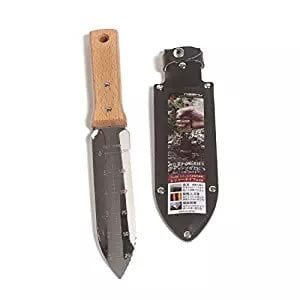 ---
Felco F-2 Classic Manual Hand Pruner – Without a pruner, you will simple lose control of your garden until, late one night, the "Feed me, Seymour" refrain suddenly becomes relevant.
The F-2 has an 8.5 inch, hardened steel blade that handles branches up to one inch thick.  The blade won't jam.  Dulling will not be noted.
Even the F-2's forged aluminum handle reflects genius with its adjustable alignment.  It's rubberized absorbs shocks.  This is the perfect pruner for older gardeners with joint problems.  And it's another tool with a peg set aside for it in my shed.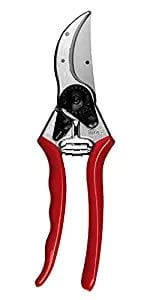 ---
The Original CobraHead Weeder and Cultivator – Weeds.  Tough soil.  Sweat.  Strain.  Frustration.  Whoever said gardening was easy?
I say it.  Because I own a Cobrahead weeder tool, I've even used it on clay, and it remains one of the most precise and durable additions to the shed.  I use it between rows of flowers, where the instruments delicacy and strength are called upon.
And speaking of strength, when a weed pops up in a crack in my cement walkway, out comes the Cobrahead.  Quarter is neither asked for nor given.
In a word: essential.
---
Garrett Wade T-Handle Planter — This half-length spade with a flat, tulip-shaped blade is all the rage with bulb enthusiasts, which may not be a surprise knowing its origin, Holland – a land where the tulip is king.
With a 21" T-style ash handle and Swedish boron steel blade, its greatest usefulness, however, could well be found with the sometime arduous task of planting, separating and thinning-out the perennials and ground covers in your planting beds.
The flat blade also makes it a handy edger around paths and features in the garden, and for removing an errant weed between bricks.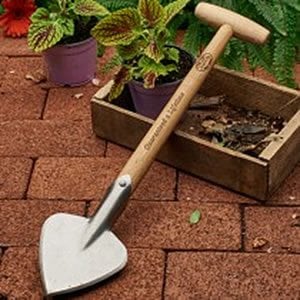 ---
Original Little Burro Wheelbarrow Organizer – No garden shed worth the name does not make room for the indispensable wheelbarrow.  But so notoriously unbalanced a conveyance often can jumble its contents and make for some big problems (crushed plants and flowers, for example).
The Original Little Burro fits over most wheelbarrows to provide a compartmentalized tray for tools and supplies. The lightweight caddy will hold up to 80 lbs. It even has individual partitions for keys, a cell phone, and a drink, and it can carry long-handled tools, a 5-gallon bucket, and seedlings. It'll cut down the number of trips you have to make to your garage or shed, which will make your life a little easier.
For the gardener who has everything?  Perhaps.  But once your wheelbarrow is outfitted with a Little Burro organizer, you'll wonder why you waited so long.