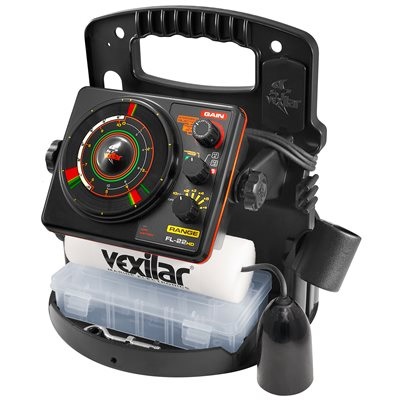 The ultimate in special purpose sonar fishing systems is here. What makes the FL-22 so special is the technical breakthrough of matching the power output and pulse length to the depth you are fishing. In less technical terms, the FL-22 was the first flasher sonar system that matches the depth range you've set to the resolution on the display so you see every possible detail in the water below. The FL-22 delivers the best target ID and target separation of any sonar system ever made!

A unique feature of the FL-22 is the six 10 foot increment range settings, with a maximum depth of 60 feet. The idea of having the available depth range matched to the actual water depth being fished can greatly increase display resolution making it easier to work lures and see when a fish is interested. The popular night fishing mode is also featured in the FL-22. By cutting the brightness of the display by 50%, you are able to comfortably view the display in complete darkness without affecting your night vision.

ORDER LINK – https://shop.vexilar.com/en/fl-series-ice-flashers/fl-22-series/fl22-ice-pro-w12-degree-ice-ducer-ip2212
The FL-22 offers two Auto Zoom zones, one for the bottom six feet and the other for the bottom twelve feet. For super-shallow water fishing, a low power mode is built-in. The FL-22 even has a Bottom Lock feature for open water use. This locks the zoom on the bottom six feet no matter how much the water depth changes. All these features still controlled with only three, easy to reach knobs make the FL-22 the most advanced sonar system ever offered by Vexilar.

Features
* Vexilar 12 volt, 9 amp-hour battery delivers long lasting power. Pack comes complete with charger.
* An FL series three-color flasher from Vexilar, the world leader in three-color flasher technology. (FL-20 shown)
* Two cable holding cleats.
* Adjustable rod holder with two possible mounting locations.
* The patented Ice-Ducer system is a self leveling transducer with float for accurate transducer positioning every time.
* Easy access to tackle box
* PC-100 case fits inside a five gallon bucket.
* Pre-drilled holes for optional accessories
* Universal transducer holder (on the back)
* Weatherproof, super-bright, 3-color LED (strong targets in red, medium targets in orange, weak targets in green)
* Flat screen Display with super wide viewing angle
* 525 segments of resolution
* Six depth ranges down to 60 feet
* Target ID of Less than 1/4 inch
* Built-in low battery indicator
* Special night mode setting for comfortable night viewing
* 6 foot and 12 foot Auto Zoom Ranges, 6 foot Bottom Lock
* 525 segments of resolution
* Two-Year warranty (One-year on battery)
* Uses all Vexilar "FL" series transducers

Specifications
* Frequency: 200 kHz
* Power output: 400 watts peak-to-peak (50 watts RMS)
* Display resolution: 525 segments
* Current draw: 200 ma at 12V DC
* Dimensions: 4.8″H x 6″W x 2.4″D
* Depth Range: Maximum 60 ft.
* Weight: 1.1 lb.
* CE Certification: A001P100713005E
The post Vexilar FL22 Ice Pro w / 12 Degree Ice Ducer appeared first on .