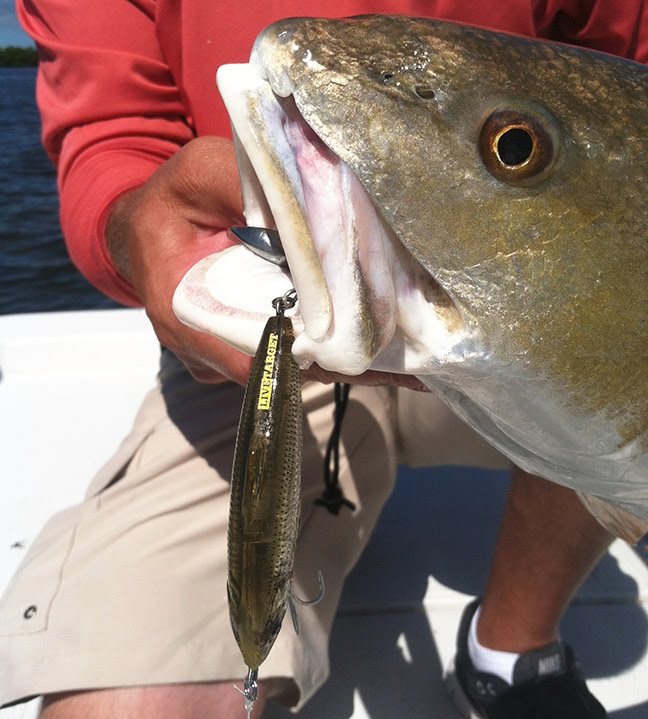 That's the simple rhythm anglers hope to experience when tossing twitchbaits to saltwater predators. During the spring season, it happens with regularity, especially over grassy flats and oyster beds where other lures dare not venture.
Once primarily a freshwater application, twitchbaits have become a saltwater stalwart over the past decade, raising both fins and eyebrows with their remarkable productivity. From the muddy waters of Louisiana to the pristine flows of the Everglades, they now serve as go-to choices when it comes to targeting inshore predators like snook, redfish and seatrout. As the spring continues to advance, they'll soon be wreaking havoc along the striper coast as well.
If you think all the hoopla over twitchbaits is because they are so effective, you're only half right. Indeed, these lures provoke strikes at an impressive rate. But there is another factor driving their popularity – they are also incredibly easy to use. Worked with a simple series of abrupt twitches and pauses as their name suggests, they can excite aggressive predators into explosive reactions or coax a wary trophy into making a serious mistake as they shimmer in place.
"No doubt about it," says Jason South, host of Florida Adventure Quest and a pro-staffer for LIVETARGET Lures. "Twitchbaits are one of my favorite artificials for working weedy flats. They are exceptionally versatile and yet simple to figure out."
During the spring months, South spends much of his time casting on Estero Bay in southwest Florida where the water is often gin clear and less than two feet deep. Depending on the situation, he'll toss either a floating or suspending LIVETARGET Scaled Sardine or Glass Minnow BaitBall twitchbait. Either one, he believes, can spark the action if fished with intensity and confidence.
"The problem with using most lures in shallow water," explains South, "is they sink right to the bottom and catch grass when you stop the retrieve. With LIVETARGET twitchbaits, however, you have the choice of floating or suspending models. Obviously, the floating bait is going to stay above the weeds and I like that for surface action when the water gets a little warmer. For the spring, however, that suspending model is tough to beat because you can dig it down to just above the grass, pause, and twitch it again without getting fouled. That means your lure is always in the strike zone, weed-free, and begging for trouble."
South generally targets redfish and snook when he ties on a twitchbait, but he'll tangle with plenty of sea trout, too. He's also managed to twitch-up some small tarpon, jacks and even a few sharks. Generally speaking, he's using the same basic retrieve no matter the desired species. That, he says, is simply two sharp jerks followed by a 4- or 5-second pause. Just repeat that tempo all the way back to the boat and let the lure's amazingly erratic action work its magic.
While that basic retrieve is proven, tried and true, there are a couple of little things you can do to make these lures even more appealing, explains South. "First off, with the suspending models, twitch your rod-tip downwards, not upwards or sideways," he recommends. "You want to pull that lure down to just above the top of the weeds. Suspend it there and you're asking to get slammed. Second, speed up your retrieve if you get a follow that won't commit. That added sense of urgency often brings a strike."
For really cautious fish that follow without sealing the deal, South suggests simply stopping the lure and allowing it to suspend for 10, 20 or even 30 seconds. As the current moves or a gentle chop rocks the boat, it will give the bait a slight shimmy and that's often enough to make a big fish pounce – especially with the Glass Minnow BaitBall suspending twitchbait since it looks like a school of nervous, tightly-packed baitfish all getting ready to bolt in unison.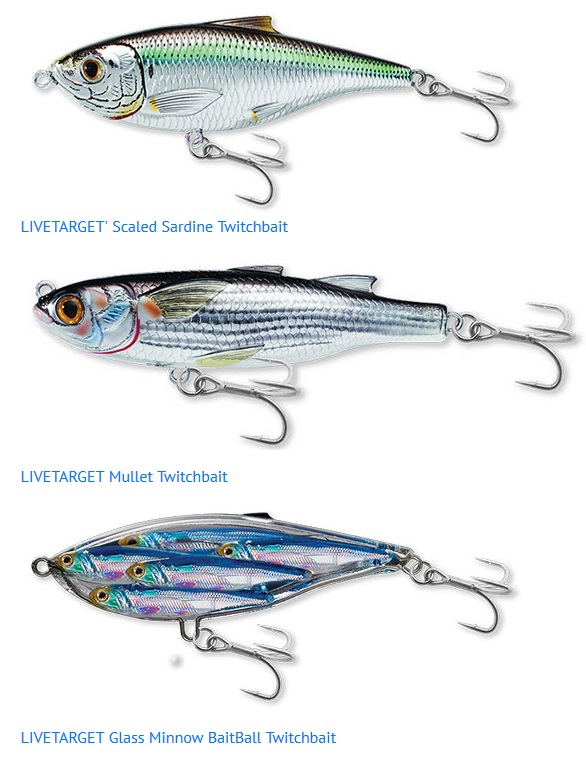 "The key with that last trick is to drop the rod tip and get as much line in the water as possible so your lure stays in place," adds South. "That done, watch the line carefully and you'll see it jump if a fish inhales your offering. Using a bright florescent braid really helps in this aspect from a visibility standpoint."
Last year, South had a monster sea trout follow his Glass Minnow BaitBall for about 15 feet without striking. He sped up the retrieve but the fish just kept the same distance behind the lure. Then he stopped it, dropped his rod tip and simply allowed the bait to sit still.
"I saw that bait flicker just slightly in the current and the big girl just couldn't stand it," he chuckled. "I mean she absolutely crushed that lure on the dead stick! There's no spoon or soft bait you could throw and do that. That fish wanted something extremely subtle and presented in a way she had never seen before. At 31 inches, she turned out to be my biggest sea trout ever. On that same trip, I drilled a 27-inch slot redfish that weighed 11 pounds, so those LIVETARGET baits can definitely catch the heck out of the big, wise ones."
Like South, Capt. Mark Brady of Florida Flats Charters is sold on twitchbaits. Another LIVETARGET pro staffer, his specialty is working up big spring seatrout on the shallow flats of the Steinhatchee River and Deadman Bay, along Florida's northwest coast. When a cold front moves through you'll find him probing for head turners on the ebbing tide. He has topped the 10–pound mark on more than one occasion.
"I love to twitch the flats during cold spells," reveals Brady. "On an extreme low tide when water temps drop to between 48 and 58 degrees, the fish get lethargic and end up hovering in small pot holes, many no bigger than a bathroom. That's when you know you'll find some big ones bunched up. I can get in there with my Blue Wave 2200 STL because it clears bottom with just six inches of water. I'll set up well off the fish so we don't spook them and throw a Scaled Sardine or Glass Minnow BaitBall Twitchbaitto hammer some brutes."
Again, a short, abrupt twitch or jerk is what you need to get those lures working just above the weeds. Get them in that zone, says Brady, and those chilled fish just grab and hold on.
"Oftentimes, you don't even feel the bite if the water is cold, continues Brady. "There's just a little extra weight at the end of the line so you set the hook and she's there. That's one thing I love about these baits; they are easy for my clients to work. They are also through-wired, perfectly balanced for suspending, and feature a weight-transfer system that lets them cast a country mile. They're perfect for what I'm looking to do with clients on board."
Both Brady and South make it a point to work their twitchbaits on relatively light outfits. Brady's favorite setup is a 7-foot, 6-inch rod matched to an Okuma Inspira 40 spinning reel that's filled with 10-pound test braided line and a 15-to 20-pound test Seaguar fluorocarbon leader. South favors a similar sized rod matched to a Tsunami Evict 3000 spinning reel, 20-pound test Seaguar Smackdown braid and 20-pound test fluorocarbon leader.
While the early season sees the action come alive on southern flats, by the time late April and May roll around striped bass will be prowling the coast from the Carolinas on up into Massachusetts. Here, too, twitchbaits are catching on. Turns out the linesiders fall for the jerk and pause retrieve just as hard as seatrout, snook and reds. There is a subtle difference however, points out South. In the gin clear waters further north – the LIVETARGET Mullet Twitchbait seems to have an edge.
"The Scaled Sardine and the Glass Minnow BaitBall Twitchbait (3" and 3.5") are a little smaller and slimmer than the Mullet Twitchbait (3.5" and 4.5") says this seasoned sharpie. "That's ideal in clear water where your quarry gets a good look at the bait. Further north, and in the muddy waters around the Mississippi Delta, the slightly larger Mullet pattern pushes more water. It makes a bigger splash, and more disturbance as you work it. That's important where the fish can't see as well because those predators need to key on sound and vibration. Either way, though, LIVETARGET has you covered."
Related:
The post LIVETARGET Twitchbaits are Tops appeared first on OutDoors Unlimited Media and Magazine.