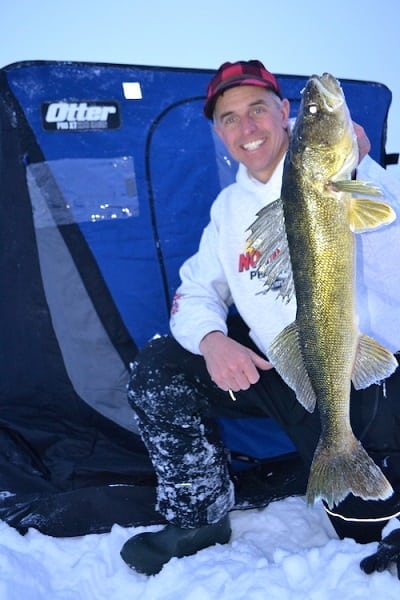 Noted fishing personality and promoter Chip Leer of Fishing the WildSide will host the inaugural Kraus-Anderson Walleyes On Ice fishing tournament on Lake Minnetonka out of Spring Park, Minnesota, Feb. 11, 2017.
Produced by the Kraus-Anderson Community Foundation, the live-release event will raise funds to increase sustainable walleye populations in area lakes, while offering participants an innovative style of competition. 
"It means a lot having Chip host this event," said Aaron Groshong of Kraus-Anderson Realty and KAWOI tournament chair. "He brings decades of industry experience to the table, and has been in Kraus-Anderson's corner since we launched our open-water walleye tournament on Lake Bemidji 15 years ago. His personality, reputation and commitment to our fishing heritage are a perfect match for the Kraus-Anderson Community Foundation."
"I'm thrilled to be involved in Walleyes On Ice," says Leer, who will emcee the weigh-in and awards ceremonies, conduct on-ice interviews with competitors and provide social media updates. "It's a different way to execute an ice fishing contest that's more in line with open-water tournaments. At the same time, they're creating a positive impact for the environment and Minnesota fish populations."
Headquartered at historic Lord Fletcher's, the Walleyes On Ice event carries a $250 entry fee and is open to 200 anglers, who will compete from noon to 6 p.m. on Minnetonka's West Arm Bay. On-ice tournament judges will measure and record walleye length, which will be used to update a live leaderboard and determine each contestant's overall weight and finish. 
Prizes including a Polaris Sportsman 570 EPS 4X4 and ice fishing gear from manufacturers including MarCum and StrikeMaster will be awarded to the top 20 anglers.
The Westonka Walleye Program is the beneficiary of this year's tournament. A non-profit group funded totally by private donations, its mission is to sustain and improve the harvestable walleye fishery on Lake Minnetonka and other Twin Cities lakes.
Leer explains that every $1,000 raised will provide 500 eight- to 13-inch walleyes for stocking. "The goal is to raise $40,000 and purchase 20,000 walleyes," he says. "If the event tops that goal, additional lakes will be stocked." Organizers also plan to address habitat issues, reduce the impact of non-native carp and other invasive species, and aid the state DNR in combating illegal poaching.
"Kraus-Anderson is committed to these causes and this tournament," says Leer. "Given the company's track record with events like its Lake Bemidji tournament, I know Walleyes On Ice will be a success."
Leer operates Fishing the WildSide promotions with more than 20 years of experience in the fishing industry. He currently hosts the Cabela's National Walleye Tour and has worked with numerous tournaments including the In-Fisherman Professional Walleye Trail, FLW and the Cabela's Masters Walleye Circuit.
Headquartered in the fishing hotbed of Walker, Minnesota, on the shores of legendary Leech Lake, Fishing the WildSide offers a full suite of promotional, product development and consultation services. Its portfolio includes the National Walleye Tour, Glacier Ice Houses, Ranger Boats, Evinrude/BRP, LiveTarget, Otter Outdoors, StrikeMaster, MarCum Technologies, Northland Fishing Tackle, 13 Fishing and Upper Mississippi Headwaters Board/Minnesota Traditions.
For more information about Walleyes On Ice and the Kraus-Anderson Community Foundation, visit kawalleyesonice.com.
CONTACT INFORMATION
Chip Leer, Fishing the WildSide
P.O. Box 1025, Walker, MN 56484
Office: 218/547-4714 Cell: 218/760-9065 Email: Chip@fishingthewildside.net
chipleer.com | facebook.com/FishingTheWildside | twitter.com/fshinchip
The post Chip Leer To Host Kraus-Anderson Walleyes On Ice Event appeared first on ODU Magazine-North America's #1 Digital Fishing Magazine.