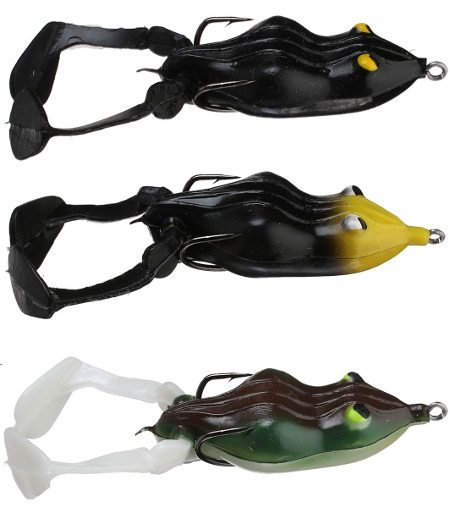 One thing you can say about this bait, it has more than two presentations that work. Developed by professional angler and seasoned guide, Bobby Barrack, the Snag Proof "Wobbletron" delivers the action and the function needed to excel around thick mats and pads. A fun and effective way to coax big fish from their hideouts, the Snag Proof "Wobbletron" features hard-kicking, segmented feet that gurgle and splash with a slow-and-steady retrieve.
Walk the Dog, Pop-it or just retrive it in like a bussbait – it will get the attention of your targets – BASS. But, don't be surprised to catch pike, musky, stripers and redfish on it.
ORDER HERE – http://www.tacklewarehouse.com/Snag_Proof_Wobbletron_Frog/descpage-SPWTF.html
As weedless as it is attractive, the Snag Proof "Wobbletron" is fitted with a custom-made, razor-sharp double frog hook that hugs tight to the body to eliminate snagging. Precisely weighted, the Snag Proof "Wobbletron" delivers bullet-like casts and lands upright every time, so you get the most out of every toss.
Available in a number of big fish colors, the Snag Proof "Wobbletron" delivers a fresh, new frog design that big bass can't help but crush. 
The post The Multi Use Frog From Snag Proof – The Wobbletron appeared first on ODU Magazine-North America's #1 Digital Fishing Magazine.