YouTube/Franchi Firearms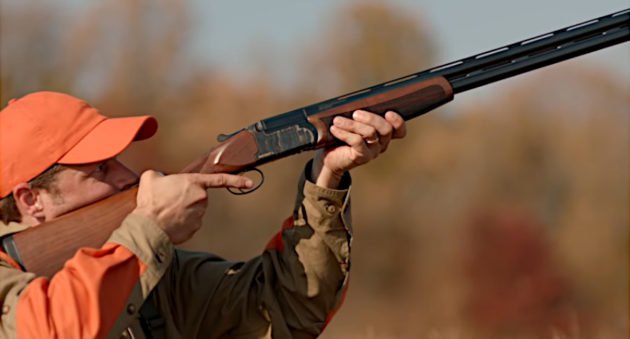 Here are some of the best upland bird shotguns you can buy.
Upland bird hunting seasons are a time-honored tradition for many states. To hike the fields after our favorite game birds is to practice a custom done for generations, that ebbs and flows with the status of wild bird populations that, in many ways, represent their habitat as sustainable or not.
The one thing upland hunters agree on is the need for a good gun. If you're interested in a new shotgun this season, we have some recommendations. These guns fit a variety of birds and hunting styles.
Whether you're looking for a side-by-side, over-under or a semi-automatic, you'll be dropping a lot of birds this season with one of these guns.
Browning Citori
We've praised the Citori several times in the past as one of the best-looking over and under shotguns on the market today. But it's also a high-performance upland game killing machine.
The Citori has a 28-inch barrel and comes chambered in both 12 gauge and 20 gauge, making it a versatile weapon that is at home in both the field and on the sporting clays range.
Savage Arms Fox A Grade
If your style is an old-school side-by-side, the Savage Arms Fox A Grade is one of the best options on the market. It's a little pricey, but this is a gun that should hold its value as it is passed on to children and grandchildren.
It comes chambered in either 20 or 12 gauge. With the latter option you have a choice of a 28- or 26-inch barrel. It has a 14.5-inch length of pull and a beautiful walnut stock.
Stevens Model 555
Here's an ultralight upland shotgun option at a great middle price point. The heaviest Stevens 555 weighs just 6.2 pounds, perfect for those long days walking the fields following your dogs and bagging pheasants.
The Turkish walnut stock is gorgeous and is offset nicely by a matte black/silver finish. This firearm has a tang safety that also acts as a barrel selector. The Model 555 comes in a variety of gauge options including 12, 16, 20, 28 and even .410.
Stoeger Uplander Side-by-Side
This one's a solid option for upland hunters on a budget. The Uplander is just $400, but it comes with some nice features like a tang-mounted automatic safety and modified screw-in choke tubes for both the 12 and 20 gauge models. This is a simple, no frills firearm designed to get the job done.
Benelli Ethos
If you're looking for an upland hunting autoloader, the Benelli Ethos is a good choice. It's a sharp-looking firearm with its satin walnut stock and nickel or blued finish. It's also very light at around 6.5 pounds, which is a factor to consider if you're going to be walking all day in pursuit of woodcock, pheasants or more.
You get a lot for your money here with a hard case, extra chokes and a shim kit to adjust the stock coming standard with every Ethos. The gun comes in 12, 20 and 28 gauge.
Remington 870
The Remington 870 is a classic "all-purpose" gun that you can use all year-round for just about any species you can think of from quail to waterfowl to big game like whitetail deer. It comes with either a 26 or 28-inch barrel length, a vent rib barrel with modified choke and a wood laminate finish that is resilient to the elements.
I own one of these myself. The only downside is they are a little on the heavy side, but you do get a lot of bang for your buck with a price close to $350.
Winchester SX4
A semi-auto upland gun option with a durable synthetic stock, the Winchester SX4 is designed for extremely smooth shooting. This gun features a self-adjusting active valve gas system, an improved recoil pad, three choke tubes and TRUGLO fiber-optic sights.
This is a 12 gauge shotgun with an option for a three or 3.5-inch chamber. That longer chamber means you could use magnum turkey and goose loads out of this gun to get more for your money. This is also a good skeet shooting gun.
Beretta 686 Silver Pigeon
This gorgeous Beretta 686 Silver Pigeon over and under really pops thanks to the blued barrel and nickel receiver offset by a walnut stock. Your friend's eyes will be green with envy.
This gun comes with an extremely low profile and is built for speed. It's perfect for small, fast-moving birds like woodcock or snipe. It comes with an interchangeable choke tube system and a safety that doubles as a barrel selector.
The Silver Pigeon comes chambered in 12, 20 and 28 gauges. There is even a .410 option available.
Franchi Instinct L
Italian gunmaker Franchi has been in business since 1868. It's safe to say they've learned a thing or two about building a quality shotgun since then.
The Franchi Instinct L comes chambered in 20 or 12 gauge and features a fiber optic sight, gold-plated single trigger, vented ribs and checkering on both the Prince of Wales walnut stock and forend. Another bonus of this gun is that you can use most Beretta chokes interchangeably with it.
CZ Redhead Premier
CZ-USA has built up their reputation in recent years for their ultra-reliable handguns in recent years. But some people forget they make incredible hunting shotguns too. The CZ Redhead Premier is one of them.
Chambered in 12 and 20 gauge, it features a one-piece receiver that is CNC-machined. The chrome finish of that receiver looks great with the Turkish walnut stock. This is also an ambidextrous firearm with automatic ejectors and five choke tubes standard. Not bad for just under $1,000.
Ithaca Model 37
You can't go wrong with a classic. When a model originally designed in 1937 is still being made 82 years later, they did something right!
The Ithaca Model 1937 is an all-purpose gun and is often sold with a ventilated barrel for birds and a rifled barrel for bucks. This gun features a unique bottom ejection system which makes it ambidextrous right out of the box. The receiver is a single piece and features a 4+1 capacity. It's a little heavy at 7.6 pounds, but you can rest assured most every bird you target will be a dead one.
Mossberg Silver Reserve
O.F. Mossberg's company came to fame for their pump-action and semi-automatic guns, but Mossberg does make a fine over and under that is budget-friendly at around $660.
Mossberg offers the Silver Reserve in 12, 20, 28 and .410 bore. You can get it with a fixed choke or with a set of five interchangeable ones. The vent rib barrels feature bead sights and will swing well on your favorite game birds.
For more outdoor content from Travis Smola, be sure to follow him on Twitter and check out his Geocaching and Outdoors with Travis Youtube channels. 
NEXT: SHOOTING SPORTING CLAYS AND WHY ITS MAKING YOU BETTER
WATCH
The post The 12 Best Upland Hunting Guns Available appeared first on Wide Open Spaces.