Mossy Oak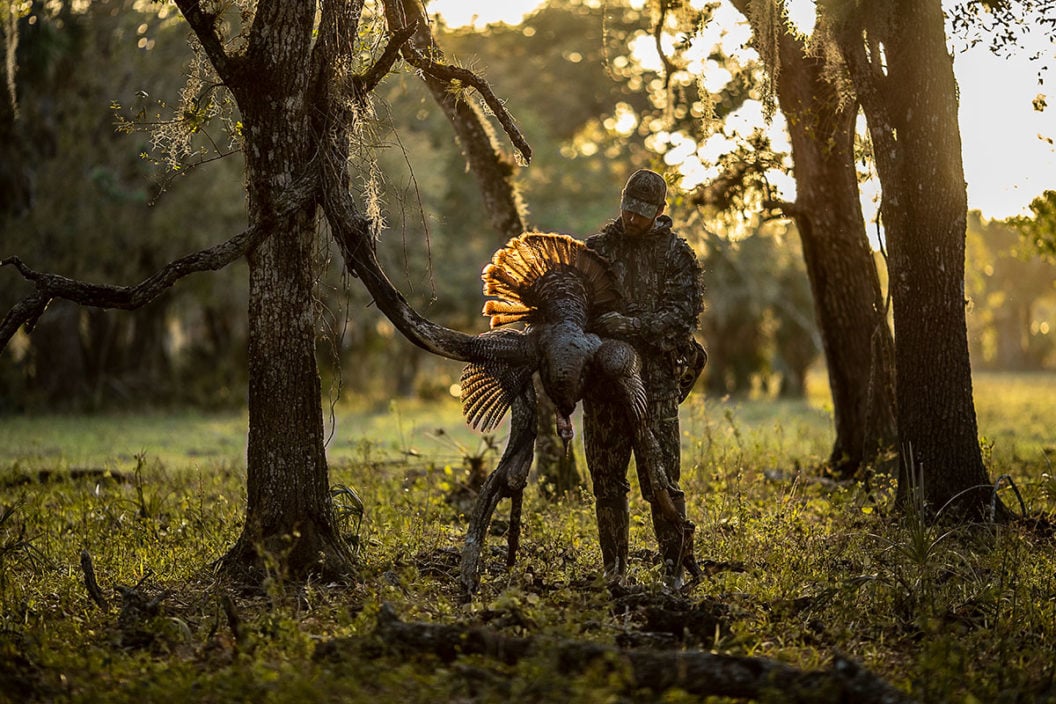 Here are some of the best options when considering camo patterns on spring turkey hunting apparel.
Remember last year when you were turkey hunting and got busted by that sharp-eyed Tom? Well, so does the rest of the turkey hunting nation. Since you're not alone, we can safely say that it has likely happened to everyone who has ever chased the wily gobbler and failed despite their best efforts.
One of the basic reasons why we turkey hunt is to prove to ourselves that we can outwit and outlast our feathered foes with our brains and our technology, but in the end we all eventually lose to… a birdbrain.
Faced with these facts, it then behooves us all to take stock of our turkey hunting gear to decide what if anything needs a closer inspection. We have our favorite firearm, our best choice of ammo, and a call that mimics the real thing, so what's left?
Camouflage, that's what.
Wild turkeys not only see three to four times better than human beings, but they can see color as well. Their eyes not only detect a human's slightest movement, but they see it in a vivid, three-dimensional perspective just like we do.
It's important to remember that one camo deemed perfect for a certain environment or hunting style could be totally useless in another. You know your surroundings, and therefore which camo pattern will conceal you best.
Don't let our suggestions get misconstrued into rankings, or a declaration that one is better than another. The best camo for spring turkey hunters is what works best for them and their hunts.
With so many good camo companies to choose from, let's look at some from leading brands Mossy Oak and Realtree that have stood the test of time, not to mention a wild turkey's eyesight.
This pattern was created in conjunction with the National Wild Turkey Federation, or NWTF, and has been a turkey hunting sensation since it was developed. The Mossy Oak brand has shown its worth in the field for many years, and based on the smiles we see every season, they'll keep right on pleasing.
Mossy Oak Bottomland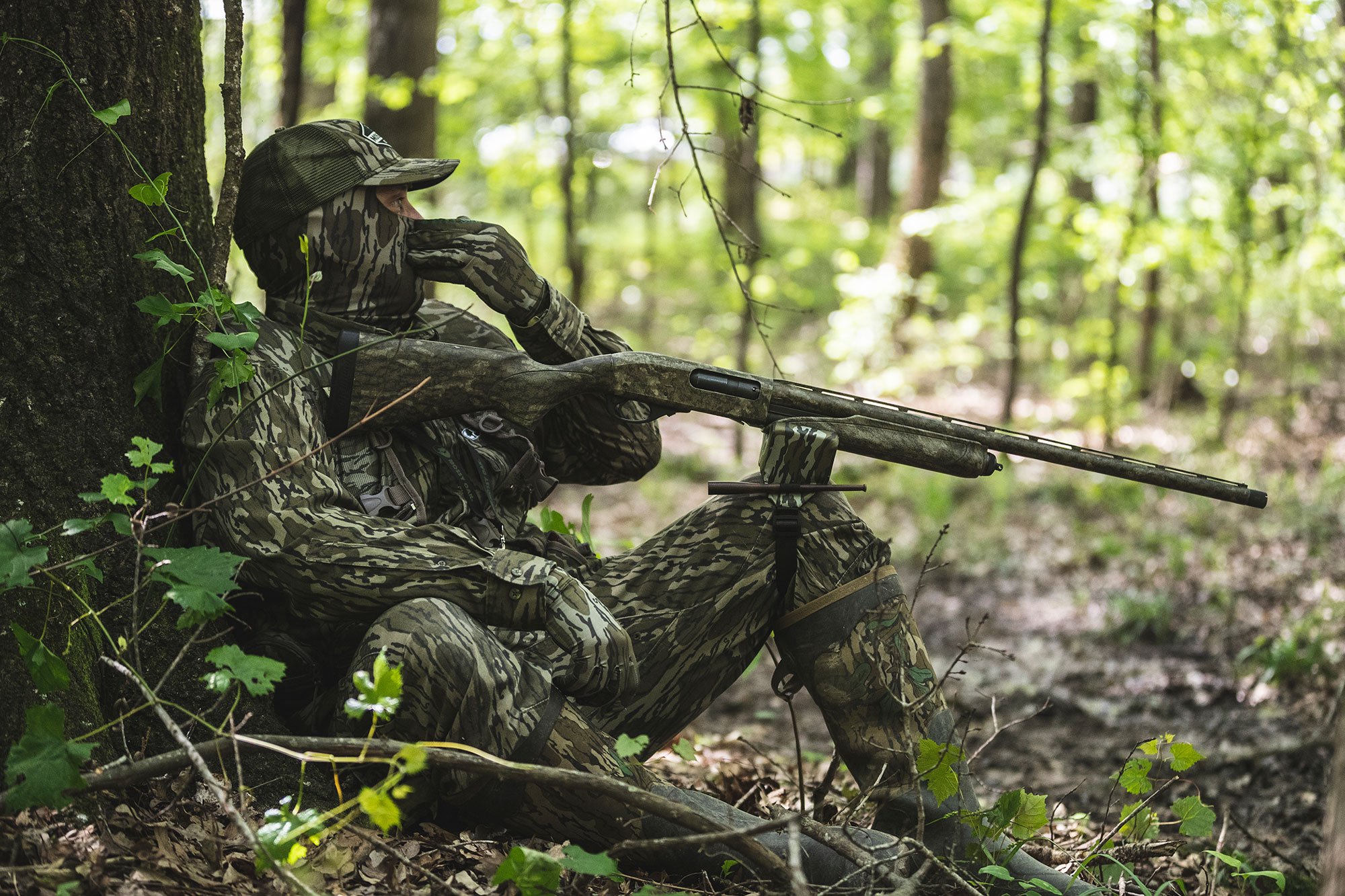 Perhaps Mossy Oak's best representation comes from the turkey hunting community in the southeastern U.S., where Bottomland is still worn and revered consistently year after year. This is where it all started for the Mossy Oak brand, with its natural bark elements and color tones that blend in like no other.
However, Bottomland has quickly become a staple across the camouflage market, worn as frequently with casual wear as it is in the woods. Outdoorsmen of all kinds seem to really appreciate the aesthetic this pattern has to offer, and hunters find it to be a strong cross-purpose option for when they need one pattern to get the job done in a variety of environments.
Mossy Oak Greenleaf
Greenleaf is a classic pattern that is ready made for spring turkey hunting with just the right amount of green and brown to cover you up. Honestly, Mossy Oak's Break-Up, Break-Up Country, and Infinity patterns conceal incredibly well, but are just a bit lacking in the green department for spring gobbler hunting.
This pattern, however, does a fine job of incorporating each of those concepts and giving it just enough spring pop for when those gobblers begin strutting.
Realtree Hardwoods Green HD Camo
This super-realistic camo pattern is effective and versatile for use wherever green is visible, and that certainly means the spring turkey woods. Hunters seem to be hit or miss on the high-definition camo concepts, but there's a reason this particular pattern has made such an impact on the industry.
Additionally, if there would ever be a time you'd want your camo pattern to be as realistic as possible, it would be when you're chasing after those keen-eyed gobblers.
Realtree Xtra Green Camo
For the serious bowhunter who doesn't put away the archery gear just because it's turkey hunting time, this excellent pattern will keep you out of the turkey's eyesight long enough to raise up, pull back, and lose an arrow.
As you can see from the photo above, this particular pattern does great when a hunter is up against a tree, which is great news for all of those bowhunters who enjoy hunting from the ground.
Realtree Original Camo
For many hunters, this is where it all began in the spring. We knew our spot, scouted our bird, and were wearing this vaunted pattern when we took a bird, and that's all she wrote.
Other good patterns include Realtree APG, Advantage Timber, and Advantage Classic since they have a lot of the green and brown mixes that bowhunters know and love.
Determining the Best Turkey Hunting Camo
Good turkey camouflage needs to be right for the environmental and weather conditions as much as it is for fooling that boss Tom who's ready to strut.
A successful hunt starts out by knowing whether or not there's budding green colors among the spring changes, or if you can opt for less green in the early spring. As green emerges, is your camo choice reflecting that?
Will you be needing a base layer for cold weather, or will it be safe to dress for warm weather conditions?
Other considerations for turkey season include a turkey vest, camo facemask decoys, and a good call. But for continued success in the field, the best turkey camouflage pattern for your needs will ensure you're seeing success each and every turkey hunting season.
And when you're wearing the right camo, it can all come together for an unforgettable hunting season.
Looking for a little more or even hot lunch for your hunting blind? Follow my webpage, or on Facebook and YouTube.
The post Best Camo for Spring Turkey Hunting appeared first on Wide Open Spaces.