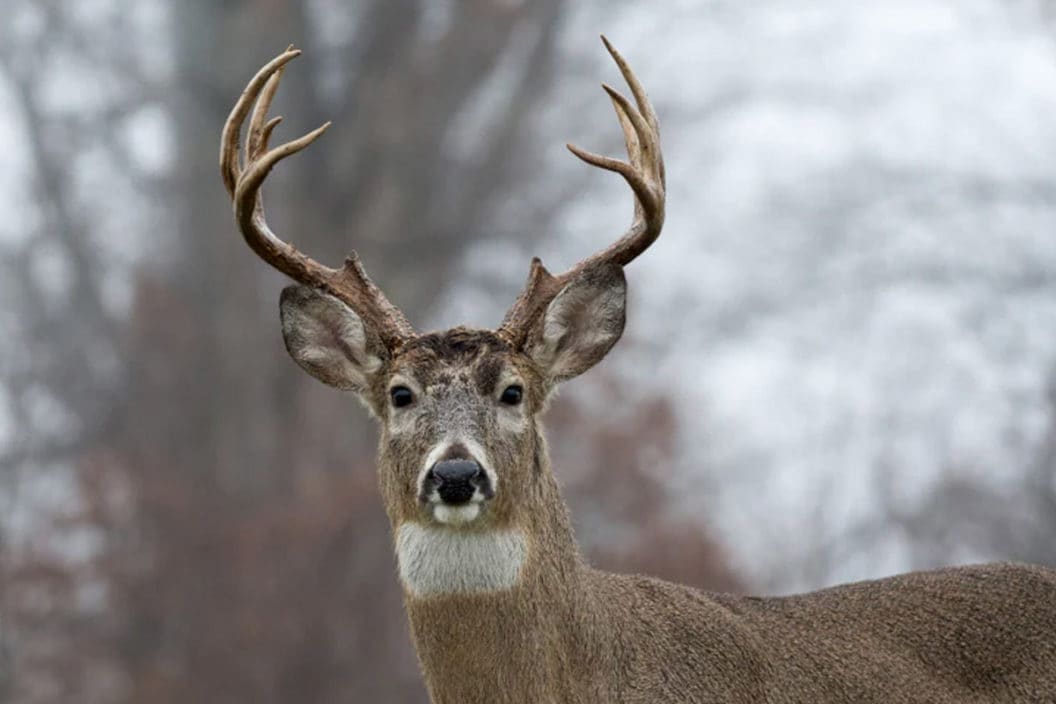 The Show Me State is a hot spot for a trophy whitetail!
Missouri is on many a deer hunter's bucket list for a trophy whitetail. For good reason too. This state's mix of agricultural food sources, and abundant hardwood habitat, combined with a perfect position in the central part of the United States helps grow big bucks.
The proof is in the pudding. Missouri is home to such legendary whitetails as the "Missouri Monarch," a massive 333 7/8-inch monster found dead in 1981. This buck still stands as the largest set of non-typical antlers produced by a whitetail buck. But wait, there is more, Missouri was also the state that produced Larry Gibson's 205-inch typical monster back in 1971.
Knowing this state's history, it is little wonder so many travel to this state for deer hunts ever year. Today we will give you a complete breakdown of everything you need to know to take advantage of deer hunting season in Missouri this year.
Missouri Deer Season Dates
The Missouri Department of Conservation sets the deer and turkey hunt season dates every season, so there can be some variation from year to year. The dates are fairly straightforward for the most part although firearms season is split up into several different portions. For 2020-21, the dates are as follows.
Archery deer season: Sept. 15-Nov. 13 and Nov. 25-Jan. 15, 2021
November firearms deer season: Nov. 14-24
December antlerless firearms season: Dec. 4-6
Early youth firearms: Oct. 31-Nov. 1
Late youth firearms: Nov. 27-29
Firearms deer alternative methods: Dec. 26-Jan. 5, 2021
For some additional clarification, the "alternative methods" part of the season refers to muzzleloaders, but also several other weapons choices you may not be expecting. We will go into more detail on that later. The antlerless portions of the seasons are open to all legal weapons types as are the youth seasons.
Licensing
Whitetail hunting in Missouri comes with some modest licensing costs for out-of-state hunters. They are slightly more expensive than some other Midwestern states. However, we cannot say we blame the MDC for increasing the costs slightly. They maintain a lot of conservation areas and their whitetail deer management programs have clearly worked well for them. Missouri's centralized location and reputation make it a destination point, so why not try to bring in a little additional funding from people willing to pay?
Missouri's hunting regulations breaks down costs by age and residency. They do have licensing that is a bit more complex than many other states. Missouri has special "managed deer hunts" that take place in choice areas like State Parks, National Wildlife Refuges or urban areas that are otherwise off-limits to hunting. You do have to be drawn for these hunts and it is worth noting it may take years to be drawn for some spots.
For simplicity, we are simply going to use the word "youth" to refer to their ages 6-15 bracket and "adult" for everyone 16 years old and over. We should also mention that Missouri offers hunting permits for both deer and turkey season for anyone looking for a little more bang for their buck. (Pun intended.)
Resident firearm "any deer" (Statewide): Youth – $8.50, Adult – $17
Resident firearms antlerless (Select areas): Youth $3.50, Adult $7
Resident managed deer hunt: Youth $8.50, Adult $17
Resident archer's hunting permit (Good for two deer and two turkeys): Youth – $9.50, Adult: $19
Resident archery antlerless (Select areas): Youth $3.50, Adult $7
Non-resident firearms "any deer" (Statewide): Youth – $8.50, Adult – $265
Non-resident firearms antlerless (Select areas): Youth – $3.50, Adult – $25
Non-resident managed deer hunt: Youth (age 11-15) – $8.50, Adult – $265
Non-resident archery antlerless (Select areas): Youth – $3.50, Adult – $25
Non-resident archer's hunting permit (Good for two deer and two turkeys): Youth – $9.50, Adult – $265
If you are a Missouri resident, the state does a pretty good job of keeping whitetail deer hunting opportunities affordable for both adults and youth hunters alike. It is the serious adult hunters from out of state that looking for a trophy buck that are going to be paying the most for the privilege of hunting in this state.
It is easy to apply online for all deer hunting permits. Missouri even allows hunters to use their smartphone app to carry said permits. Keep in mind that this state does have hunter education requirements for everyone born after Jan. 1, 1967. If you can supply proof of having completed a course in your own state, you should be fine. Missouri does allow hunters to become certified using an online only course too, but only if you are a resident.
Legal Methods of Take
Missouri is a bit unique in that they offer a bevy of legal methods of harvest for whitetails. You can hunt deer here with options not legal anywhere else. Archery equipment does not have any draw weight requirements. Crossbows are legal for all hunters to use for archery hunts and firearms seasons. This is one of a few states to allow high-powered air guns at least .40 caliber or larger for deer.
Hunters are also allowed to use multi-barreled muzzleloaders, shotgun slugs down to .410 gauge and a plethora of centerfire rifle options. About the only thing you must watch is that semi-autos cannot have more than 11 rounds in both the magazine and the chamber. Buckshot is also not allowed in Missouri, so if you are bringing a shotgun, stock up on slugs.
However, the most unusual method of take that is completely legal in Missouri is the Atlatl. If you are not familiar with it, this is an ancient spear-throwing lever which was first used by ancient people tens of thousands of years ago. Missouri is one of only a few states that allow hunters the challenge attempting a deer harvest with one. All of the aforementioned methods are legal during the rifle season.
In the "alternative methods" season we mentioned earlier, hunters are allowed not just muzzleloaders, but also centerfire handguns, high-power airguns, archery gear and atlatls as legal methods of harvest. We like it. This provides hunters with more options and more chances to hunt than other states that simply have a dedicated "muzzleloader" season after the main bow and gun seasons pass every year.
CWD and Antler Point Restrictions
Like many other Midwestern states, some parts of Missouri have seen their share of cases of the deadly neurological disorder chronic wasting disease or CWD. As a result, select counties have bans on the use of mineral licks and other attractants. We won't list them all here, but you can find a complete map and guide on the MDC's website.
Be aware that there are strict carcass transport rules for CWD management zones where the deer must be checked in. All meat must be properly boned out and teeth, skulls and skull plates cleaned of brain matter. This is because the prion that causes CWD can be spread through these parts.
When it comes to hunting regulations to know, it is worth noting that more than half of the state is subject to antler point restrictions or APRs. Like them or not, they are probably part of why this state is so successful at growing the big bucks year after year.
APR counties protect all spikes with antlers more than three inches long and bucks that do not have at least four points on one side. Keep in mind that a point must measure at least one inch to be considered a legal point. If the tine is broken, the stump must be at least one inch. Most of the APR counties are located in northern and central Missouri with the southern part of the state being more open for all harvests.
Where to Hunt
There is no shortage of hunting outfitters for hire if you are willing to pay someone to put you on the big bucks. Missouri being a bucket list spot for many hunters has led to a thriving guide service industry. Book early, many firearm and archery season hunt spots go fast, especially prime rut dates. You do have to be somewhat wary because there are some high fence operations in Missouri, but they are usually obvious if you do your research. Legitimate operations for wild animals will usually mention license fees somewhere in the description.
The east side of the state offers prime habitat in areas that butt up to the Mississippi River. It was in St. Louis county that the Missouri Monarch non-typical was discovered near the Columbia Bottom Conservation Area. Despite much of it being urban, the county has continually been a hotspot for Pope and Young and Boone and Crockett class whitetails every year. It also regularly leads the state for number of total harvests every season.
In the central parts of the state, woodlands mix nicely with rich agricultural lands to produce giant bucks on a consistent basis. The countryside may not be too interesting here, but it is heaven on earth for whitetail hunters. The Larry Gibson 205-inch typical we mentioned earlier fell in Randolph county. Just south of there are Howard, Boone, and Callaway counties, all areas that regularly produce not only great numbers of deer, but bucks of B&C caliber too. Consider also Chariton, and Putnam county. The latter is right on the border of another big buck factory, Iowa. In the northern part of the state, Macon county is also often high for numbers of successful hunters every season.
If you want less pressure, consider the far southeast part of the state down around Dunklin, Pemiscot, New Madrid and Mississippi counties. This part of the state does not rank high on the total number of harvests, but it is filled with prime whitetail habitat for those looking for a quiet treestand away from the crowds.
Missouri deer hunting is some of the best in North America and every hunter should make plans to visit at least once. We are already looking forward to seeing what monsters the Show Me State has to offer this season!
For more outdoor content from Travis Smola, be sure to follow him on Twitter and check out his Geocaching and Outdoors with Travis YouTube channels.
The post Missouri Deer Hunting: All to Know About This Buck Buck Paradise appeared first on Wide Open Spaces.