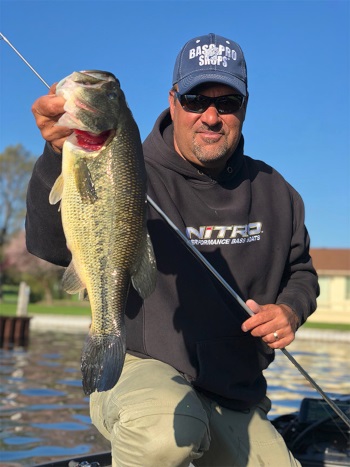 It seems the ante is raised when the decision to target shallow water bass is made. The big fish opportunities increase but so do the odds of spooking your quarry. That's why stealth is so critical and where new Seaguar Lo-Vis Stealth Grey Smackdown Braid can make a difference. It blends in to make presentations more natural.  
Smackdown is Seaguar's premium braided line, made with 8 ultra-thin strands woven into a perfectly round profile for quiet, exceptionally long, laser-precise casts. Smackdown's tight weave makes it one of the thinnest-diameter braids available – so thin that 20 lb. test has the diameter of 6 lb. monofilament – which dramatically enhances its sensitivity. A remarkably strong line, Smackdown provides exceptional knot and tensile strength with unparalleled abrasion resistance. And now, all of Smackdown's advantages are paired with an extremely low-visibility color, Stealth Gray…
Pro angler Brandon Palaniuk is a big believer in using a stealthy approach to catching fish, especially when his prime targets are shallow. "Big bass can be shallow almost anytime – in the spring when they're feeding up and bedding, during the summer when they're buried in the thick stuff, and in the fall when the weeds are dying back and the shallows are brimming with bait. Those shallow fish can be spooky," notes Palaniuk, a three-time Champion in Bassmaster Elite Series events, "and often react negatively if they spot my line."
"I rely on Seaguar Smackdown to help me make the long, precise casts I need to chase fish in shallow water, and to get those fish into the boat after they strike. With new low-vis Stealth Gray Smackdown, I can fish up shallow with more confidence, knowing that my line won't spook the big gals in that skinny water."
Similarly, bass expert and TV host Mark Zona is a big fan of Seaguar Smackdown Stealth Gray. "Anytime I'm flipping up in shallow grass I make sure my reels are spooled with it. Same goes for throwing swim jigs and frogs and anytime I need to put stealth on my side. The line is simple unparalleled when it comes to its camouflage and how difficult it is for fish to see. To say it's become a big part of my power fishing program would be an understatement," says Zona.
Seaguar Smackdown – Stealth Gray is available in line tests of 10, 15, 20, 30, 40, 50, and 65 lbs, in 150 yards spools. Smackdown – Stealth Gray sets a new standard in low-visibility braided lines – fish it once, and you'll understand why Seaguar is Always The Best!
For more information, call 502-883-6097, write Kureha America LLC, 4709 Allmond Ave., Suite 4C, Louisville, KY 40209, or visit us on the Web at www.seaguar.com or on Facebook.
Related articles
The post SEAGUAR REVEALS LOW-VISIBILITY SMACKDOWN – STEALTH GRAY appeared first on OutDoors Unlimited Media and Magazine.