Savage Arms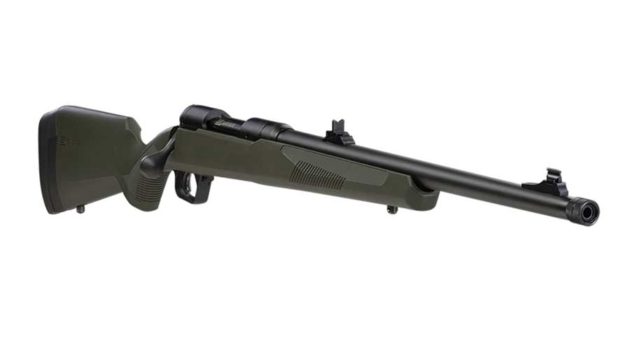 The Model 110 Savage Hog Hunter Rifle is designed for hunters wanting lightweight, reliable, and reasonably priced rifle for use on feral hog-sized game.
Interest in feral hog hunting has grown along with the continually expanding hog populations all over the United States. For this reason, many firearms and ammunition manufacturers are building products geared specifically towards hog hunters. The Savage Hog Hunter Rifle is just one example. 
Though they inhabit a wide variety of habitats in North America, feral hogs are quite often encountered in relatively thickly vegetated areas. As they often travel in large groups, it's also not uncommon for hunters to have multiple shot opportunities in rapid succession.
Additionally, while they're not bulletproof and an elephant gun or other really big bore rifle is not required to take them down, feral hogs are still relatively tough animals that usually require either a shot to the brain/spinal column or the use of more powerful cartridges for a more traditional shot at the heart/lungs.
Designers at Savage Arms built the bolt action Model 110 Hog Hunter Rifle specifically with those things in mind.
Savage 110 Hog Hunter Features
First, the Savage Model 110 Hog Hunter Rifle has a lightweight, compact design. Sporting a 20″ barrel (18″ barrel length for the .350 Legend), the rifle has an overall length of just over 40″ (38″ for the .350 Legend).
The Savage Hog Hunter has a medium contour barrel. This means it won't heat up quite as fast as a thinner barrel (and is thus better suited for taking multiple shots in quick succession), but it's a whole lot lighter and easier to carry than a bull barrel.
The carbon steel barrel on the Hog Hunter Rifle is threaded and comes from the factory with a thread protector. The threaded barrel will accept a suppressor or muzzle brake.
Not only do these characteristics help make the Hog Hunter Rifle a joy to carry, but it's also ideally suited for use as a hog hunting gun in really thickly wooded conditions. This should make it a whole lot easier to swing on a moving hog out in the woods.
The rifle is drilled and tapped for a scope, but also comes with a set of iron sights. Specifically, it has a gold bead front sight to assist with aiming under low light conditions along with an adjustable "V"
Though a bolt action rifle won't cycle as fast as a semi-auto, the Savage Hog Hunter Rifle also has an oversized bolt handle to assist with rapid follow up shots and a well practiced hunter will be able to work that bolt pretty darn quickly.
The rifle also sports a detachable 4 round box magazine in case you get into a big group of hogs. The magazine is flush with the stock, so it won't get hung up on brush or vines.
Sporting a rugged synthetic stock with an OD Green matte finish, an adjustable length of pull, and a thick recoil pad, the rifle is designed to fit a wide range of hunters. It will stand up well to the rigors of serious hog hunting, and has very forgiving recoil for a rifle of that size and weight. The modern ergonomics help the overall grip, further enhancing the way it feels when it fires.
Like most of the rifles produced by Savage Arms, the 110 Hog Hunter has a user-adjustable AccuTrigger that allows the hunter to set the trigger according to their preference and provide a light, crisp pull.
Finally, the Savage Hog Hunter Rifle is currently manufactured in .223 Remington, .308 Winchester, .338 Federal, and .350 Legend. The 110 Hog Hunter is only available in centerfire rifle cartridges and is not produced in any handgun or rimfire chamberings. It has a detachable magazine to hold
The Bolt-Action Rifle of Choice for Hogs
As you can see, especially when we're talking about the .308 Winchester, .338 Federal, and .350 Legend chamberings, not only is the Savage Hog Hunter Rifle a really good hog hunting gun, but it's also well suited for hunting other medium sized game like whitetail deer and even black bear.
Add it all up and the Savage Hog Hunter is an incredibly versatile rifle, plus it rings in at an MSRP of $599. It's a great choice for hunting hogs, but it's also at home hunting just about every other species of similarly sized game in North America.
So, if you're looking for a great multipurpose hunting rifle that will work great on hogs as well as game like whitetail deer and bear without breaking the bank, then consider adding a Savage Hog Hunter Rifle to your wish list. It's a great gift for hunters who want an easy to use, hard hitting, and reasonably priced rifle.
Like what you see? You can read more great articles by John McAdams on the Big Game Hunting Blog. Follow him on Facebook & YouTube and subscribe to his show: the Big Game Hunting Podcast. 
NEXT: HERE'S WHAT YOU NEED TO KNOW ABOUT HORNADY BLACK AMMO
WATCH
The post Savage 110 Hog Hunter Rifle: The Full Scoop on the Pig Gun of Choice appeared first on Wide Open Spaces.