Kevin Stone/Facebook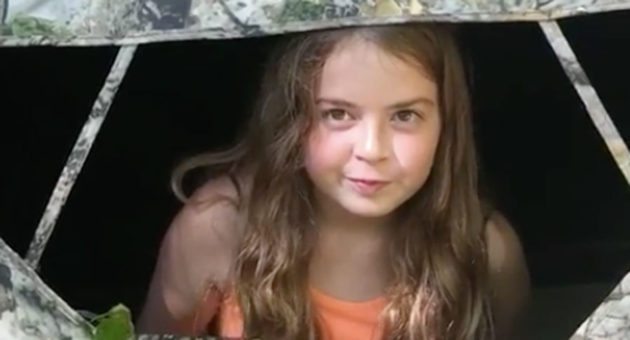 "Come back in about two weeks and Alyssa will have a surprise for you."
Kevin Stone is one proud Dad who passed on his love for hunting to his adorable daughter, Alyssa. But perfection only comes with practice, as you're about to see while this little huntress slings some arrows with precision from her ground blind.
Hold up, though! What's that creeping in from "stage left" and offering up a perfect broadside shot? Get ready for it at the 1:13 minute mark.
Here's the cool video:
Alyssa Stone getting some shooting practice out of her hunting blind today when this happened.Watch until the end .9/17/2017

Posted by Kevin Stone on Sunday, September 17, 2017
That there is enough to get you giggling with excitement! Fingers crossed that sweet buck makes an appearance once again in two weeks.
Good luck this season, Alyssa, and way to go Dad! You've got yourself the perfect hunting partner for life.
Did you enjoy this post? CLICK HERE to view more articles by Justin Hoffman. You can also check out his Photography Site Justin Hoffman Outdoors, as well as follow him on Facebook Justin Hoffman Outdoors, Instagram hoffmanoutdoors, and Twitter @HoffmanOutdoors.
NEXT: 17-YEAR-OLD ARROWS BRUTE OF A BULL ELK FROM TEN YARDS IN OREGON
The post Video: Little Girl Picks The Perfect Spot For Her Deer Blind appeared first on Wide Open Spaces.