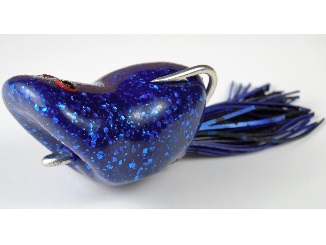 Pygmy Frog is a hollow-bodied scaled down version of some of the larger frogs on the market, but don't let his size fool you…Pygmy Frog

packs a punch. Equipped with super sharp double Mustad® 4/0 hooks, Pygmy Frog has a popper style face, is only 3 ½" long from tip to tail, and weighs in at 3/8 oz. Small in stature, but easy to cast as far as any other frog on the market. The legs are multi-strand silicone skirt material in vibrant colors. Available in several popular frog colors as well as some new ones: Bullfrog, Watermelon Red Flake, Stardust, Hematoma (Black/Blue), Whole Milk (Solid White), and RedWing (A red winged blackbird pattern) Available in fall 2016. Suggested retail price is $6.89.
Mann's Bait Company, a leading manufacturer of all types of artificial lures, produces the industry's most widely recognizable brands for fresh and saltwater fishing markets. All of our lures are manufactured right here in America, and distributed nationally, as well as in over 50 countries around the world. For a complete selection of styles, colors and availability go to www.mannsbait.com

The post Pygmy Frog, A Smaller Frog When You Need One appeared first on .