At the 2016 ICAST show this year there was a lot of press on Gator Guards "NEW" product – The Hitch Guard. Sue and Scott Smith owners of Gator Guards make several products to protect your boat. They have now created a new personal favorite of mine.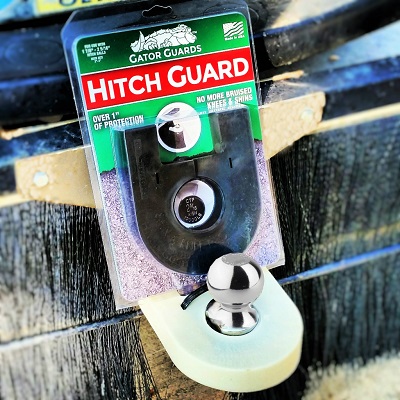 It's happened to just about all of us. You're walking around you're the back of your truck and bang! Suddenly a severe pain comes from your shin striking into the trailer hitch mount. Gator Guards recently came out with a simple fix to painful incident. The Hitch Guard is a full-coverage that goes around the hitch, by using an automotive-grade polymer cover for single hitches. It stays soft from minus-70 to 150 degrees Fahrenheit. It has low-profile design which allows for unrestricted use of trailers and equipment attaching to your pull vehicle. It's very simple to install, slide the Hitch Guard onto the existing trailer hitch and secure with an include zip tie. I promise it is instant shin protection! Your shins will thank you the next time you accidentally bump into your trailer hitch…
MSRP: black; $15.99/glow-in-the-dark $19.99
Read more at: http://www.basspro.com/Gator-Guards-Hitch-Guard-Shin-Saver/product/2272593/
Out on a Limb with Tom Branch Jr
About the author:
Tom Branch, Jr. is a freelance outdoor writer and Prostaffer for Bass Pro Shops Outdoor World in Lawrenceville, GA. He retired as a Lieutenant/Paramedic/Firefighter with Gwinnett County Fire, GA after 29 years of service in 2013. He is currently a contracted employee with NAVICO/Lowrance working as the Southeastern Prostaff Coordinator. He has been working in the Outdoor Industry for over 20 years. He and his beautiful wife, Kim live north of Atlanta near Braselton, GA with their lab Jake.
The post Your shins will thank me! appeared first on .