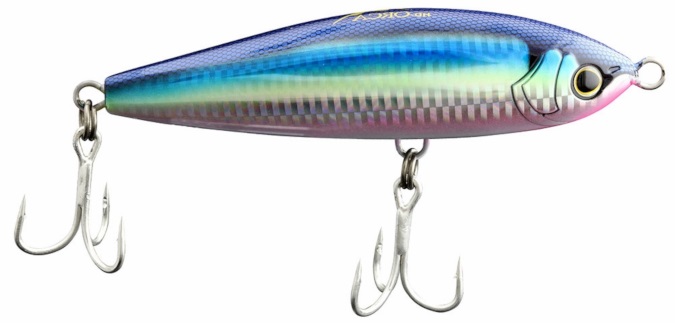 Fishing on the surface is a pure adrenaline rush. And while trout and bass anglers can talk about their excitement all they want, nothing compares to a big tuna out in the deep blue exploding on a topwater lure. The HD-ORCA, the newest addition to Shimano's ORCA offshore lure series, now being introduced by Shimano at fishing/sports shows nationwide included last weekend's Saltwater Fishing Expo in Edison, N.J. –http://www.sportshows.com/saltwater/ – offers bluewater anglers the chance for that type of topwater action.
Proven on tuna and mahi during extensive field-testing – someone has to do it! – the new HD-ORCA is equipped with Shimano's proprietary internal propulsion weight transfer system, plus an efficient aerodynamic design, for exceptionally long casting distance. The lure will dive beneath the surface with a very wide erratic swimming action," said Adam Lytton with Shimano' product development staff. "You can also work the lure in low, slow sweeps and allow it to return to surface after each sweep. Fish feeding on the surface just have a hard time resisting it."
The lures are offered in two sizes – the HD-ORCA 140 measuring 140mm/5.5 inches and weighing 69 grams/2.5-ounces; and the HD-ORCA 175 at 175mm/7-inches and weighing 113g/4-ounces. Both sizes come in six colors, including flying fish, pink silver, green mackerel, blue sardine, and clear silver. Each lure features ultra-sharp, high tensile treble hooks.
Related:
From ICAST: Shimano Introduces Curado K Baitcasting Reels
New Speed and Power With Shimano Tranx Models
Shimano's Caenan Reels Ideal for Young Anglers
The post The HD-Orca Offshore Topwater Lure From Shimano Is Here appeared first on OutDoors Unlimited Media and Magazine.