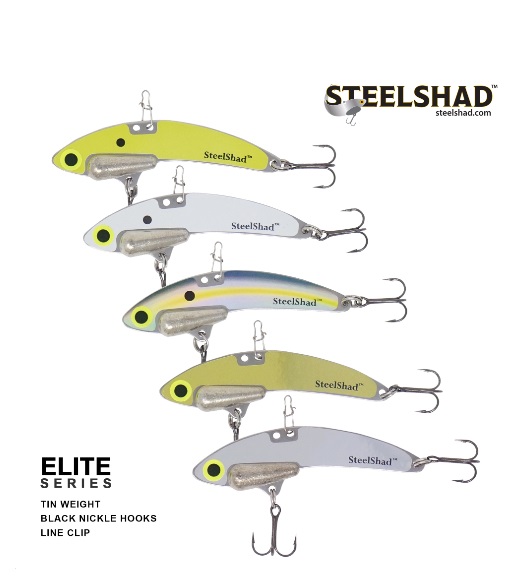 The SteelShad Fishing Company is proud to announce the availability of the new SteelShad Elite Series lure. Working with our Pro Staff we created an environmentally friendly, lead-free variation of our Original blade bait. The SteelShad Elite Series features a 3/8oz. tin weight, black nickel hooks, a line clip and is available in five patterns. The SteelShad's custom molded belly weight is carried forward with the new tin weight for the Elite Series and continues to offer fishing enthusiasts the best lure to catch fish all season long!
Kevin Lewis, CEO of SteelShad remarks, "SteelShad is committed to working with our Pro Staff, and anglers everywhere, to meet the environmental requirements to help keep fishing a vibrant and growing outdoor sport."
Captain Steve Niemoeller, VP of SteelShad and Full-time Fishing Guide says, "These lures have the same great fish catching vibrations as the Original SteelShad. If you can't use lead, they're the best blade bait you can get for freshwater fishing!"
SteelShad blade baits are unique. We've moved the weight off the nose and put it on the belly. This changes the center of gravity, allowing the nose to cut the water, so the lures run straighter and creates a dramatic vibration that the fish can't resist. SteelShad blade baits are offered in a variety of sizes and colors so you can catch any fish, at any depth, in any season!
Anglers love SteelShad because "Fish Bite It!"
Related articles:
The post New Environmentally-Friendly SteelShad Elite appeared first on OutDoors Unlimited Media and Magazine.