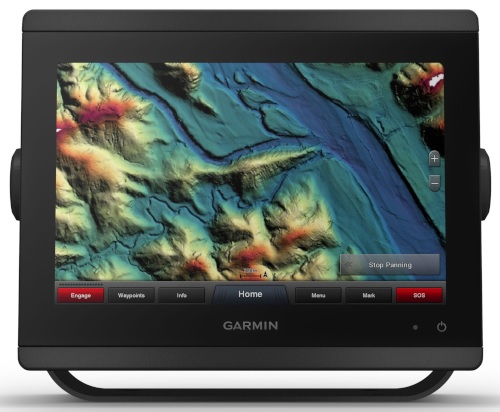 In advance of this week's Miami Boat Show, Garmin is excited to announce the addition of high-resolution relief shading to our premium BlueChart g3 Vision and LakeVu g3 Ultra cartography products for coastal and inland fishing and boating. The full press release is attached and can be found here for reference, along with an image showing the new data in both g3 Vision and g3 Ultra. In addition, we also announced a new thru-hull Panoptix LiveScope transducer and availability of our new GPSMAP 8600xsv series, which I've also highlighted below. As always, if you have any additional questions, please let me know!
Garmin adds high-res relief shading to its premium BlueChart g3 Vision and LakeVu g3 Ultra; entire line of new g3 products to be available Feb. 27
Garmin's exclusive BlueChart g3 Vision and LakeVu g3 Ultra cartography products now include high-resolution relief shading for coastal and inland fishing and boating that brings an entirely new level of detail to the ocean floor and lake bottom. Garmin's high-resolution relief shading combines color and shadow to give mariners an easy-to-interpret, clearer view of bottom structure than contour lines alone. It's available with coverage for U.S. coastal waters – east coast, west coast and Gulf of Mexico – along with more than 150 Garmin-surveyed lakes and will vary in price from $249.99 to $349.99. High-resolution relief shading will be available beginning in Q2 2019.
The full line of Garmin's new BlueChart g3 and LakeVu? g3 cartography that blend the best of both Garmin and Navionics content together for the first time to deliver unparalleled coverage and detail, will be available for purchase and download beginning Feb. 27, 2019, and have already shipped out pre-loaded into the new GPSMAP 8600/8600xsv series. The new BlueChart g3 charts and LakeVu? g3 maps are also the first preloaded cartography to offer built-in Auto Guidance, a technology that searches through relevant charts to create a suggested route based upon the user's desired depth and overhead clearance.
Panoptix LiveScope System – thru-hull version
Garmin is excited to announce another mounting option for its award-winning Panoptix LiveScope system – a thru-hull installation – for customers who cannot use the original transom/trolling motor mount version. Featuring the same live scanning sonar technology as the original version, the Panoptix LiveScope thru-hull will be available in March for $1999.99 and will include the GLS 10 sonar black box and LVS32-TH transducer and thru-hull mount.
New GPSMAP 8600/8600xsv – now shipping
First debuted at the 2018 Fort Lauderdale Boat Show, Garmin's new flagship GPSMAP 8600/8600xsv series is shipping and now available! An extension of its original GPSMAP 8600 series, these new all-in-one chartplotters bring premium features like built-in sonar and new BlueChart g3 coastal cartography and LakeVü g3 maps with Navionics data and built-in Auto Guidance to smaller, more affordable display options. Available in 10-, 12- and 16-inch displays – ranging in in price from $2499.99 to $5999.99 – that feature full HD in-plane switching (IPS) screens with multi-touch control, the GPSMAP 8600/8600xsv series is Wi-Fi enabled and offers full connectivity and networkability so mariners can completely customize their marine electronics system based on their needs and preferences.
Related Garmin articles:
The post Garmin Adds High-Res Relief Shading to Premium Cartography appeared first on OutDoors Unlimited Media and Magazine.