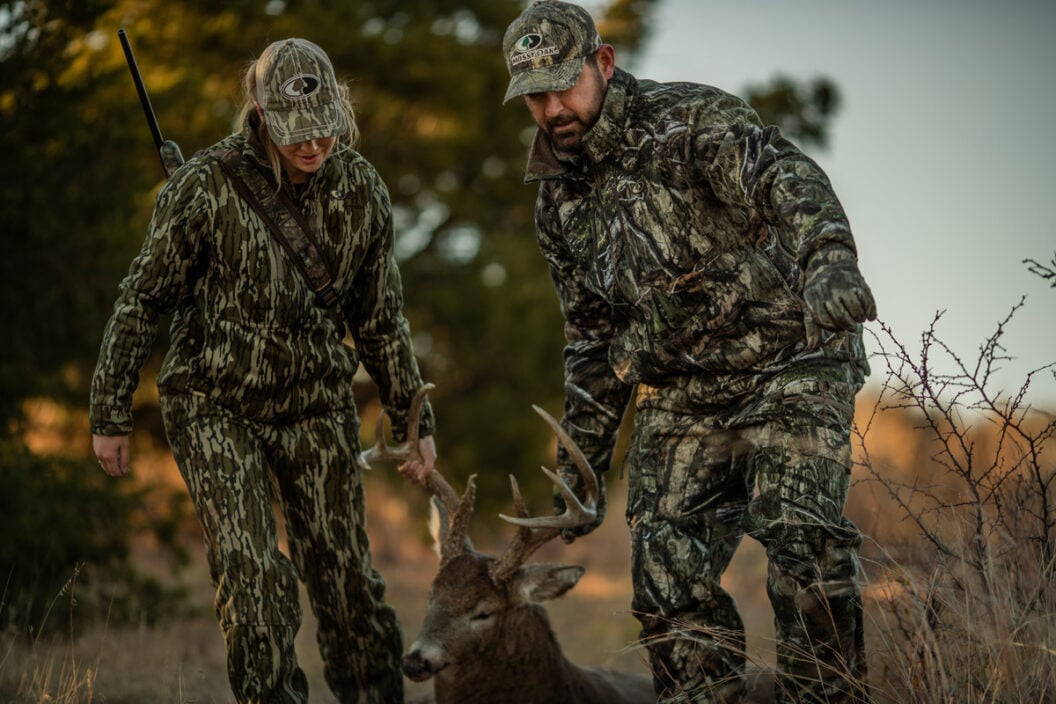 At the core of America's hunting heritage is the relationship between man and whitetail deer. Once a coveted food source that demanded undivided focus from those who hunted to feed their communities, the whitetail deer has largely remained true to itself over the course of recorded history. Man's role in this storied relationship has experienced more of an evolution, however, as our template for survival follows a more civilized theme, in which we procure food through a series of streamlined processes, none of which include venison.
But as we all know, venison has never escaped our collective diet, as the legacy of hunting has lived on, fostering a community of traditionalists who are motivated by the challenge of procuring food on their own. The reward of eating a meal that's earned is an incentive that's contagious, but also one that inspires a deeper respect for the prey itself. This parallel is what gives America's hunting legacy so much depth, and it's what makes deer hunters fall in love with their respective chase.
The hunting industry has evolved in its own ways, adopting its own flavor of technological advancement and adjusting to the progression of societal ethos, all while retaining tradition. And, in today's edition of hunting, Mossy Oak is a cornerstone of hunting culture. Countless camouflage patterns born in West Point, Mississippi, have become rural fashion statements while simultaneously concealing hunters in the pursuit of various game animals. It's not just a camo brand, but the uniform so many hunters share with a proud sense of tribalism.
Few hunts have the ability to capture the spirit of deer hunting like Mossy Oak's event, so it's safe to say I was ecstatic when invited on a whitetail hunt at Canadian River Hilton Hunting Lodge in western Oklahoma. In fact, this was my second time joining the crew on this same hunt, but circumstances were much different this time. Our 2021 adventure was an archery hunt during a blistering-hot week of October, whereas this year we'd be rifle hunting during the peak of the rut.
Settling In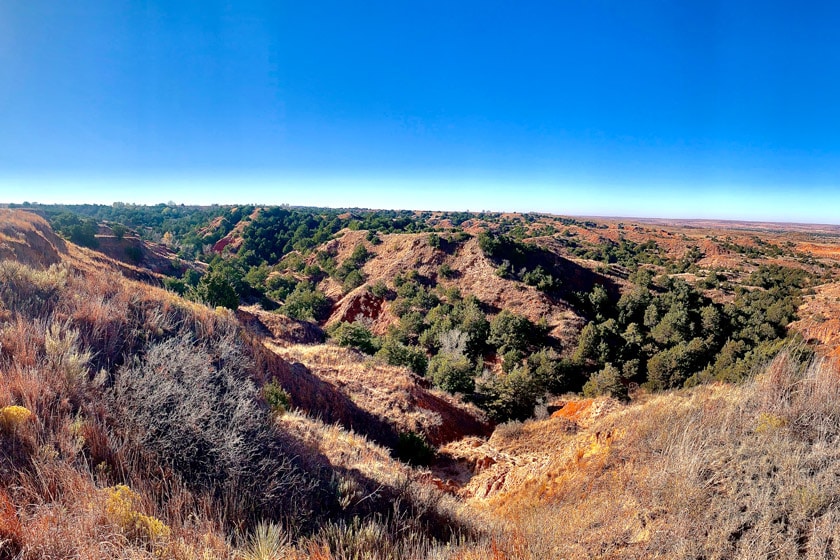 Upon arrival, the topography was eerily familiar. It wasn't hard to remember a trip that produced so many quality bucks and lifelong memories with genuine friends and unforgettable deer camp stories, nor was it hard to recall the fine lodging, food and guiding provided by the Canadian River outfit. Though much colder this time, the winds of western Oklahoma blew a sense of unfinished business, as I never managed to spot a buck on the first trip. My return felt like a shot at redemption on the same grounds with such a famed reputation for producing high-quality, mature deer.
As soon as I opened the door with bags in hand, I was met with the same nicknames I'd left with last year–reinforcing the sincerity on which we built those year-old relationships–and new faces that didn't shy away. Introductions were fairly swift, though, as we all had an early morning ahead of us and four days to get to know each other.
My first morning started in a high-end box blind where I sat alone with a Savage Impulse Mountain Hunter and a box of 6.5 Creedmoor shells. While there was still no light to see anything around me, I went ahead and set myself up–pulling out my binoculars, situating myself for a shot, and chambering a round. I quietly raised the three windows and pulled out my binoculars, only to spot what was easily the biggest whitetail deer I'd ever seen with a gun in hand. It was still too dark to take an ethical shot, as I could only really see a silhouette and nothing behind or around him, but it felt like he was hanging around, especially when I heard three more deer breeze past my blind toward him.
As the next hour passed, the scene in which I was hunting began to take shape, as light began to creep in and reveal at least six bucks, none of which looked like the first one that had disappeared just behind a knob about 100 yards ahead of me.
Then, around 7 a.m., he appeared from the brush, standing just behind a 2-year-old, 6-point buck. At this point, I was sitting about 220 yards from him with a perfect broadside angle and plenty of light to determine this was a 10-point titan, and possibly bigger than I thought when I was trying to trace an outline in the pitch dark. All I needed was for the smaller buck to move and give me the opening and I was sure I'd be tagging out on the first morning with a once-in-a-lifetime buck.
Maybe five minutes went by, and the smaller buck never moved. Fortunately, none of the bucks seemed hurried, so it was just a waiting game. However, my patience was interrupted by the sound of rattling antlers, which I assumed were from a pair of dueling bucks nearby, as I was on private land in what was essentially the middle of nowhere. All six bucks took off toward the sound, and in less than a minute, I heard a shot from another rifle hunter in the distance. Unbeknown to me, I was sitting along the property line, and the hunter next door had been chasing the same buck, which I was able to confirm when I saw a pickup truck driving up the hill with what was unquestionably that 10-point buck in his truck bed, the cherry on top of an indescribable moment of defeat.
It ultimately defined my hunt, as I went home with an unfilled tag yet again, but not before some of my fellow hunters hit the lottery on some story-worthy bucks.
Greg Hackney's Hammer
Of the hunters on this trip, one I'd seen the most of–whether it was on television or on a past fishing trip–was Bassmaster Elite Greg Hackney. I've spent a good amount of time with Hackney over the years chasing bass, but this was the first time I'd seen him donning camouflage. That same morning I missed out on my buck, he'd similarly experienced instant action, spotting this healthy 9-pointer right at first light. The buck had shown up on nearby trail cameras during the week prior, so Hackney didn't have to hesitate when he spotted him.
"Fifteen minutes after we got daylight, there he is," he said.
Hackney said when he opened the window to position himself for a shot, they actually spooked the deer. The buck took a lap around the area and eventually came back out to an opening, standing behind two or three interfering treelimbs. Hackney told the videographer beside him he only needed the buck to take two steps forward and he'd have a perfect shot. And, that's just what this buck did.
"It was just a perfect hunt, which doesn't happen much," he said. "Even though I'd just gotten there, it felt like it was day 60 of hunting because I'd been all over the country this year without filling multiple tags. That had actually been my first trip to Oklahoma, and the secret's out that it's truly a big-buck state."
Rusty McDaniels' Spot-and-Stalk Buck
Whereas Hackney was able to get his shot from a blind, Mossy Oak's Rusty McDaniels wanted to get a little more mobile on his hunt and exploit the rut with a little bit of rattling. Technically hunting on the Texas side of state lines, he spent the first part of the morning stationary in a spot that overlooked a series of wheat fields, where he saw a 3-year-old buck, a doe, and a fawn. But his guide, Matt Kiker, suggested getting proactive with some rattling, which didn't yield instant results.
The following afternoon, Kiker led McDaniels to what he called "the bowl" where he'd seen some deer activity in recent days, and quickly laid eyes on a mature buck with the wind in their face. This particular buck had a doe pinned down in some thickets, taking the pressure off Kiker and McDaniels to get themselves set up for a shot. The doe got up and started moving, prompting the buck to follow, at which point McDaniels pulled out a Leupold rangefinder and marked him at 206 yards. He then stopped and presented McDaniels with a broadside shot. After running for about 40 yards, he finally tipped over.
"It's always a super exciting moment any time you get a buck down, but especially the first day–the first afternoon–I was just kind of elated," he said. "Whenever you can confirm that you did make an accurate, ethical kill shot on an animal, it's the best feeling in the world because you know you did your job as a hunter, that you prepared properly–that's what you hope for."
Jessi Cole's Tall 8-Pointer
Mossy Oak's Editorial Lead Jessi Cole's hunt started with a wild first day, too, but she wouldn't tag this beauty of a buck until the second afternoon. She'd seen eight bucks in the first day–four in the morning, and four in the afternoon–but only one looked old enough to shoot, so she chose to play it safe with so much hunting time ahead of her. However, the second morning was far more quiet, as she only saw one buck way off in the distance, but too far to take a shot or even determine its age. The following afternoon was looking like more of the same until a doe trotted over the hill and appeared to be running from something, most likely a buck.
"It was just one of those deer that I wasn't like, 'Oh, let's take a closer look at this and make sure.' It was one of those, 'This is a shooter deer, and this is the one we're going to try to get,'" Cole said.
She got ready as the buck was still about 500 yards away. She let the doe make her way closer, pulling the buck along with her, and saw him again at about 300 yards. The doe then dropped back into the brush, taking Cole's target buck with her, offering only glimpses for about 10 minutes. Eventually the doe and her interested suitor made their way back into view and toward Cole, and the buck started working a scrape long enough for Cole to fire off a shot from 160 yards. He charged toward the blind and dropped.
"I knew with how tall he was that he was the biggest buck I've ever had a shot at," Cole said. "I got to go back to camp and be a hero and eat well. It was just an awesome experience."
Derek Mleynek's Mature 8-Pointer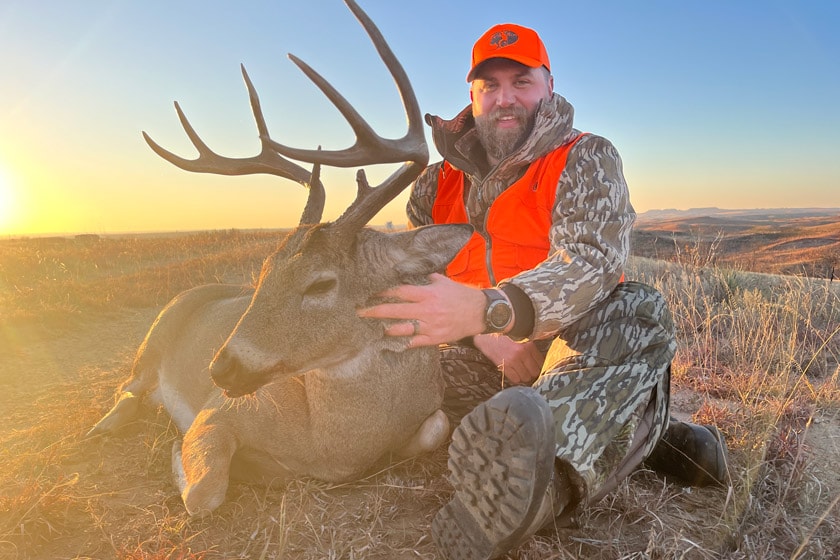 While there were six hunters who found success on this trip, perhaps none found luck as quickly or efficiently as Derek Mleynek. He showed up ready to work, and didn't need much time to find his place at deer camp. He was able to hunt his first evening in Oklahoma, but would ultimately strike gold during the following morning, when he and his guide sat over a drainage with plenty of cover. Similar to my first sit, he saw a deer before there was enough light to properly identify it, as well as a number of younger bucks once the sun started to get up. A doe was accompanied by three bucks, two of which were clearly younger, and one mature buck.
"It was a cool experience to see those age groups standing beside each other because you could really tell the difference in body size between each," he said. "There was no question, once we got some light, which buck was the shooter. I'm not super picky, but at the same time it was kind of like, 'I kind of want to shoot a bigger buck than I have before, but I am here to shoot a mature buck,' so I went ahead and took the shot."
However, Mleynek did add that this buck was one of the biggest-bodied deer he'd ever shot, and surmised that he was probably on his way downhill in terms of antler size.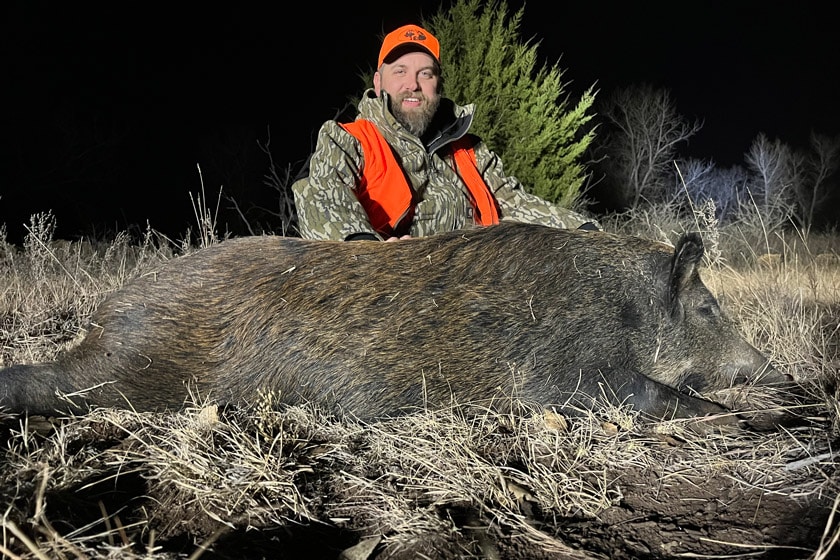 Having already tagged out in just two sits, he decided to take his chances on a hog hunt the following evening and hit the jackpot once again. Positioned on a hill overlooking a wide-open expanse, he heard what sounded like some snorts and thought he might have some targets crossing the field ahead of him. But once he saw hogs darting diagonally, he saw a sow randomly stop before crossing a creek 180 yards out. With daylight escaping, he quickly put the crosshairs on his target and squeezed the trigger.
"When you make a good shot, you can always tell," he said. "It just feels different."
RJ Contorno's 7-Year-Old Buck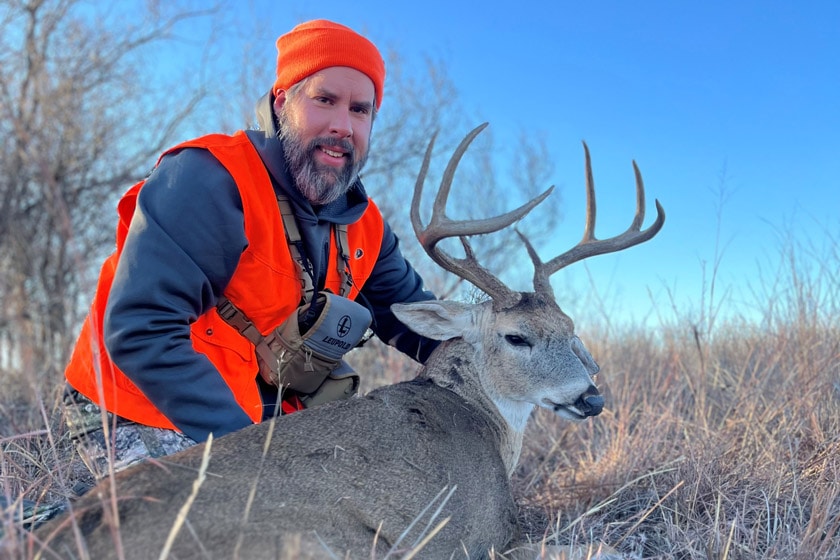 The story of RJ Contorno's deer was one of patience, as he sat in the same general area for the most of the week, confident that committing to the same area would eventually pay off. He saw a little deer movement through his first two day, but never had a good shot at a mature buck. Several does and a handful of young bucks inspired optimism, as did one potential shooter who simply wouldn't present any sort of ethical shot. The second evening of his hunt was especially quiet until a doe made her way out in front of him, and everything just fell into place as soon as he saw what looked to clearly be a mature buck close behind.
"(My guide) just said, 'He's yours if you want him,'" Contorno said. "And I said, 'Oh, he's going down.'"
He and his guide were able to get off a quick grunt call to get his buck to stop broadside, opening the door for a clean shot from 185 yards.
Greg Suggs' Last-Day Buck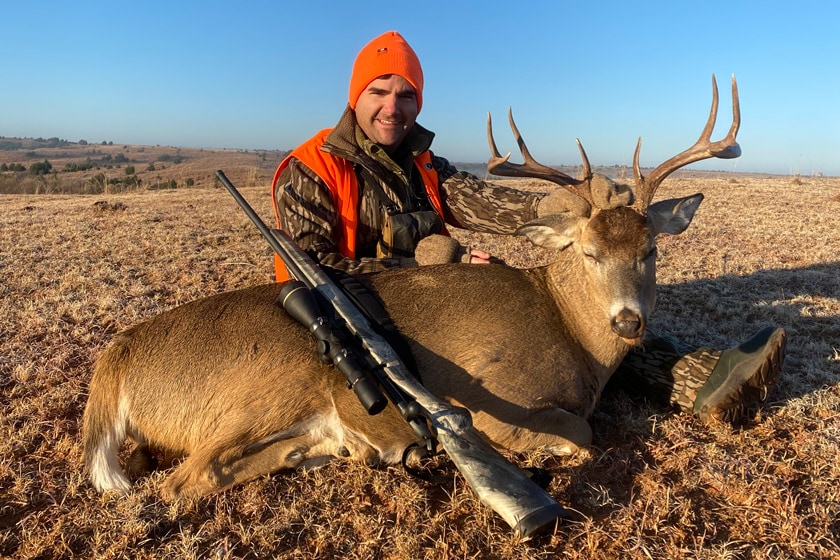 Greg Suggs was the last hunter of the group to fill his tag, a moment that came after four days without seeing a single mature buck. Hunting in an area with a number of known mature bucks, he, too, stayed committed to his area, hoping his patience would pay off on that fifth morning. Accompanied by a guide and a cameraman, Suggs did elect to take a different approach on the final day, employing his rattling antlers as opposed to sitting over a hot spot. Sitting in a makeshift ground blind they made out of nearby brush, they spotted a mature buck about 500 yards away making his way toward them.
"We knew he was the one we were looking for," Suggs said.
They waited for him to get to the bottom of a draw ahead of them and started rattling. Within about 30 seconds, they saw antlers trotting up the hill. They locked eyes at about 160 yards away before he started sprinting directly to them and stopped about 60 steps shy, close enough to see his breath. Suggs fired off a shot and watched the buck trot 50 yards into some cedar trees. Knowing it was a clean hit, they decided to stay put for about 20 minutes before tracking the deer back into the brush, where they promptly recovered this mature buck.
"It was a fun hunt," Suggs said. "You don't get the opportunity to rattle like that very often where I typically hunt in the Southeast, so hunting that big open country was really fun."
Six mature bucks in five days is no small feat, no matter how many hunters are out there with a tag. Only one other hunter and myself drew the short straw of going home without meat to put in the freezer, but neither of us left empty-handed, as this was a trip each and every one of us will remember forever.
The post Mossy Oak Crew Tags 6 Mature Bucks on Rut-Crazed Oklahoma Whitetail Hunt appeared first on Wide Open Spaces.