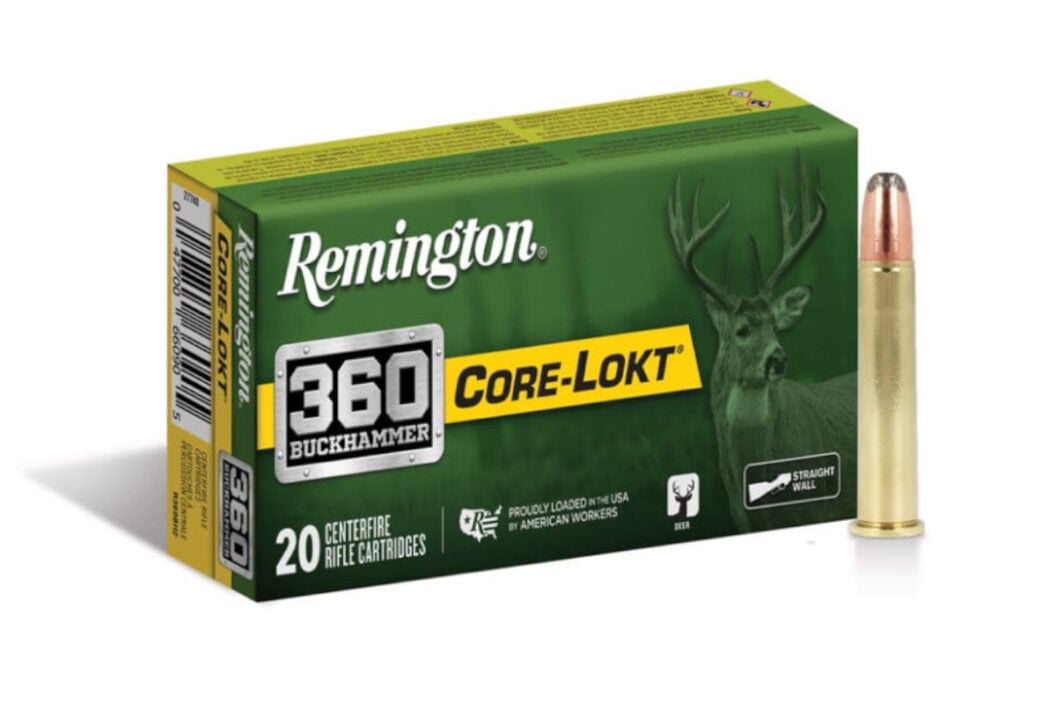 It's no secret that the straight wall hunting rifle cartridge is blowing up. Remington has been manufacturing ammunition in the two most popular straight wall calibers, 350 Legend and 450 Bushmaster, for a while now. But now, they've decided to throw another competitor in the mix with a new cartridge unveiled the week before SHOT Show in Las Vegas. The new cartridge is called 360 Buckhammer.
Aside from having a cool name, it seems like Remington is looking to fill in some gaps in current straight wall cartridge lineups, most notably the fact there's many hunters who have been clamoring for a 350 Legend lever-action rifle for some time. Since that doesn't exist and if you're one of those hunters, you'll probably find the 360 Buckhammer to be very interesting.
360 Buckhammer
Remington dropped all the details and specs in a press release on their website. The most interesting thing is that they used the classic .30-30 Winchester as the parent case. Obviously, they had to eliminate the bottleneck and tapering for the cartridge to be legal for deer in Midwestern states like Michigan, Indiana, Ohio, Iowa, and Illinois. However, chose to use a .358″ diameter bullet instead of the .357″ that's used with .350 Legend. Remington is starting their line off with 180- and 200-grain bullets, so it should have a bit more stopping power than the Legend. At the same time, the case length of 1.80 inches is identical to the Legend, which make sense since many states like Michigan put the cut-off legal length for a straight wall at that mark.
According to Remington, you can expect muzzle velocities between 2,200 and 2,400 fps. That equates to 2,180 and 2,300-foot pounds of energy at the muzzle. Remington says the 200-yard speeds are around 1,435-fps and the 200-yard energy is 900-foot pounds.
Those stats put the 360 Buckhammer squarely in the middle between the ballistics of 350 Legend and 450 Bushmaster. One can probably argue the 450 has fallen off in popularity a bit because of the way 350 Legend exploded. It'll be interesting to see what happens to it with the intro of 360 Buckhammer. Mainly because this new cartridge will likely have more stopping power than the 350 with only a nominal increase in recoil. Remington says this new cartridge is comparable to the .30-30.
Why a New Straight Wall?
We know some hunters might be scratching their heads a bit as to why Remington would introduce a cartridge that's so close ballistically to the 350 Legend. Some may even be groaning about a new cartridge thrown into the mix. However, it seems clear to us that Remington has heard from the user base and has given them what they've wanted for some time. Whether you realized it or not, there's been some real interest from hunters in a lever-action 350 Legend platform. Something that has yet to materialize. Why no manufacturer has pounced on that opportunity before this is anyone's guess. But, it was probably a great move on their part to partner with Henry Repeating Arms to produce the first 360 Buckhammer rifles. Remington noted on their website that Henry is already chambering their popular Henry side gate lever action, their H9 lever action X, and the H9 lever steel.
Henry is also going to release a single-shot rifle chambered for the new round, which makes a lot of sense when you consider Illinois made straight walls legal just last year, but restricted them to single shots. Remington and Henry don't have any exact release dates right now. However, their FAQ section says spring 2023.
Ammo Types and Future Plans
It appears the first 360 Buckhammer ammo to hit the market will be Remington's classic Core-Lokt factory loads. These will include the option for a 180 and 200-grain soft point. In a move that's not surprising, they note on their website that Federal Premium will be offering 360 Buckhammer in their Power-Shok line. Federal will also offer a more premium ammo offering in their Hammerdown line eventually.
Remington notes that the price point on factory ammo will be comparable with the 350 Legend, which usually goes for about $30 to $35 a box depending on manufacturer and ammo type. While the guns are launching with 180- and 200-grain bullet options, it sounds like they are planning to expand sizes in the future.
We'll keep an eye on the 360 Buckhammer as new details trickle out about this new straight wall and we'll bring you all the information we can.
For more outdoor content from Travis Smola, be sure to follow him on Twitter and Instagram For original videos, check out his Geocaching and Outdoors with Travis YouTube channels.
The post Remington Unveils 360 Buckhammer, a New Straight Wall Hunting Cartridge appeared first on Wide Open Spaces.