Youtube.com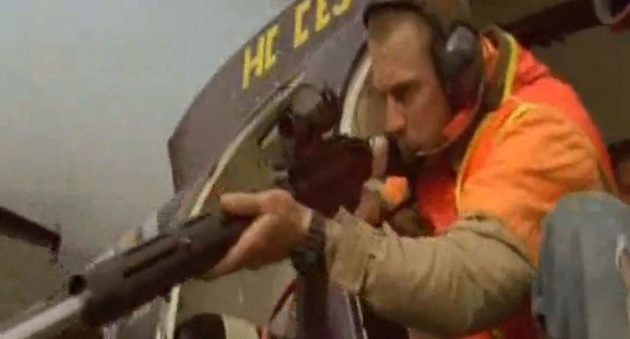 Helicopters are becoming more and more popular for eradicating problematic species. 
Tortoises on the Galapagos Island are facing a threat from a species that isn't your everyday predator. What could cause as much damage on a population as a big, mean predator? Billy goats.
When goats were introduced to the island, they ravaged all the food, and leaving little for the tortoises. The best solution was to eradicate the goats the same way hunters eradicate feral hogs.
[embed_recommendation]
Obviously, the giant tortoises aren't able to compete with the goats for resources, so national park officials needed to step in and help. The sharp shooters traversed nearly 400,000 hectares of land shooting the goats. Likewise, the goats depleted the landscape, affecting not only the Galapagos tortoise population, but the populations of other species as well.
Like what you see here? You can read more awesome hunting articles by Nathan Unger at the Bulldawg Outdoors blog. Follow him on Twitter @Bulldawgoutdoor, Instagram @Bulldawgoutdoors and subscribe on YouTube @Bulldawgoutdoors.
NEXT: 3 DIY HOG HUNTING BAITS THAT WILL ENSURE SUCCESS
The post Hog Hunters Aren't the Only Ones Using Helicopters to Eradicate appeared first on Wide Open Spaces.