Mossy Oak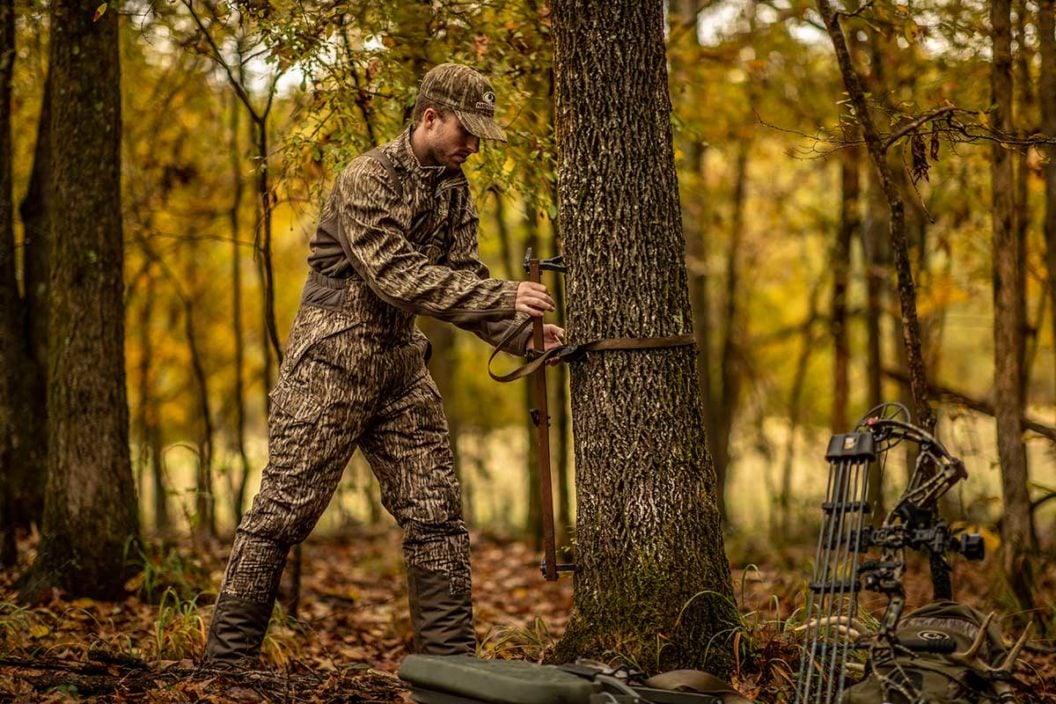 Mobile hunting tactics for whitetails have quickly become one of the biggest players in the game, and one piece of gear that cannot be overlooked in any mobile hunter's setup is the climbing stick. Other than the pieces that safely hold you to the tree, the climbing sticks have to hold the most importance. I mean without the climbing stick you could never get up in a tree.
Quick Guide to Finding and Choosing Climbing Sticks
What makes a good climbing stick? Many hunters value functionality. Climbing sticks need to be sized appropriately and leave plenty of room for a hunter's boot to firmly . It needs to have a sleek design, they need to be quiet, and probably the most important, they need to be lightweight. There are a lot of good climbing stick options on the market today, and I've used several to determine which meet these criteria. What follows are some of the best out there, but I urge you to try them out for yourself and determine what works for you and your hunting style.
Beast Gear Climbing Stick Mini
Hunting Beast Gear has put out some killer products in the last couple of years. The company is headed by Mario Trafficante and Dan Infalt of The Hunting Beast and definitely keeps the mobile whitetail hunter in mind when designing its products. The 20-inch Beast Gear Climbing Stick Mini is built exceptionally well. Its 20-inch height and 2-pound (per stick) weight equals a very compact and portable set. The stick itself has a 300-pound weight rating so larger hunters can trust them to be sturdy and reliable. There are no moving parts, keeping these Beast Gear sticks particularly quiet. You can tell when looking at the design that these were built for optimal strength and still maintain a lightweight configuration. Each individual stick is $99.99, which is a little more pricey than some other options, but there is no doubt in my mind that these sticks are well worth the price.
Hawk Helium Stick
Hawk, an up-and-coming hunting gear brand, has firmly tossed its hat in the mobile hunting ring and is producing quality hunting gear at a reasonable price. The Hawk Helium Stick lives up to its name. This particular stick is a three-step stick measuring 30 inches in length. The aluminum frame provides a base for a lightweight setup. While this a somewhat bigger stick compared to others on the market, it still weighs in at 2.9 pounds. It provides a 300-pound weight rating and optimal climbing comfort for any hunter. The Hawk Helium Stick comes in a three-pack for $199.99 or a single-stick option for $89.99.
Lone Wolf Custom Gear D'Acquisto Series Compact Climbing Stick
You can't think of mobile hunting equipment without the products at Lone Wolf Custom Gear popping into your head. The new D'Acquisto Series Compact Climbing Stick is a top-of-the-line offering and is nearly impossible to match. They're two-step sticks and come in a variety of lengths including 14-inch, 17-inch, 20-inch, and 32-inch (which is actually a three-step stick). They have a 3000-pound weight rating even though the stick itself only weighs an astonishing 1.5 pounds. The reversible step and bracket give these a sleek design. Of course, with such a high quality stick you are bound to pay a high price. These D'Acquisto Series Compact sticks come in at $109.99-$129.99 per stick, depending on the length. But don't let the price diminish your mood. These are some great climbing sticks and named after the legend Andrae D'Acquisto himself. They are a must-have in any hardcore mobile hunter's arsenal.
XOP Ultra Double Step Stick
XOP is the new kid on the block when it comes to making hunting and climbing gear, but they have pulled no punches when it comes to producing quality products. The XOP Ultra Double Step Stick gives hunters the best of both worlds in terms of quality and affordability. The stick is 18 inches and 2.2 pounds and can hold up to 350 pounds, earning the highest weight rating of all the climbing sticks on this list. The bilateral step has a sleek look and a no-room-for-failure approach. The step is powder coated for optimal stealth, quietness., and durability. The XOP Ultra Double Step Stick is $59.99 per stick and $149.99 for a four-pack. XOP's product designs are similar to Lone Wolf's but at a fraction of the cost.
Muddy Pro Climbing Stick
The Muddy Pro Climbing Stick doesn't play around. This is actually one of the first climbing sticks I used years ago and it's still a top seller. The Muddy Pro Climbing Stick is 20 inches and 2.5 pounds, similar to the other sticks on the list. It has a 300-pound weight rating allowing a wide variety of hunters to use it confidently. The most unique feature to this stick is the rope cam attachment system, which provides unbelievably quiet and quick installation. Its simple no-nonsense design is sure to please any mobile hunter who packs it. This stick is priced at $239.99 for a four-pack so it still comes in at a reasonable price point.
The post 5 of the Best Climbing Sticks for Hunting Up High appeared first on Wide Open Spaces.