Photos via Polaris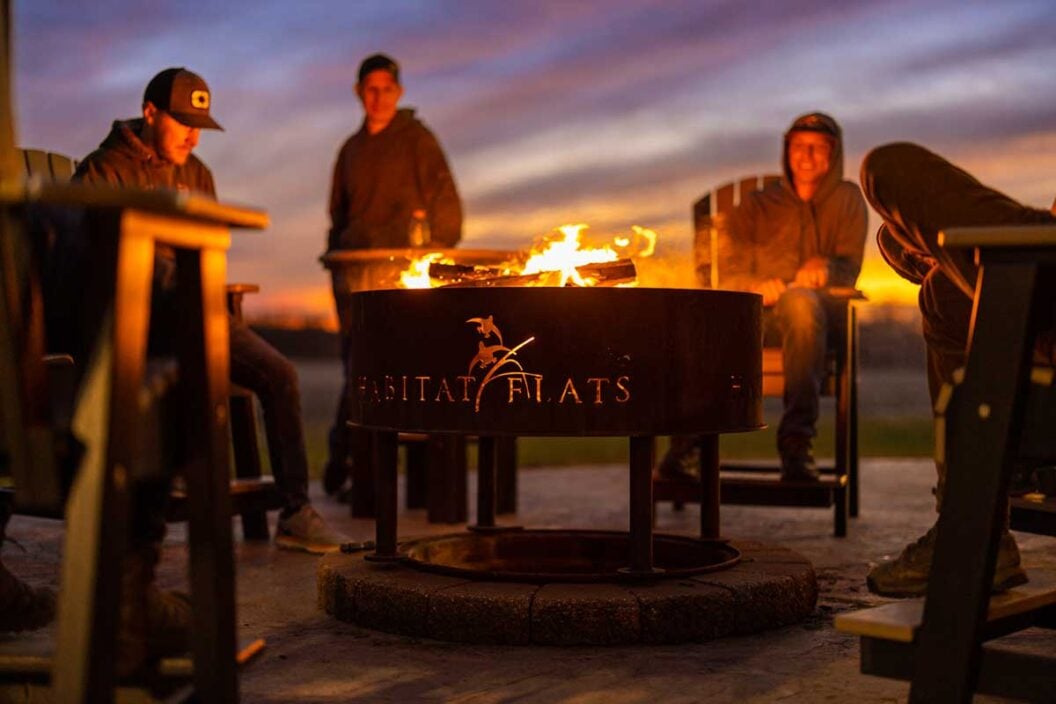 Duck hunters, at least the ones that do it right, are a dedicated bunch. There's a ton of work involved, the kind that would impress a whitetail hunter who practices rigid quality deer management, or a public land elk hunter who relies on thorough scouting. You do all that work, the dirty and sweaty kind in the offseason, and still must count on the conditions and be in the exact right place at the exact right time, or it's all for nothing. But when it's dialed to the utmost degree by a person that's made duck hunting a career, the way it is at Habitat Flats, you can get a unique look into the world of waterfowl, and the lengths some of us go to for the things we love most.
The Man With the Plan
Tony Vandemore is a man that's got it figured out. He put decades of experience into a place that has a knack for already attracting more Mississippi Flyway ducks in the fall and early winter than nearly any other state. He built a sought after outfitting business and is still as involved as he has been since the beginning, tending fields, placing blinds, and hanging out with hunters around the back patio fire. He does it the only way he knows, but that's what seems to have made him so successful. He's got help, but he's definitely got it figured out.
That was apparent on a recent two-day hunt in November with Polaris and several cream-of-the-crop writers and editors from the top bird hunting outlets. Sumner, Missouri is a great place to share a camp with great people who are just as grateful for the experience. It was made even more special with the addition of a brand new Polaris RANGER XP Kinetic, the off-road brand's first fully electric side-by-side, a project that's resulted in a legit revolution. There's game changers, and then there's this.
Vandemore himself can't accomplish the feats he and his crew pull off season after season without the help of a hardworking side-by-side. A fuel-free RANGER with a 45-mile range and torque that'll surprise any naysayer can seriously get the job done. There are 110 horses under the hood (rather, inside the battery compartments) and a 2,500-pound towing capacity, high marks for side-by-sides in the class. It's an extremely quiet, capable machine that makes everyone behind its wheel begin to understand. There are legit advantages unseen before in this line of work, or any outdoor adventuring we get ourselves into.
When there are ducks to hunt and it's actually time to pull the trigger, it all becomes really clear.
Reaching Missouri
Getting to Sumner was easy enough, and the RANGER XP Kinetic was waiting for a walk around with some of the Polaris personnel who were along for the trip. The specs were spelled out, and each new figure was another eyebrow raiser. It's obvious there are little to no drawbacks; the Kinetic maintained all the bells and whistles the standard-setting RANGERs had already established, but was meeting these standards without gasoline or oil. The best part was the integration of Ride Command+, the vehicle health monitoring and locating service, built in to help record trails, share info, and keep track of all the pertinent info an off-roader can put to good use. It works without a cell signal and is a top notch feature.
After the promise to see the Kinetic in action the following morning, the firepit was lit, a few drinks were poured, and the conversation was centered around ducks. It felt like the proper subject, all things considered.
Getting the Feet Wet
A short walk was all it took to get from the RANGER to the blind the next morning, but the water in between was slightly higher than belly button-deep. Waders were very much required and fully appreciated. The blind was warm and spacious though, and the cornfield on the other side of the basketball court-sized pond was just what the duck doctor ordered. A wide spread of decoys was set just in time to magnetize groups of mallards and gadwall before shooting light, and the anticipation was building by the minute.
The hunt was excellent and the coffee was still hot by the time each gun had a limit. Two hard working guides retrieved every last one after the lab that was meant to do most of the work had to bow out due to a sore mouth or jaw. Her complaints came in the form of loud yelps each time she approached a downed duck, as if opening her mouth was causing serious pain. It would turn out later that she had an injury the local vet wasn't equipped to handle, and would require more evaluation by a clinic hours away at the nearest university. Word hasn't come back yet, but here's hoping she's okay.
When you witness a dog in distress and see them in such rough shape, it's going to be emotional. When your own lab of 11 years just passed away days prior to that hunting trip, it hits a little different. This story isn't about him, but the thought of a dog's limited longevity and eventual mortality was a little hard to shake. There's more time later to think about and probably write about him, but that incident made an otherwise fantastic hunt a little more memorable, for less than fantastic reasons.
Dogs are just as important to a hunt as any other able-bodied hand that puts in the work. And they're just as important to anyone who owns them and has to come to terms with the fact that they most likely aren't going to last a human lifetime.
Habitat Flats Kennels
With four-legged hunting companions already top of mind, the afternoon's hunt would shine well-needed positive light on the gun dog culture. Habitat Flats had recently opened a kennel and training facility just down the road from the main lodge. With raised pheasants and plenty of land for proper dog work, the scene was again set up for success. A series of fun and exciting wingshooting, assisted by canines-in-training and their proud, talented owners, even included an unexpected shot at a small covey of quail. It was further proof of the high-quality habitat efforts that Vandemore and the folks he's lucky enough to work with have committed to.
The RANGER XP Kinetic was cruising around the grounds too, exhibiting its torque that's twice as much as any other buggy of its kind. Everyone in the group was able to make the case for how well it would work in their own diverse, geographically unique, generally varied way of hunting. Trust that it would serve well in your neck of the woods, but it excels as a decoy and dog carrying, comfortably climate controlled, ultimate waterfowl wonder machine.
Maybe it was the quick and easy camaraderie and positive vibe, maybe it was the excellent dinner and stories shared after a couple drinks, or maybe it was the quality hunting that so promptly surpassed expectations. Whatever it was, it left a really warm and fuzzy feeling after a couple shots to the gut.
Farewell Bid
The following morning started warm and still, not ideal for the intended blind the Kinetic would zip the group to before sunrise. It wasn't for lack of trying, and birds did eventually show up. Some were downed, and one in particular needed finishing from an ever-courteous and understanding guide. It wasn't easy to admit to missing what should have been a clear-cut shot. But at least the hen made its way to the blind after a quick and generous pursuit, and a wood duck followed shortly after, always a beautiful sight when you get to see one up close. It would have been tough to beat the previous morning's hunt, but it put a cap on the Habitat Flats experience.
Vandemore was around to bid farewell and thank everyone for coming, and all the thanks were vigorously reciprocated. It's hard to say when another chance to be in a place like that, or to drive a Polaris RANGER XP Kinetic for that matter, may come about again. They're both highly coveted things these days, and are particularly hard to get a hold of. It's a testament to their work and effort, emphasized by the relationship between hunters and their dogs, and brought full circle when it's time to head back home.
The post Habitat Flats' Year-Long Efforts Make for a Dream Duck Season appeared first on Wide Open Spaces.