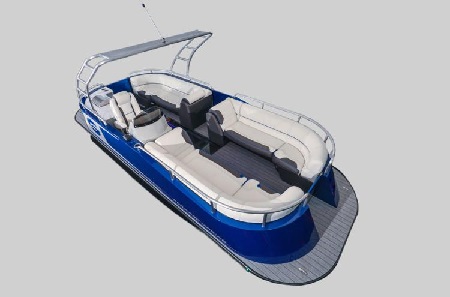 General Motors today unveiled an electric pontoon boat at the Miami International Boat Show. The project is called Forward Marine First, and the automaker designed its own pontoon hull.
"We saw an opportunity to create a great customer experience with an electric pontoon boat," Dan Nicholson, VP of global electrification, controls, software and electronic hardware, told Trade Only Today. "It's in line with GM's vision for the future — zero crashes, zero congestion and zero emissions."
Nicholson said unveiling the boat with the propulsion system viewable beneath clear acrylic hatches in the 24-footer's deck is an "exploration of a new product" at this point.
"We're gauging consumer interest," Nicholson said. "It's one thing to have it on paper. It's another thing to come to the pre-eminent boat show in the United States and see what people think." Continue reading at Trade Only >>> https://www.tradeonlytoday.com/tech/miami-2019-gm-displays-prototype-electric-boat
The post GM to debut electric pontoon at Detroit Boat Show appeared first on OutDoors Unlimited Media and Magazine.