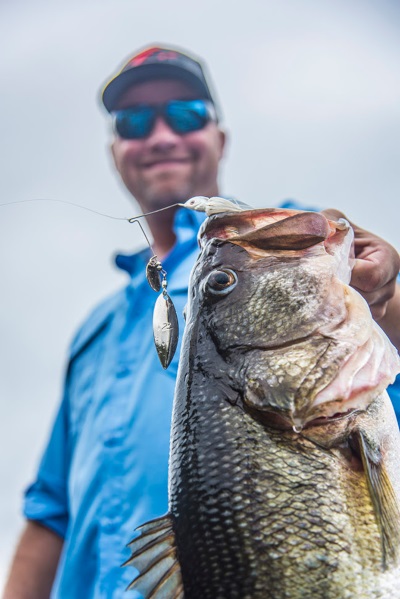 Probably the only painful part of throwing a spinnerbait is finding one that runs consistently straight and true," remarks Miles "Sonar" Burghoff, rising star on the FLW Tour and a veteran of the blade game. Like many anglers, Burghoff had until recently lived with the reality of keeping spinnerbaits in tune, often unsuccessfully— bending wires this way and that, eyeballing the bait for perfect alignment. Even then, some spinnerbaits—even a few fresh from the package—simply wouldn't cooperate. . .
For Burghoff as well as Bass Pro Tour angler Luke Clausen, the angst began to evaporate last year when a state-of-the-art spinnerbait arrived on the scene. Clausen, who helped design the new lure, likens its assets and bass-appeal to another bladed bait, the Z-Man ChatterBait JackHammer.
"There's a reason almost every competitive angler out there is throwing the JackHammer right now," notes Clausen, who's competing in the inaugural season of the Major League Fishing / Bass Pro Tour. "It's the most intelligently crafted lure in its category, by far. Catches a ton of big fish, too.
"We approached the design of the new SlingBladeZ spinnerbait (Double Willow and Willow/Colorado) in much the same way as the JackHammer," says Clausen, "The goal was to address every issue and problem area with traditional spinnerbait design, and fix it and make it better. Ultimately, we've given anglers the highest performing, coolest spinnerbait they've ever fished.
"Other than the fact the lure always tracks with the blade upright and aligned, the first thing that wows you about the SlingBladeZ is its intense vibration," he observes. "You're going to feel that rhythmic thumping right up the line, through the reel and into your hands. The bait's low-vis 17-7 LiveWire frame really amplifies blade vibration. Fished on fluorocarbon, you can almost hear it."
Wielding the lure at recent FLW events, Burghoff has been impressed with the innovative spinnerbait's super-tuned construction. "I've never seen a spinnerbait head design quite like the SlingBladeZ. It's got a low center of gravity with these unique side flanges and a water-channeling underbelly that provides amazing stability. I've slow rolled the lure and burned it on the same day and it always runs true. Pretty cool that I don't have to re-tune this bait after catching several bass."
While many anglers now throw a ChatterBait instead of a spinnerbait, Burghoff says both lures shine in different situations. "The rule I go by is to throw a ChatterBait in any area with grass; it also works awesome for skipping under docks. But for fishing isolated pieces of cover or working through hard-cover such as timber, such as at Sam Rayburn, the SlingBladeZ excels; comes through brush exceptionally well. I also like the spinnerbait in places with at least a foot and a half of water clarity, as well as for working suspended bass.
"At some of the upcoming FLW tournaments, with bass in prespawn, and 55- and 64-degree water, I'll be using the bait to burn water for big bass. During shad spawns, too, the SlingBladeZ has been a total money bait." Burghoff adds that in clear or warming water, tandem willowleaf blades shine. While in dirty or colder water, a tandem willowleaf / Colorado configuration tends to excel. For Burghoff, color choice stays simple: "I really like the Mouserat color, an awesome shad pattern at places like Rayburn or other clear lakes. With a little color in the water, chartreuse/white is tough to beat."
This season, two separate retrieves have produced Burghoff's biggest bass. "The stability of this spinnerbait means I can throw a heavier ½- or ¾-ouncer and really slow roll it in deeper water. I like to add a paddletail trailer to give fish something to key on, close to the hook. My favorite trailer, by far, is a DieZel MinnowZ. It adds buoyancy and unbelievable durability."
The rest of the time, Burghoff employs his favorite spinnerbait retrieve: fast and furious. "Again, you can't do this with a lot of spinnerbaits, because as you amp up the speed, the blades tend to roll. But the SlingBladeZ is so well-tuned you can burn it through brush and elicit reaction bites without the bait coming off center.
"No need for a trailer here. The skirt and blades are more than enough incentive to draw feeding-frenzy-like bites. Instead of a chintzy rubber band, Z-Man used copper wire that makes the lure's silicone skirt flare and breathe. It billows out really nicely, and when you stop-and-go, you get a beautiful pulsing action. I'll trim the skirt maybe ¼- to ½-inch to really accentuate the billow-and-breathe factor."
Clausen calls out another subtle design tweak that comes into play with heavy cover. "See that little bend just ahead of the head? We put it there for even greater balance. But the bend also pushes grass and brush away from the hook, sliding the bait running clean through cover.
"While testing and throwing prototypes of the SlingBladeZ, I actually won a lot of tournament money," he laughs. "But I rarely fish the bait in a straight line. Gotta add lots of random stops and quick-starts, which each produce a different vibration. Tell you another tip that works: Put a Z-Man Swimmin' TroutTrick on the back of a big ¾-ouncer. Burn it as fast as you can. Big smallmouths absolutely stomp it."
The post Super-Tuned SlingBlade Z Spinnerbait for Bass appeared first on OutDoors Unlimited Media and Magazine.