The Chicago Sun Times Reported This First: Tom Kimes understands the universal draw of big fish. ''Normally I would have said no, but when they said how big it was, I had to see it,'' Kimes said about weighing Terry Livingston Sr.'s possible Illinois-record tiger muskie May 9.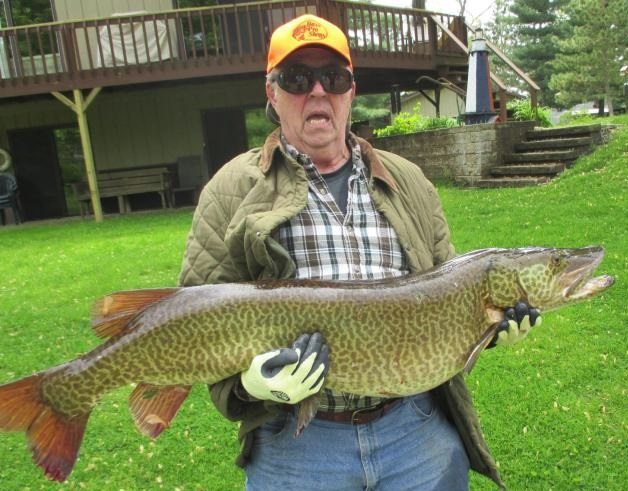 A tiger muskie is a hybrid of a muskie and a northern pike.
There never has been a year like this for record fish in Illinois. Last week added to that, with Livingston's likely tiger muskie and a record brown bullhead from Emiquon. There already have been multiple whitefish records and records for burbot and hybrid crappie.
Matt Bach caught what would have been the state-record rock bass this month, but he had to release it because it was caught at Three Oaks Recreation Area in Crystal Lake. In coming weeks, I will consider Bach's fish — and Illinois fish records in general — and modern issues.
In the past, most grocery stores or meat markets would weigh a record fish on their certified scales. That has gotten tougher.
Livingston, a 69-year-old from Morris, knew enough about certifying an Illinois record to know he needed a certified scale. But his fish was too big to weigh on a scale at a local grocery.
In Livingston's story, one hero is Conservation Police Officer Dave Wollgast, who thought it might be a tiger muskie.
That's how they ended up at the Morris post office, where they took a board big enough for the fish. Kimes zeroed out the scale with the board, then weighed the 501/4-inch muskie (with a 25-inch girth) at 36 pounds, 4 ounces. That would smash the Illinois record for a tiger muskie (31-3 by Michael Behmetuik on Aug. 6, 2004, from Lake Will in Will County).
Livingston and buddy Tom Dolan were ''just out making a few casts for afternoon bass'' off an 18-foot pontoon boat at the Goose Lake subdivision in Grundy County when they saw a muskie by the boat.
The muskie eventually T-boned a 14- to 16-inch shad and kept releasing the shad to reposition it to eat it. Livingston switched to a Rooster Tail on 10- or 12-pound monofilament on an Abu Garcia baitcaster rod and reel.
Continue reading the full article here – http://chicago.suntimes.com/sports/illinois-fish-records-keep-falling-dna-could-prove-tiger-muskie/
The post Giant Record Tiger Musky Taken On Goose Lake in Illinois appeared first on ODU Magazine-North America's #1 Digital Fishing Magazine.