Daiwa announced the arrival of the TACTICAL BACKPACK. Whether you are headed down a trail to a favorite stream or grabbing a seat on your buddy's bass boat, the Tactical Backpack is a versital tackle backpack that is well suited for the angler on the go.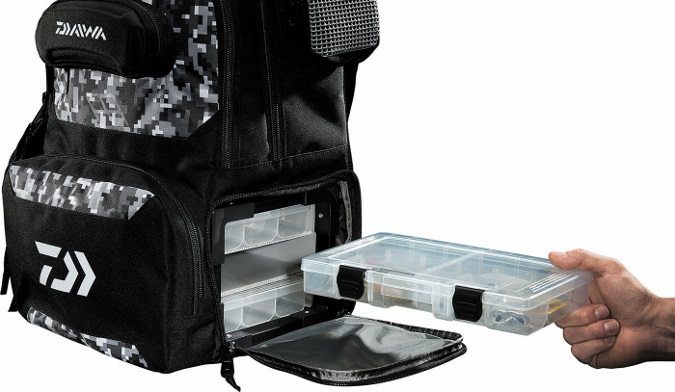 Loaded with features, this unique tackle management system is centered on a 3 Box Stack System easily accessable from the side. Constructed with a Ridged Non-Collapsable Frame, Double Reinforced Stitching and tough #10 Delran Corrossion-resistant zippers, this backpack will hold up to the abuse only anglers can dish out. Configured with Sunglass Case Holder, Plier Holder, Booger Box and Velcro Attachment Area, this backpack can be tailored for individulal needs. Big pockets have ample storage and a Leader Wheel holds two spools for quick and easy line filling. There are few backpacks as well suited for the mobile angler as the new Daiwa TACTICAL BACKPACK system.
· 3 Box Stack System
· Double Reinforced Stitching
· Ridged Non-Collapsible Frame ( PVC riveted )
· # 10 Delran Corrosion Resistant Zipper
· Sunglass Case
· Plier Holder
· Booger Box ( easy access accessory box )
· Velcro Attachment Area
· Leader Wheel ( holds two spools )
The post Daiwa Tactical Backpack for Anglers appeared first on ODU Magazine-North America's #1 Digital Fishing Magazine.