With the explosion of swim bait lures on the market and the pure fact that they catch fish I thought I would give some of my best tips on fishing swim baits. Hopefully, I can give you some ideas that may be new and allow you to enjoy fishing this very popular bait.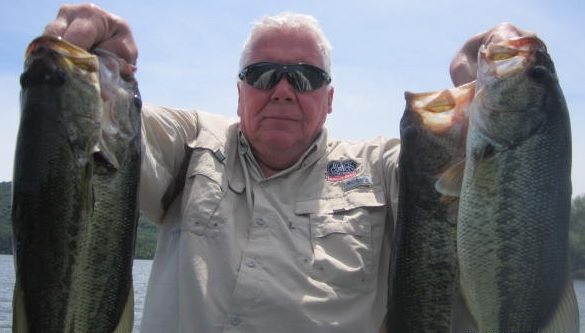 The first thing is to make sure you're rigged properly with rod reel and line giving you the best chance to catch fish with rigging. I fish with a Duckett 7'3"medium-heavy rod for strength, Duckett 6:3:1 reel for average speed and Vicious fluorocarbon 17 lb. test line for sensitivity.
This set up allows me to have good rod strength, get long casts; it also gives me enough reel speed to use an average retrieve to bang the bottom along with good strength in line and no stretch for sensitivity. I believe rigging properly is a key to getting this bait to work and feeling the fish when it hits.
After your rigged properly the next thing is to understand how to fish this bait; let's start out by saying long casts are paramount to being successful; bass are followers and a long cast gives them an opportunity to react over distance to a movement the swim bait makes at some point during the retrieve. I believe from here there are 2 different ways to get this bait to perform; the first is using the bottom to give the bait some natural movement. Meaning a slow steady retrieve with the swim bait banging the bottom allows the bait to naturally jet and bang off natural elements on the bottom. The next is depth retrieve; swim bait is a perfect count down bait that can be used to fish just about any depth. You can fish it deep or shallow just by counting the drop down to the depth you want to fish. If you see suspending fish at 10 ft. you can count it down to that depth and retrieve it back at average speeds and maintain the depth you're targeting. If you're fishing it real shallow you may need to increase reel speed by going to a faster reel or just increasing your turn speed.
These two techniques are my best performing way to catch fish on swim baits and will give you the best chance at being productive with this bait.
Fish Lake Guntersville Guide Service
www.fishlakeguntersvilleguideservice.com
www.facebook.com/FishGuntersville
Email: bassguide@comcast.net
Call: 256 759 2270
Capt. Mike Gerry
The post Swim Bait Techniques appeared first on ODU Magazine-North America's #1 Digital Fishing Magazine.