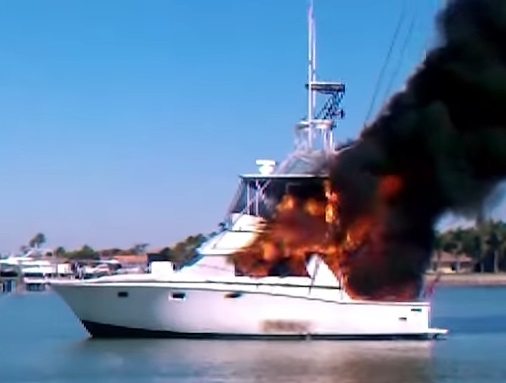 In an effort to improve boat fire safety aboard recreational boats, the nonprofit BoatUS Foundation for Boating Safety and Clean Water today issued "Foundation Findings #55." The report, part of a long-running educational series devoted to boating-safety topics, includes a five-minute video showing three actual boat burns captured by 12 cameras.
The video depicts an electrical fire aboard a small open fishing boat, an engine compartment fire aboard a typical sport boat, and a cabin fire aboard a larger cruiser. By simulating various types of boat fires and capturing on video, Foundation Findings #55 offers boaters a look at how little time they may have when there's a fire aboard. Practical advice on the importance of detection and prioritizing your crew's response, as well as fire prevention and preparation are included at the report's website BoatUS.org/Findings/55.
"We've outlined some simple steps all boaters can take to improve their own fire safety," said BoatUS Foundation Assistant Director of Boating Safety Ted Sensenbrenner. "We want to help boaters, for example, make the decision to add more fire extinguishers than the bare minimum required, or to properly connect their DSC VHF radio to the GPS so that the one-button mayday feature works when they really need it."
For more information on boating safety, go to BoatUS.org.
About the BoatUS Foundation for Boating Safety and Clean Water:
The BoatUS Foundation for Boating Safety and Clean Water is a national leader promoting safe, clean and responsible boating. Funded primarily by donations from the more than half-million members of Boat Owners Association of The United States (BoatUS), the nonprofit provides innovative educational outreach directly to boaters and anglers with the aim of reducing accidents and fatalities, increasing stewardship of America's waterways and keeping boating safe for all. A range of boating safety courses – including 34 free state courses – can be found at BoatUS.org/courses
The post BoatUS Foundation Looks at Boat Fire Safety appeared first on ODU Magazine-North America's #1 Digital Fishing Magazine.