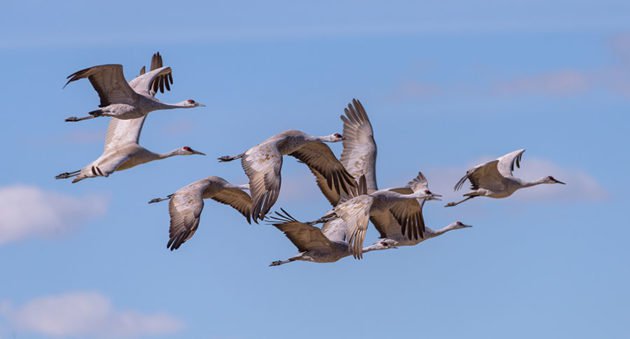 This year marks the first time in 103 years that Alabamians will have an opportunity to hunt sandhill cranes.
This December and January, hunters in Alabama will have their first chance to hunt an official sandhill crane season in over 100 years, says the Alabama Department of Conservation and Natural Resources.
Alabama will be the third state east of the Mississippi River to allow the hunting of sandhill cranes, joining Kentucky and Tennessee.
The Alabama Wildlife and Freshwater Fisheries (WFF) Division will hold a draw for 400 sandhill crane hunting permits in the state. The only hunters eligible to register for the permit drawing are Alabama residents 16 or older or Alabama lifetime license holders. Applicants must also have a regular hunting license and a state waterfowl stamp.
"The last sandhill crane hunting in Alabama was in 1916," said Seth Maddox, WFF Migratory Game Bird Coordinator, on OutdoorAlabama.com. "This is the first time in 13 years that we've had a new species open to hunting. The last was alligator in 2006. It's pretty exciting."
Registration will open in September and the drawing will occur in October. Those who draw a permit must pass an online test on species identification and regulations.
"This sandhill crane season came about through the feedback of hunters," Maddox said. "They started seeing increased numbers of sandhills while they were out hunting other species, especially waterfowl. Hunters wanted the opportunity to hunt this species in Alabama. They'd heard about the seasons in Kentucky and Tennessee from their friends. Hunters have paved the way for the species recovery of sandhill crane. We want to provide hunting opportunities when they are available."
Sandhill crane hunting opportunities will only be limited to North Alabama; specifically, it's the portion of the state that runs from the Georgia state line down Interstate 20 to Birmingham then north of I-22 to the Mississippi state line.
Each permit holder will be allowed a three-bird limit. If they choose to hunt in a Wildlife Management Area, hunters will also need to purchase a separate WMA license.
The Alabama sandhill crane hunting season will be split into two sections; the first segment runs from December 3, 2019, to January 5, 2020, and the second segment will be January 16-31, 2020.
A total of 13 states west of the Mississippi have held sandhill hunting seasons, a sign of the migratory bird's population recovery over the last few decades.
NEXT: ONLY WATERFOWL HUNTERS WILL UNDERSTAND THIS
WATCH
The post For the First Time in a Century, Alabama Will See a Sandhill Crane Hunting Season appeared first on Wide Open Spaces.