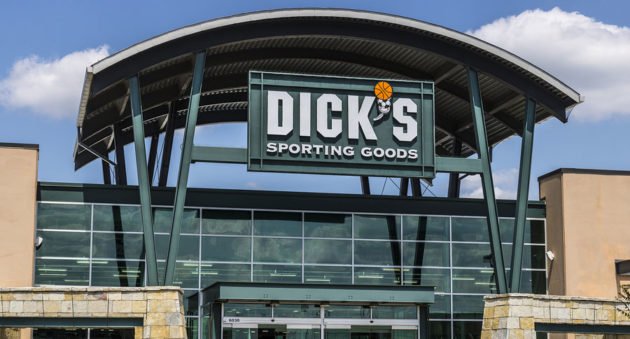 The massive retailer continues to feel blowback after taking a controversial political stance in February 2018.
Following the horrific, infamous day at Stoneman Douglas High School on Feb. 14, 2018, in Parkland, Florida, many Americans found themselves desperately reaching for answers.
The growing trend of shooting violence prompted a wave of Americans to call for stricter gun-control policies, primarily referring to AR-15s and other modern sporting rifles. A number of nationally recognized brands publicly condemned the National Rifle Association, as well as gun-rights activists for their inaction following the deadliest high school shooting in United States history.
One of those brands was Dick's Sporting Goods, a national retailer with a substantial presence in the both the hunting and shooting markets, which has now lost about $250 million after taking a stance less than two years ago.
CEO Ed Stack decided not only to stop selling certain guns and to hire lobbyists to push for stricter gun-control policies, but he also chose to stop selling firearms to customers under the age of 21 and had the company destroy $5 million of rifle inventory.
"I said, 'You know what? If we really think these things should be off the street, we need to destroy them,'" he told CBS in an interview.
Dick's isn't the only company to take a hit for moving off guns, as other notable brands, such as YETI, also felt the backlash of bringing gun rights into question.
While Stack expected the move to result in customers boycotting the company, he still remains unapologetic and confident in his decision.
"The hunting category is a sizeable part of our business; however, there has been an overall slowdown in sales in this category since the announcement of our new firearms policy," he wrote in the company's 2018 annual report. "Despite this, we continue to believe that implementing this new policy is the right decision for our athletes and our communities. In fact, if we could go back and revisit it, we would still make the same choice today."
After choosing to end all gun sales at 125 of its stores, Stack is considering removing the company from the firearms industry altogether.
While Stack claims he expected this type of fallout last year, it's safe to say armed Americans' collective effort to boycott Dick's is working.
NEXT: SEE THE TRAILER FOR 'LEGACY,' A PROJECT UPLAND ORIGINAL FILM
WATCH
The post Dick's CEO Says Anti-Gun Policy Created 'Quarter-Billion Dollar' Loss appeared first on Wide Open Spaces.