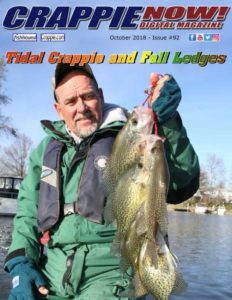 Fall is a transition month for crappie in many parts of the country. Check out fall tips, tidal crappie, fishing the ledges, tournament news and more in the October issue of CrappieNow Digital Magazine.
| | |
| --- | --- |
| | Advanced Seasonal Structure: Fall Ledgesby Tim Huffman Ledges are structures that can work year round. They can be creeks, rivers or ditches and smaller creeks running into bigger ones. Ledges are the focus point… |
| | Tidal CrappieBy Vic Attardo Everyone knows that time and tides wait for no man. Well, apparently crappie, the wonderful fish we love to catch and fillet, are as scientifically informed as… |
| | |
| | Crappie Basics 172: Spider Rig October crappie, whether in the north or south, will be in general areas where they were in the spring. They may not be as deep, but they will be following… |
| | The Best Lines for Crappie FishingStory & photos by Darl Black The year was 1959 when Berkley's Trilene and DuPont's Stren were launched. Although there had been extruded nylon fishing lines prior to these two… |
| | |
| | Crappie Basics 173: Get Shallow"A good tip for October is to just get out and crappie fish. My home lake is Truman, so in the fall we dip the trees. The fish are starting… |
| | Tip of the Month: Keep Changing in the Fall            "October is the time to look shallow if they are not deep," says Noel Fernandez. "The fish will usually be shallow early and stay there. Later, they will move… |
| | 1st Annual Texas Jack-n-Jill Crappie Classic TournamentTeam Reeve announced today that the 1st Annual Texas Jack N Jill Crappie Classic Tournament will be held November 3, 2018 on Lake O' the Pines. Team Reeve has teamed… |
| | Hot Time at Grenada LakeBy: Ron Wong Daytime temperatures of mid-90's greeted 121 teams at Grenada Lake for the final American Crappie Trail tournament for 2018.  Tournament talk during registration was all about catching… |
The post Crappie NOW – FREE Digital Magazine – October 2018 appeared first on .