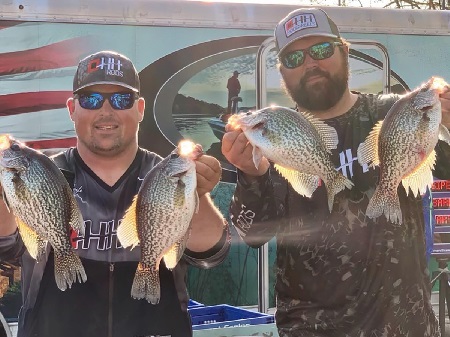 With a strong field and not only a national qualifier victory up for grabs, but also a tight race to claim a 2019 Crappie Masters Florida State Championship. Alabama's Eric Cagle and Wade McDonald held on after a day one lead to go to the victory circle in the Crappie Masters sponsored by The Renewable Fuels Association "Ethanol Fueled With Pride", American Ethanol, and Bass Pro Shops Lake Talquin National Qualifier Tournament and second leg of the Florida State Championship, February 8th and 9th in Gadsden County Florida sponsored by the Gadsden County Tourist Development Council.
Weighing an impressive 15 pounds on day one, Eric Cagle and Wade McDonald held off a hard charge by the eventual 2019 Florida State Champions George Parker and Tim Eberly, along with a day two push from Billy and Scott Williams to take home a win fresh off being named the Crappie Masters 2018 Rookie Team of the Year. With gorgeous pre-fishing conditions, as has become the norm, tournament days brought a passing cold front which brought up higher winds and much colder conditions on Championship Saturday making for tougher conditions for angler teams to deal with. A fact not lost on Cagle and McDonald who after topping the scales at 15 pounds on day one could only muster 12.48 pounds on day two with a Championship weight of 27.48 pounds, but that was enough to hold off Parker and Eberly by .33 pounds and collect the $4,600.00 first place prize along with an additional $500.00 for using E10 fuel in their boat compliments of the Missouri Corn Growers Association and American Ethanol along with the Jenko bonus of $100.00 for using Jenko products. Cagle and McDonald long line trolled a combination of Jigs and minnows including Skippers Jigs and American Toad Thumper Jig Heads both days and credited staying the course as a key to victory.
After a victory the week before, George Parker and Tim Eberly got close to going back to back before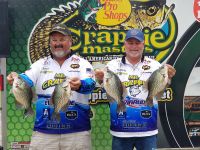 settling for the runner up position weighing 27.15 pounds over the two tournament days taking home $2,300.00 for their effort and just as important, with first and second place finishes, won the 2019 Crappie Masters Florida State Championship and the $1,000.00 prize for that prestigious honor. Parker and Eberly also long lined Jigs and stated that the bite was much tougher on Championship Saturday making some adjustments and caught a two pound fish in the last 15 minutes of the tournament to cull a smaller fish, which vaulted them into second place and a near victory.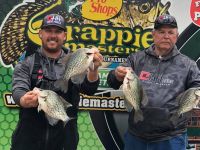 Third place went to the team of Billy and Scott Williams who took home $1,400.00 and as happened in both tournaments, finished one position behind Parker and Eberly which put them in the runner up position in the 2019 Crappie Masters Florida State Championship race winning $600.00. Team Williams long line trolled Lake Talquin and used a combination of baits triggering bites generally on ledges and flats with fish coming up to spawn.
Fourth place went to the local team of Todd Gunn and Edrick Tolbert whose two-day weight of 26.94 pounds garnered them a check for $1,200.00. Big fish honors also went to Gunn and Tolbert whose day one 2.68 pound Crappie held up and won the team $574.00.
Fifth place went to the team of Dustin Miller and Dusty Stewart who were able to parlay their two-day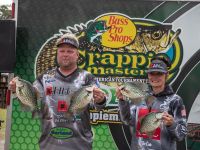 weight of 26.66 pounds into a $1,000.00 check.
Top placing Male/Female honors went to Eric and Leann Howard for the second week in a row winning a Humminbird Helix 5.
The Adult/Youth award, also for back-to-back weeks, went to the team of David Simmons and Jaxon Hall who took home a $100.00 Everharts Gift Card along with a Minn Kota Trolling Motor.
Click here to download full tournament results.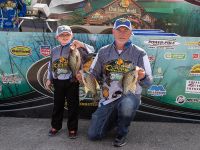 Special thanks to local sponsors that include: Gadsden County Tourist Development Council, Lake Talquin Lodge, Whippoorwill Sportsman Lodge, and Lake Talquin Lodge.
Special thanks to our National Sponsors that include: Renewable Fuels Association, American Ethanol, Bass Pro Shops, Missouri Corn Growers Association, Humminbird, Minn Kota, Ozark Rods, Mercury Motors, Power-Pole, Millennium Marine, Muddy Water Baits, Jenko Fishing, Wyld Gear Coolers, Everharts Outdoor Store, HH Rods and Reels, Off Shore Tackle, Navionics, B'n'M Poles, Bobby Garland Crappie Baits, Midsouth Tackle, American Angler, Crappieholic, Frontier Metal, Valley Fashions, Crappie Now, Slider, Lake Fork Trophy Lures, The Original Rod Sox, Marine Metal Products, Timmy Tom's Jig Company, Crappie.com, Ardent, Fish-D-Funk, Skipper's Jigs, Foxy Fishing Gear, ProBuilt Jigs, Sure Life, Pautzke Bait Company, Fish N Tools, Quickfire, Monster Crappie Media and Huffman Publishing, and KMMO Brad & Brian in the Outdoors.
Related articles
The post Cagle And McDonald Hold Off The Field And Go Wire To Wire For Lake Talquin Victory appeared first on OutDoors Unlimited Media and Magazine.