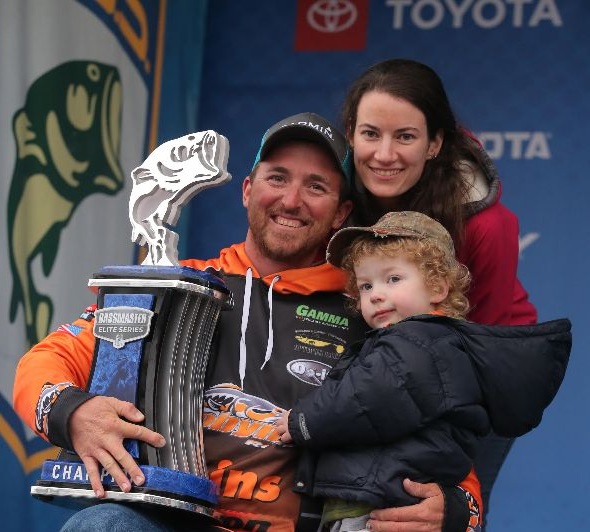 Former B.A.S.S. Nation Champion Paul Mueller proved he belongs in the big leagues of professional fishing by winning a spotted bass shootout on Georgia's Lake Lanier. Mueller earned $100,000 by winning the Toyota Bassmaster Elite at Lake Lanier today.
 
Desperate to fill out his five-bass limit with bigger spotted bass, Mueller returned to a deep ridge that had produced most of his big spotted bass on previous days. There, he managed to dredge up two big spotted bass that pushed him ahead of Texas angler Chris Zaldain by less than a pound.
 
"I struggled today," Mueller said. "I had run out of options, so I went back to my primary spot and caught a 5 1/4 (pounder) and then a 4. Without those two fish, I don't win."
 
Mueller had 18 pounds, 8 ounces for the day, giving him a four-day total of 69-0. It could have been even more. "There were still fish on that spot when I left," he added. "At the end of the day, I lost a couple of big ones. I could have had a 20-something bag today."
 
He described the structure as a large, underwater ridge with two shallower areas on top and very deep water on each side. He caught most of his spotted bass the first day on a Reins Bubbling Shad on a Do It Molds Freestyle Jighead, but the big producer the rest of the time was a 3 1/4-ounce Reins Fat Rockvibe Shad Swimbait on a 1/2-ounce herring head underspin jighead with the spinner removed.
 
"Who would have thought you could win this tournament — a blueback herring tournament — off of one spot?" he said. In fisheries where the nomadic herring are a main staple of bass diet, spotted bass are notorious for leaving their holding areas unexpectedly and en masse.
 
That happened to Zaldain, who also had to contend with a wind shift today that moved his schools of bass. A sudden drop of temperatures into the low 40s didn't help.
 
"I fished long, sloping points all week and had to switch to western banks today because of the east wind," he said.
 
Zaldain was the leader with 51-9 going into Championship Sunday, when only the Top 10 finalists competed, but he fell short with a 16-9 limit today that included two smaller bass. He alternated between a 3-inch Megabass Spark Shad swimbait on a 3/8-ounce jighead and a 3/8-ounce drop shot with a 3-inch Megabass Hazedong Shad.
 
Unlike Mueller and Zaldain, the others in the Top 5, and most of those in the Top 10, fished crankbaits in shallow to medium depths, especially on shorelines and points in 38,000-acre Lake Lanier.
 
Keith Combs of Texas finished third with 66-1, earning a $20,000 payday that pushed him into the Millionaire's Club of B.A.S.S. His career earnings now stand at $1,001,635. He alternated between Strike King crankbaits and a 6-inch shaky head worm and followed a "run-and-gun" pattern to try numerous spots during the day. "I didn't stay anywhere long," he said.
 
Second-round leader David Mullins of Tennessee dropped to fourth with 65-14 after his bigger fish in the backs of pockets deserted him, and Todd Auten of South Carolina moved up into fifth with 63-6.
 
The 75 pro anglers had high praise for the quality of fishing on Lake Lanier, which had never hosted an Elite Series event before. Several spotted bass heavier than 5 pounds were weighed in, but it was a 6-14 largemouth that earned Bill Lowen of Indiana the $1,500 Phoenix Boats Big Bass Award.
 
The 917 bass caught in the four-day tournament averaged more than 2 3/4 pounds, an amazing average for a spotted bass fishery. Also impressive, all 917 were released alive and returned to Lake Lanier.
 
Chris Johnston, a newcomer to the Elites from Canada, claimed the lead in the Toyota Bassmaster Angler of the Year race after two events and earned $1,000. He finished 10th at Lanier and was second behind winner Rick Clunn in the Power-Pole Bassmaster Elite at the St. Johns River, Florida, last week.
 
Lee Livesay of Texas now leads the DICK'S Sporting Goods Rookie of the Year race, earning $500. The highest-scoring rookie at the end of the 10-event Elite season will collect the $10,000 ROY prize.
2019 Bassmaster Elite Series Platinum Sponsor: Toyota
2019 Bassmaster Elite Series at Lake Lanier Title Sponsor: Toyota
2019 Bassmaster Elite Series Premier Sponsors: Abu Garcia, Berkley, Humminbird, Mercury, Minn Kota, Nitro Boats, Power-Pole, Skeeter Boats, Talon, Triton Boats, Yamaha
2019 Bassmaster Elite Series Supporting Sponsors: Academy Sports + Outdoors, Bass Pro Shops, Carhartt, Lowrance, Mossy Oak Fishing, T-H Marine
Toyota Bassmaster Elite at Lake Lanier Host Sponsor: Gwinnett County Sports Commission 
About B.A.S.S.
B.A.S.S. is the worldwide authority on bass fishing and keeper of the culture of the sport. With more than 510,000 members internationally, B.A.S.S. is not only home to the nation's premier fishing tournament trails, but it also boasts the most expansive and comprehensive media network in the fishing industry. Its media include The Bassmasters on the ESPN networks, more than 130 hours of tournament programming on the Pursuit Channel, 250 hours of on-the-water streaming coverage on Bassmaster LIVE and 1 million monthly visitors to the flagship website on bass fishing – Bassmaster.com. B.A.S.S. also provides more than 4.4 million readers with the best in bass fishing coverage through Bassmaster and B.A.S.S. Times, and its radio and social media programs and events reach hundreds of thousands each month.
The Bassmaster Tournament Trail includes the most prestigious events at each level of competition, culminating in the ultimate event on the biggest stage for competitive anglers, the GEICO Bassmaster Classic presented by DICK'S Sporting Goods. The trail also includes the Bassmaster Elite Series, BassPro.com Bassmaster Open Series, B.A.S.S. Nation Series, Carhartt Bassmaster College Series presented by Bass Pro Shops, Mossy Oak Fishing Bassmaster High School Series, and the Bassmaster Team Championship.
 
-30-
Media Contact: Dave Precht, 205-313-0931, dprecht@bassmaster.com | Gettys Brannon, 864-490-7864, gettys@mcalistercommunications.com
2019 Toyota Bassmaster Elite at Lake Lanier 2/14-2/17
Lake Lanier, Gwinnett GA.
(PROFESSIONAL) Standings Day 4
 Angler Hometown No./lbs-oz Pts Total $$$ 1. Paul Mueller Naugatuck, CT 20 69-00 100 $100,000.00 Day 1: 5 16-11 Day 2: 5 18-04 Day 3: 5 15-09 Day 4: 5 18-08 2. Chris Zaldain Fort Worth, TX 20 68-02 99 $25,000.00 Day 1: 5 16-15 Day 2: 5 16-06 Day 3: 5 18-04 Day 4: 5 16-09 3. Keith Combs Huntington, TX 20 66-01 98 $20,000.00 Day 1: 5 16-06 Day 2: 5 16-15 Day 3: 5 16-05 Day 4: 5 16-07 4. David Mullins Mt Carmel, TN 20 65-14 97 $15,000.00 Day 1: 5 17-12 Day 2: 5 19-06 Day 3: 5 14-02 Day 4: 5 14-10 5. Todd Auten Lake Wylie, SC 20 63-06 96 $15,000.00 Day 1: 5 16-01 Day 2: 5 12-14 Day 3: 5 17-05 Day 4: 5 17-02 6. Bill Weidler Helena, AL 20 62-03 95 $15,000.00 Day 1: 5 14-10 Day 2: 5 14-11 Day 3: 5 17-13 Day 4: 5 15-01 7. Brandon Card Knoxville, TN 20 60-04 94 $15,000.00 Day 1: 5 15-15 Day 2: 5 13-12 Day 3: 5 16-06 Day 4: 5 14-03 8. Stetson Blaylock Benton, AR 20 59-13 93 $15,000.00 Day 1: 5 13-12 Day 2: 5 18-11 Day 3: 5 14-03 Day 4: 5 13-03 9. Clent Davis Montevallo, AL 20 58-08 92 $15,000.00 Day 1: 5 15-14 Day 2: 5 15-00 Day 3: 5 14-11 Day 4: 5 12-15 10. Chris Johnston Peterborough Ontario CA 20 57-07 91 $16,000.00 Day 1: 5 15-01 Day 2: 5 16-09 Day 3: 5 14-01 Day 4: 5 11-12 PHOENIX BOATS BIG BASS Bill Lowen Brookville, IN 06-14 $1,500.00 ----------------------------------------------------------------------- Totals Day #Limits #Fish Weight 1 68 361 988-08 2 54 335 900-02 3 33 171 487-09 4 10 50 150-06 ---------------------------------- 165 917 2526-09 Related articles: Clunn Repeats His Magic Winning Power-Pole Bassmaster Elite At St. Johns River Field For The 2019 Bassmaster Elite Series Features Familiar Faces, Rising Stars Bassmaster Elite to Co-Host Tournament to Raise Funds for Veterans, Service Members & Military Families 
The post Connecticut's Paul Mueller Wins Spotted Bass Slugfest At Lake Lanier, Georgia appeared first on OutDoors Unlimited Media and Magazine.