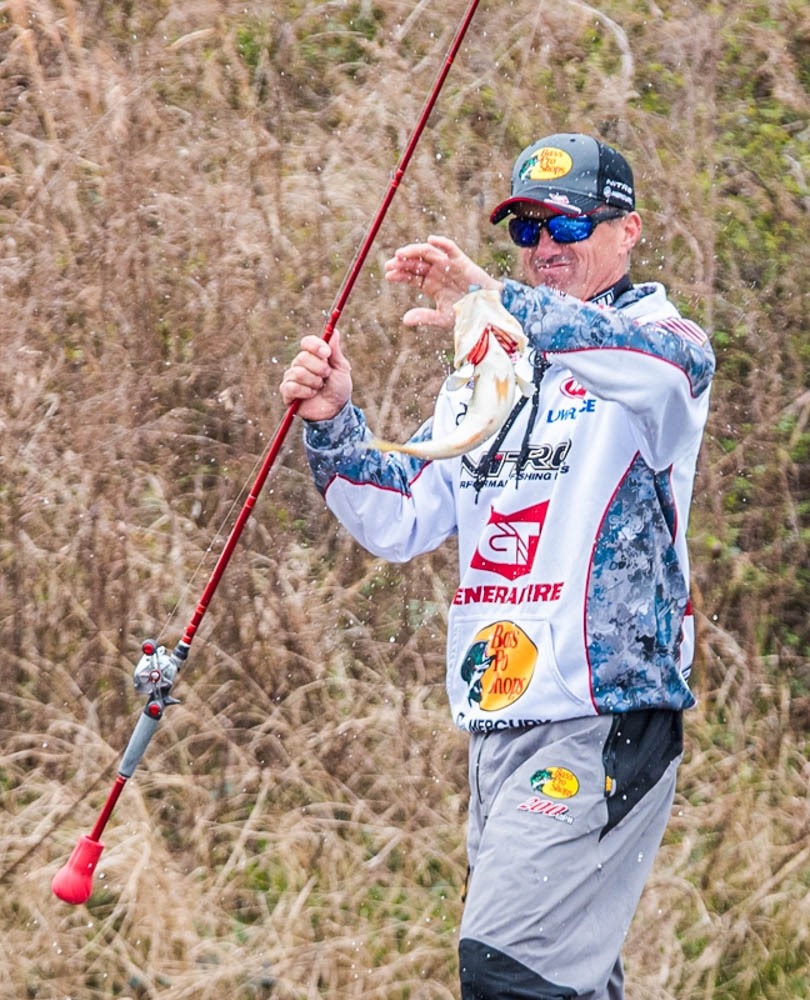 In the immediate aftermath of the first Major League Fishing® (MLF) Bass Pro Tour event in Kissimmee, Florida two weeks ago, Edwin Evers' dissatisfaction with finishing second was palpable. Ever the professional, Evers complimented his fellow competitors and smiled for photos at the Berkley Postgame Show, but no talk of Cup points could bring the Oklahoma pro comfort. Full results: https://majorleaguefishing.com/results/bass-pro-tour/
Sunday afternoon on Lake Conroe, Evers made sure that the only postgame talk would be of how he earned his first-ever MLF Bass Pro Tour trophy.
Evers racked up 51 pounds, 12 ounces to outdistance Jeff Sprague, (40-8), Boyd Duckett (35-15), Brent Ehrler (34-13) and David Walker (34-7) and claim the win at the Bass Pro Tour Huk Stage Two presented by Favorite Fishing. The Oklahoma pro caught 24 scorable fish on the day, including an exclamation point with 9 minutes left in competition: an 8-1 that hit a drop-shot Berkley Havoc Bottom Hopper.
"You can't imagine how good it feels to catch a fish like that," Evers admitted. "I knew there were big fish in there, because I shook some big ones off the second day of the event. The big females just hadn't gotten there yet, but they're coming."
Evers' winning area
Evers' pattern was to flip his way down the bank with a Black Blue Berkley Havoc Pit Boss,
picking out small indentations and grassy, undercut banks and flipping his bait as close to the bank as he could. He also caught some fish on a vibrating jig.
The area that Evers fished – a canal that he found during the Elimination Round – was shallow at the entrance, but fell off into slightly deeper water the further back he went.
"I feel like I know this lake as well as any lake I fish, but I'd never been in that canal before," Evers admitted. "It looked right when I looked at it on the map, and I had it all to myself – I assume because it was probably pretty muddy in practice. The water was just a little warmer and a little bit cleaner on a couple of those key stretches."
Holding off a midday charge
Evers looked like he might run away with the day almost from the opening gun, racking up over 26 pounds in the first period flipping a Berkley Havoc Pit Boss and winding a vibrating jig. Evers accounted for 13 of the 47 fish recorded during the period.
He eventually hit a lull midway through the second period, going nearly 90 minutes without a scorable fish. Sprague, meanwhile, went on a run, putting 8-9 on the scales to pull within 4 pounds of Evers just before the period break.
The Texas pro was haunted by a couple of near-misses on fish that he estimated to be in the 7-pound range.
"I had the chances, but I couldn't execute on a couple of pretty key bites," Sprague said. "I can't complain too much, I had a great week, but I'd like to have a couple of those bites back."
Evers stomped on the gas in the final period, adding seven fish for 21-5 in the final two-and-a-half hours after deciding to stay in his key area instead of moving.
Finishing out the Top 10
Jordan Lee finished sixth with 27-8, followed by Randall Tharp (17-3), Wesley Strader (9-11), Gary Klein (7-0) and Stephen Browning (6-2).
Next up for the MLF Bass Pro Tour
The 80-man Bass Pro Tour field will get a three-week break before heading to Raleigh, North Carolina March 26-31 for Stage Three on Jordan Lake, Falls Lake, and Shearon Harris Reservoir.
For more information on the Major League Fishing schedule, anglers and rules, visit MajorLeagueFishing.com.
About Major League Fishing 
Developed through a joint effort between Outdoor Channel and the PBT anglers in 2011, Major League Fishing brings the high-intensity sport of competitive bass fishing into America's living rooms in the form of riveting two-hour TV episodes. World-class anglers are filmed over the course of a six-day event. The show captures their efforts as they utilize a demanding format that allows them to weigh all the "scorable bass" they catch. Unlike other competitive fishing events, live leaderboards in the boats allow anglers to know their standings at all times. For more information about the game, visit www.majorleaguefishing.com and follow Major League Fishing on Twitter, Instagram and Facebook. You can catch all current and past episodes of Major League Fishing on #MyOutdoorTV, the world's leading outdoor television global, streaming service provider. Also, for more information about MLF anglers, see Game & Fish magazine, the official publication of MLF.
Related articles:
The post Edwin Evers Wraps Up Win of MLF Bass Pro Tour Stage Two on Lake Conroe appeared first on OutDoors Unlimited Media and Magazine.