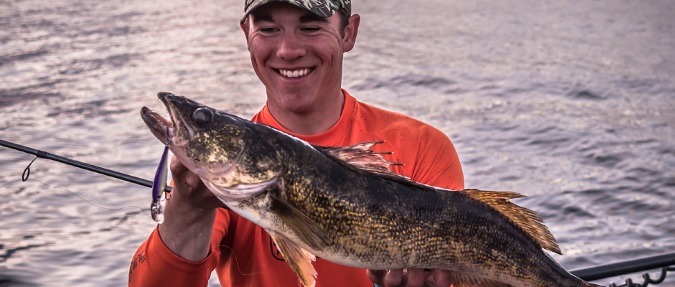 Golden-flanked walleyes are prized catches for anglers across the Walleye Belt, and spring is prime time to get them. Afoot or afloat, you stand a better than average chance of sampling some of the year's finest fishing when schools of hungry 'eyes gather in predictable areas.
But as good as the early season bite can be, consistently hooking up with mind-numbing numbers of these marble-eyed marvels is more than a matter of luck. You need to be in the right place at the right time, fishing the right presentation.
Adding to the challenge, a variety of factors such as fickle weather conditions can give willing biters lockjaw and force fish to flee favored areas—throwing a sizeable wrench in your best-laid plans.
Thankfully, anglers armed with a well-stocked bag of tricks can catch fish no matter what. To help you enjoy your fair share of fillets this spring, we enlisted the aid of hard-fishing guide, tournament champ and Berkley pro staffer Kevin McQuoid.
Timing Plays
Achieving walleye nirvana hinges on finding the fish in the first place. "Walleyes are creatures of habit, spawning in the springtime over shallow-water rock, gravel and other hard bottoms where wave action or current keeps sediments from smothering their eggs," says McQuoid.
Scores of amorous male walleyes storm the spawning grounds first, followed by larger females. Peak procreation occurs at water temperatures of 42 to 50 degrees, after which the fish begin gravitating toward their summer ranges.
"Knowing what stage of this cycle the lake or river you're fishing is in can help you quickly dial in the best fishing spots," he continues. "What started out as an early spring has slowed down in the past few weeks, so right now it's looking like a normal year across much of the walleye's range."
On McQuoid's home waters of central Minnesota's mighty Mille Lacs Lake, for example, he predicts the fish will be in post-spawn mode but not far from the bank when the state's inland walleye season opens May 14th. "I'll focus on relatively shallow feeding areas offering warmer water than the main lake, such as the first major drop-off, points and reefs," he confides.
Dance A Jig
A jig-and-softbait combo is one of McQuoid's favorite setups when walleyes linger near shore. "Rig a 3½-inch Berkley PowerBait Pro Shad, Ripple Shad or 3-inch Pro Grub on a 1/4- to 3/8-ounce, long-shank lead head," he begins. "Using light spinning gear, make long casts to fish-holding areas such as reef tops or small feeding shelves."
"A slow and steady retrieve just off bottom works great, but don't be afraid to try a lift-fall approach by raising and lowering the rod tip," he says. McQuoid favors 8-pound FireLine mainline for such maneuvers. "There's no stretch, so you feel the slight tick when a walleye takes the bait and can set the hook immediately."
Cold Cranking
McQuoid's walleye arsenal isn't limited to jigs. He also casts and trolls appetizing hardbaits like Berkley's Flicker Shad and Flicker Minnow.
"Flicker Minnows hold their action down to 1.2 mph, so they're perfect for slow trolling when walleyes aren't overly aggressive," he offers. "Flicker Shads are better around 2 mph, so they shine for covering water in search of active fish."
He trolls a variety of prime lies, from long points and shoreline breaks to shallow flats with emerging weed growth. "Don't limit trolling to lakes," he adds. "In rivers large and small, structural sweet spots like channel edges and clam beds hold walleyes spring into summer."
McQuoid also casts Flicker Minnows and Shads, primarily to pluck pods of fish from tight quarters—but also when fancasting the tops of large weedbeds or other sprawling strike zones.
"Slow retrieves are typically best," he says. "But sometimes burning a Flicker Shad triggers reaction strikes from neutral fish." When trolling crankbaits, McQuoid likes baitcasting rods and line-counter reels loaded with 10-pound Berkley Trilene XT monofilament. Casting calls for spinning gear and 8-pound FireLine.
Animated Classic
Most of McQuoid's spring casting moves require a slow hand, but Berkley's Gulp! Freshwater Jerk Shad lends itself to more aggressive theatrics.
"I use it to trigger walleyes on reefs and flats, and in emerging weeds," he says. "It's also a great bait for smallmouth bass, allowing you to double-dip where the two species coexist and enjoy a mixed bag of action all day long."
He rigs the Jerk Shad weightless on a 3/0 offset hook and fishes it with a highly animated snap-pause retrieve on spinning tackle and 8-pound Trilene XL mono.
Killer Crawler
McQuoid acknowledges that many walleye fans have a hard time weaning themselves from the live bait habit, even though fish-catching artificial softbaits like PowerBait and Gulp! offer gains in convenience and efficiency.
"If you're not sure about plastics yet but want to get started, troll a 3-inch, nightcrawler-colored Gulp! Killer Crawler on a slow-turn rig behind a bottom bouncer," he says. "Pulling it 1 mph gives the bait the perfect twirling, swirling action to trigger strikes virtually anywhere you find walleyes."
The post Ultimate Walleye Cheat Sheet appeared first on ODU Magazine-North America's #1 Digital Fishing Magazine.