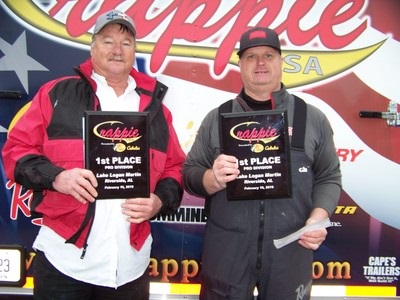 Crappie anglers from several states traveled to Logan Martin in Alabama to participate in a Crappie USA (CUSA) event presented by Bass Pro Shops Cabela's. Local and traveling anglers fished for cash, prizes, and an opportunity to compete at the 2019 CUSA Classic which will feature a guaranteed payout of $125,000 in cash and prizes.
Following a winter pause, Crappie USA resumed tournament crappie fishing at Logan Martin. Dock shooting, vertical jigging, and long lining were all productive in the tournament.
The air temperature was in the high 50's with rain for prefishing on Friday. The Saturday temps ranged from 49-55 degrees with 10 mph winds and cloudy all day.
A total of 26 boats fished the event, 6 in the Pro Division and 20 in the Amateur Division. A total of $7,000 was distributed to the winners.
Pro Division Results
The weigh-in at Riverside Landing had Rodney Talley from Riverside AL and John Baker from Pell City, AL bring in 12.4 pounds to the scales and claim the season's first tournament title.
Talley and Baker fished upriver vertical jigging in cover and shooting a few docks to claim the win. They used chartreuse and monkey milk colored jigs to catch more than 60 Logan Martin crappies on the day.
"The main challenge on tournament day was the current" offered Baker. "They had three turbines on all day and we were washing 1/16 oz jigs. The bite was very light."
The team earned $1,400 for first place and added the Ranger Cup Bonus for $500.
Second place and Big Fish went to Sean Dees and Aaron Knight of Montgomery, AL. They fished the area around the dam targeting 15-foot-deep docks. They were shooting chartreuse jigs and caught around 80 fish on the day and recorded 12.03 pounds at the scales.
"The morning started great," said Dees. "We had our 12 plus pounds around 8 am. We figured if we could cull one fish by 3 pm we would have a great chance to win the tournament! Unfortunately, the water transition changed and the big fish seemed to stop biting for us. We caught 80 plus fish after 8 am, but all around a pound or less. All those fish, but not one to cull."
"Our main challenges were the water transition and forgetting to put the net in the boat," joked Dees. "We had to grab all tournament size fish by hand. We were in such a rush to get to the water we forgot the net, one of the most important tools."
Dees noted that the secret to their success is the friendship he shares with his partner.
He and Knight are both very competitive and they shared the love of crappie fishing.
Dees and Knight earned $600 for second place and added $350 for big fish that weighed 2.30 pounds.
Another $150 went to Robert Harris and Rickard Greer with a 2.18 slab for second Big Fish.
Forest Walker and Jacob Walker teamed up to claim the third spot in the season opener on Logan Martin. Forest, from Centerville, GA and Jacob from Byron, GA weighed in a total weight of 11.68 pounds to claim their spot.
Jacob almost had to fish solo when Forest came down with the flu. But on tournament day he felt better and toughed it out.
"We mainly singled poled all day because prefishing Jacob didn't catch any fish that we thought would win," explained Forest. "We really didn't expect much but knew we had one dock that had a couple 2-pounders on it if we were there at the right time. When we checked it, they weren't there yet so we came back later in the day and someone beat us to it."
Team Walker put over 60 miles on that boat on Saturday but it paid off leaving them a little more than a half pound back from second place.
"Jacob did a lot of the fishing as usual," explained Forest. "At times our type fishing is so fast paced I do all the culling so hats off to him although I did catch our big fish jigging deep brush in front of a dock on a 1/16 oz Jiffy Jig. The fish weighed 1.85 pounds."
Team Walker thanked Jiffy Jigs and Vexan Rods for providing great equipment for them to use in their tournament fishing.
The team fished from Choccolocco to the dam. They were shooting docks and vertical jigging over cover. Their fish came on white/chartreuse jigs. The team caught more than 50 fish on the day and earn a check for $400.
"Mr. Rodney Talley, is someone we call our good friend," concluded Forest. "He deserved the win. He only lives a half mile from weigh-in and he knows every inch of that lake. I couldn't be happier that he won."
Amateur Division Results
Long lining ruled the day in the Amateur Division. Fred Walker from Lizella, GA and Danny Sisson from Warner Robins, GA led the field with a total weight of 12.23 pounds. Their top weight earned them $900. They added the Ranger Cup Bonus for an additional $500.
Walker and Sisson long line trolled upriver to catch their fish which came from various depths. They mixed up the colors on their jigs to catch about 22 fish on tournament day.
The second spot went to Gary Kendrick from Pell City, AL and Blake Kendrick from Hoover, AL. They chose the area from Choccolocco to the dam to pull various colors of jigs to earn $500.
"Color did not seem to be an important factor," offered Kendrick. "The main thing was getting it in front of them."
Jason and Lori Bailey from Andalusia, AL claimed the third-place spot with 11.8 pounds. It was good enough to earn them a check for $400.
Team Bailey was shooting docks in the mid-lake area. They found their fish in 10 to 15 feet of water using chartreuse jigs loaded with Slab Slobber from Crappie.com. They caught more than 50 fish on the day, including a 2.10-pound slab.
The fourth-place spot went to Frank Jackson and James Stewart. The GA team long lined their way to 11.24 pounds and earned a check for $300.
The team was pulling in Clear Creek with blue/black Super Jigs to boat 25 fish on tournament day.
Epilogue
Darrell Van Vactor, CUSA Operations Manager, thanked all the anglers for coming out and braving the weather to fish on Logan Martin.
The CUSA Classic Championship will be held October 23 – 26, 2019 on Old Hickory Lake, Gallatin, TN. It features a guaranteed payout of $125,000 in cash and prizes.
National Sponsors
National Sponsors of Crappie USA are: National Sponsors of Crappie USA are: Bass Pro Shops Cabelas, Ranger Boats, Mercury Marine, Mustad Hooks, Minn Kota, Humminbird, Talon, Lake Master Maps, Gamma, B'n'M Poles, Driftmaster Rod Holders, Ego Nets, Xtreme Bait Systems, Cumberland Crappie, and Double Seats.
For more information on the Classic and other CUSA events visit the website at  www.crappieusa.com and Crappie USA Tournament Trail Facebook Page. The CUSA office is available by phone at 502-384-5924.
Related articles:
The post CUSA Pro Division Victory at Logan Martin in AL goes to Talley and Baker appeared first on OutDoors Unlimited Media and Magazine.