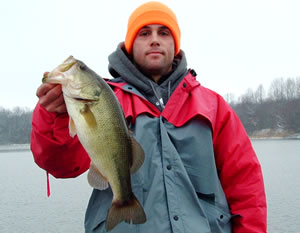 The holidays are long past, hunting season is winding down and watching Bill Dance for the nine-hundredth time just isn't very exciting anymore. Admit it, you are probably bored out of your mind suffering from cabin fever and Bass Fishing Withdrawal Syndrome.
You are experiencing a pain much greater than any medieval torture device – winter in New Jersey! If you are like me, you wake up in the morning dreaming of sunny skies, calm waters, thick beautiful grass beds and bass exploding on a buzzbait. Let's face it, unless you have the opportunity to travel to Florida or you like ice fishing, winter is spent dreaming of spring and five-pound bass…or so you may think.
Let me tell you a little secret. Bass fishing is excellent all year long. You didn't know this? If you didn't, you are missing out. Late fall through early spring produces some of the largest bass of the year! Like the rest of the year, weather is a critical factor. Obviously, if the lakes are covered with ice you're going to have a hard time catching bass. However, when the lakes have open water, like they've been this winter, look out – it can be a feeding frenzy!
During winter bass are going to be in deeper sections of a lake where temperatures are more stable, habitat known as "wintering areas." In shallow ponds with limited deep water, bass are much easier to find. The only drawback is shallow ponds are more susceptible to temperature change. Shallow ponds freeze faster, but also warm up faster. Weather patterns during the end of December and beginning of January 2006 brought unseasonably "spring-like" temperatures. Bass naturally react to these small changes in water temperature and become more aggressive. Conversely, bass react slower to air temperature changes in deeper lakes and reservoirs with depths greater than 20 feet.
One more tidbit of weather information: sunny days are better than cloudy days during the winter.
Probably by now you are either thinking, "this is way too hardcore for me" or, "how do I catch them". If you think it's too hardcore, just put on your snowsuit, gloves, hat, scarf, long johns…you get the picture. Now get out there!
The best part about fishing in the winter is there's no competition. In most cases you have the lake to yourself. If you plan on fishing by boat I have a few suggestions. Number one, wear your PFD. The water is cold and you won't make it very long if you take a swim. Number two, bring a change of clothes just in case you do take a swim. Number three, be cautious launching your boat – boat ramps quickly freeze over and become very slippery!
If you are fishing a shallow pond you really only need a few lures consisting of rattletraps, suspending jerkbaits and jigs. These lures will allow you to cover the entire water column and are effective regardless of how aggressive the fish are. Colors should mimic the primary forage of the lake, such as gizzard shad, alewife, sunfish or golden shiner. Experimenting with retrieve speed is important, but usually the slower the better. The fish have a much smaller feeding zone and the lure usually has to bounce off their head for them to bite.
If you are a winter bass fishing beginner you may want to stay clear of the deeper lakes and reservoirs. However, if you are up for challenges, go for it. When you find bass they will be stacked up!
The key to finding the fish is good electronics, which show bottom contours, baitfish and structure where the fish are holding. Lures such as jigging spoons, suspending jerkbaits and jigs can all be effective depending on the depth the fish are holding at. Live bait, such as small minnows, can also be effective when fished on a small jighead in deep water. You'll also catch some large crappies and yellow perch in the process.
Even though the weather is cold, the bass fishing is hot. Some of the shallow lakes you may want to try are Assunpink Lake (Monmouth County), Stone Tavern Lake (Monmouth County) and Parvin Lake (Salem County). These are lakes where a rattletrap, jerkbait, and jig excel. Deeper lakes like Union (Cumberland County) or Round Valley (Hunterdon County) are better locations for jigging spoons, suspending jerkbaits and jigs. Just remember – you can't catch any fish from your couch, so pack up the rods and head out to your favorite bass lake to give winter bass fishing a try. Don't forget your gloves! Oh yeah! You may want to check with a friend that lives close to the lake before driving there – just in case it's frozen. Good luck and good fishing!
Related articles:
The post Break Out Your Bass Gear – Winter is Still Here In New Jersey! appeared first on OutDoors Unlimited Media and Magazine.