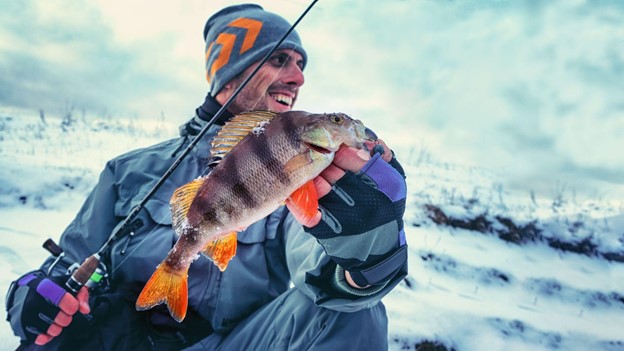 Fishing in the cold winter days is quite an experience. Most anglers usually skip this season and wait for spring to return to their favorite hobby. If you have decided to give it a go, you will be happy to know that from November till February you will have a better success rate as the competition is lower.
Another benefit of practicing this sport in winter is that due to the low temperatures freshwater species group up and thus you have more chances of catching them. Furthermore, you might not find a large quantity, but the quality of the catch is much better. What you can expect to catch is the following:
Perch

Trout

Northern pike

Channel catfish

Grayling

Chub, and so on;
Your worst enemy: the weather
Winter fishing could be very exciting and you might have more luck, but the one thing you can't escape is the cold weather. What you can do about it is follow our guide to the best ways to stay warm while enjoying fishing in winter. We have included many useful tips, so make sure you check them out and apply them on your next fishing adventure.
Clothing: think layers and fabrics
How and what to wear
When planning your fishing outfit in winter, there are some basic rules you need to follow. Layering clothes is the most essential one as you could easily adjust if there is a sudden change in the temperature.
Here is how we offer you to start: choose a comfy t-shirt to wear underneath all the layers. The colors and the design we leave to your taste, but if you are looking for ways to make your fishing trip more exciting, we recommend you check these cool patriotic t-shirts with kick-ass prints. Even though it will be hidden from all the layers, it will bring a smile to your face, especially if you go for a funny or slightly offensive design. 
Over the t-shirt, you can put on a thermal top with long sleeves to keep and regulate your body temperature. These thermal clothes are specially designed for outdoor sports so you don't have to worry about getting too cold or too hot. Sweating is also controlled as most thermal materials are breathable.
After the thermal top comes the polar sweatshirt that will create the perfect insulation for your body in the winter. What you will wear on top of that depends on the weather, so we advise you to get both a sleeveless vest and a warm jacket. This way you can switch them up according to the temperatures.
Let's continue with dressing up the other parts of your body. Keeping your feet warm is probably the most important task, so make sure you buy some thermal socks and invest in fishing shoes. Your goal is to stay warm and dry so that you don't risk coming home with a cold, rather than with a catch.
If you feel like you need more protection from the cold, treat your shoes (and feet) with heated insoles. All you have to do is insert them in your shoes and follow the directions. These insoles will save you no matter if the temperature drops unexpectedly.
You have to protect your head and hands from the cold as well. Once again, we recommend you get a thermal hat and gloves, and why not a scarf if winter surprises you with some strong icy winds?
And finally, if your outer layer is water- and wind-resistant, you have won the clothing game in winter fishing.
Materials to choose and avoid
Surprisingly, cotton is not recommended for your fishing experience in the cold winter months. The reason behind it is in case you get wet while wearing cotton clothes, they will hold the water and thus make you sick. So try to avoid this specific fabric in all layers of clothing (yes, including your underwear).
Wool, on the other hand, is your best friend as this natural material acts as insulation to the body. The same goes for synthetic fabrics which also dries faster in contrast to cotton and even faster in comparison to wool.

When sleeping over
Is your winter fishing adventure going to last more than one day? Then you should consider your sleeping arrangements according to the cold temperature. For those of you who travel with an RV, staying warm won't be a difficulty. Yet, you might want to bring an electric blanket with you in case you get wet or too cold.
For the most adventurous fishermen sleeping in a tent, staying warm might be a challenge. Your very first task is to invest in a good quality sleeping bag so that you don't risk getting hypothermia during the night. Also, going to bed whilst feeling cold is a bad idea, so have some tea before that. As for other fabrics to keep you warm, you can once again count on thermals for clothes and blankets.
Bring a buddy
Even if you have followed all our advice on how to stay warm, there are always unpredictable situations that might risk your health or your life. That's why our last suggestion is to bring a friend on your winter fishing trip. It will definitely be more fun than doing it alone, but also you will both feel safer as there will be someone looking after you.
If you can't find a companion to share your love of fishing with, stay in regular touch with a friend or a family member over the phone. Give them your exact coordinates so they are well prepared if something happens. The cold weather is no joke so the more cautious you are, the better.
Now all you have to do is make a shopping list of all the clothing and accessories we gathered for you and enjoy your fishing trip in the warm and cozy way you deserve to experience it.
The post The Best Ways to Stay Warm When Winter Fishing appeared first on OutDoors Unlimited Media and Magazine.