World-class fishing adventures in a rugged, wilderness setting await on the Namakan Reservoir system in the southern reaches of northern Minnesota's Voyageurs National Park, and you don't need to board a floatplane or portage a canoe to enjoy them.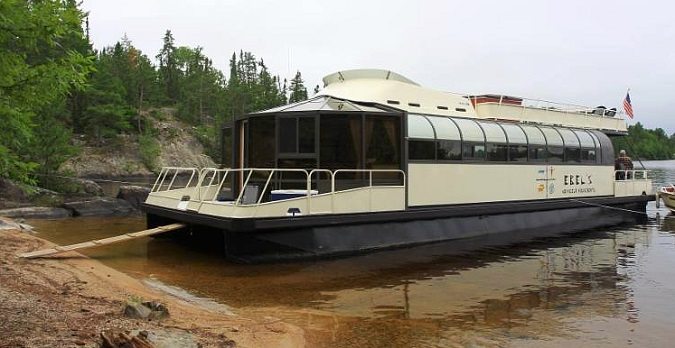 In fact, if you play your cards right, you can catch all the action while savoring the solitude from a luxurious houseboat base camp offering modern conveniences and more. 
Let's start with the fishing. 
Much of the remote reservoir system is located on the border between Minnesota and Ontario, toward the southern fringe of the Canadian Shield. It includes Namakan, Crane, Kabetogama and Sand Point lakes, and offers plenty of reasons to wet a line.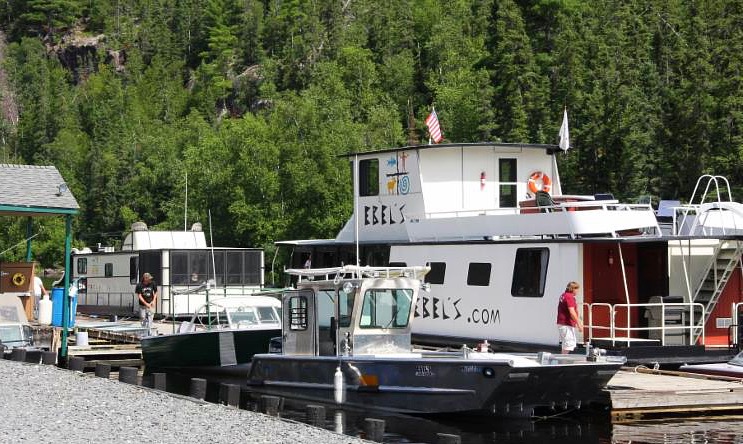 Walleyes, smallmouth bass, black crappies and northern pike are just a few of the species available, and fish populations are in stellar shape. 
For example, according to the Minnesota Department of Natural Resources' latest "status of the fishery" report, northern pike numbers are almost off the charts. Pike abundance is at the second-highest level ever recorded on Namakan, which covers 24,066 acres, and the fishery is home to girthy gators the likes of which are exceedingly hard to find in drive-to destinations anywhere in the Lower 48. 
DNR biologists handled pike up to 44.4 inches during 2016 sampling efforts, and the agency says anglers stand a "good chance to catch very large northern pike." 
Thankfully, Namakan's prodigious pike are no flash in the pan. According to the DNR, the rule-curve used to regulate water levels was changed in 2000 to enhance pike spawning habitat, and long-term trends suggest that the change has boosted pike abundance, with fish size remaining impressive. 
If you're not into tackling toothy dragons, walleyes are another top option. They're present throughout the system, with walleye abundance in Kabetogama well above historic averages. "Kab," which spans more than 24,034 acres, is part of the DNR's Large Lakes Program, an intensive management program for the state's 10 biggest lakes. 
Bass fans will note that Namakan's smallmouths are also well above the norm for this lake type. Though the average bronzeback stretches 13 inches in length, the DNR says "very large" smallies aren't uncommon. 
For its part, 8,526-acre Sand Point Lake also boasts a healthy bass fishery, including the chance for a trophy. Sand Point's pike population is likewise above average, with fish over 40 inches present. Walleyes and crappies are also doing well, adding to the multispecies opportunities. At 2,920 acres, Crane Lake is a study in diversity, offering good fishing for pike, walleyes, bass, crappies and sauger. 
Presentational options are likewise varied. Rocky, main-lake reefs are a favorite target of summertime walleye hunters wielding jigs or live-bait rigs. 
Noted Minnesota fishing personality Chip Leer, who launched his guiding career on the Namakan system, says walleye anglers struggling to put fish in the boat would do well to focus on current-washed areas near the Kettle Falls area. 
"Not right next to the falls, necessarily," he says. "Just find an area where current flows toward the falls and focus on the seam between slick and slack water. Don't be afraid to drop a jig tipped with a minnow into depths of 30 feet in the summer." 
The system's lush shoreline weedlines and weedbeds can also hold walleyes, especially when hit by an incoming wind. Rattling crankbaits and shallow-running cranks are top options for plying the greenery, as are live-bait rigs and spinner setups. 
Summer pike feast on baitfish over deep rock reefs, but you can also find gators cruising bay mouths adjacent to deeper water. 
For smallmouth bass, classic rock-sand transitions hold fish early in the season, but shallow main-lake reefs become hotspots as summer progresses. 
Given the complexity of the systems, many anglers elect to hire a guide their first day to learn the ropes, then fish solo from there. If you're serious about catching fish during your stay, money spent on a reputable guide like local ace Dominic Ruis of Northern Limits Guide Service is a worthy investment. 
Voyageurs National Park stretches for more than 100 miles and includes over 1 million acres of roadless wilderness. It is a beautiful mosaic of forests and water situated between southern boreal and northern hardwood forests. The scenery is breathtaking and the rocky, pine-studded shorelines are rich in wildlife, geology and history. 
French voyageur fur traders and trappers, the park's namesakes, navigated the interconnected waterways more than two centuries ago, opening trade routes to the "Great Northwest." But that's only part of the story. If you look closely, the area still bears evidence of thousands of years of human use, from early Native Americans to commercial loggers, miners, fishermen and homesteaders. 
Many visitors touring the park make the pilgrimage to the Kettle Falls Dam and Kettle Falls Hotel, complete with its iconic slanted wooden floor. 
There is no road access to several of the lakes. Anglers and other users gain access via Crane and Kabetogama lakes, along with the Ash River, which keeps human traffic to a minimum. You may see a handful of other fishing boats a day, along with a few houseboats trading between campsites or headed back to base. 
Given the Namakan system's relatively roadless, water-based makeup, it's ideal for boat-in adventures. Day-trips are an option, as is tent camping in one of the park's designated campsites. Rental houseboats such as those offered by Ebel's add another dimension to the Voyageur experience, allowing you to explore the wilderness while enjoying the comforts and conveniences of a cabin on the water. 
In my two trips to the Namakan system, I've booked an Ebel's boat and had no regrets. Both outings were multi-generational family trips and everyone had a great time. Houseboat occupancy and amenities vary depending upon which boat you select, but standard features include a full kitchen, comfortable beds and bathroom with shower. There's also a spacious upper deck, where some of the boats even have a hot tub. 
The boats are easy to maneuver once you get the hang of it (Ebel's staff shows you the ropes and guides you down the scenic Ash River upon your departure from base). You're free to move around the American side of the lakes by day, and moor for the night on a designated houseboat site.
We chose several of the secluded beachside sites during our stays. To help you choose sites without driving all over the lakes to check them out, the Park Service offers details and photos of each site. Keep in mind there are other houseboats on the lake, so find a site early in the day and if you like it, consider staying until you find another vacant site. 
Towing a fishing boat behind the houseboat is standard procedure, and gives you a chance to sample the Namakan system's bounty from your favorite fishing platform. This, too, is a safe and easy process. When tying up for the night, however, take into account potential wind and waves that could spring up while you sleep. 
However you decide to visit Voyageur National Park, make sure you allow enough time to truly savor its splendor and solitude. The sights and sounds of this wilderness treasure are increasingly precious, and the chance to enjoy it with family and friends is an added blessing indeed. 
Contact Information: Ebel's Voyageur Houseboats, (888) 883-2357, ebels.com; Guide Dominic Ruis, (320) 266-4514, northernlimitsguiding.com. Voyageurs National Park Headquarters, (218) 283-6600, https://www.nps.gov/voya/index.htm.
The post Great fishing and solitude abound in Minnesota's Voyageurs National Park appeared first on ODU Magazine-North America's #1 Digital Fishing Magazine.