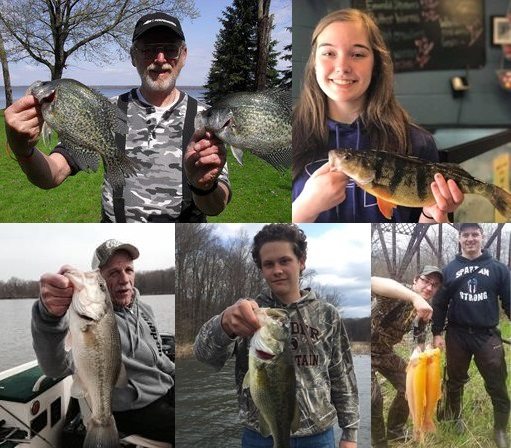 Seems like it has been a long time in coming…but spring weather and the spring bite has arrived in force. Smallmouth in PIB and the Allegheny, walleyes N & S at Pymatuning, crappies popping up all over and trout season opener – all going on strong within the last week or two. Hurry to get in on the great perch fishing at Pymie and PIB! Don't forget the upcoming PLA open tournaments at Py-mie – Crappie and Walleye – both support habitat funds for the lake. Also, Wiegel Broth-ers Marine is having a big Open House on May 5 & 6. Don't forget to check out the Gamma Tip page with comments from two Gamma users. And the Report concludes with a Special Trout Opener Page high-lighting one of several special kids events held that day. GO FISH!
Link to the full report – http://www.blackwolfecommunications.com/Fishing_Reports/04-19-2017/mobile/index.html
The NW PA Fishing Report provides timely angling information for Crawford, Erie, Mercer and Venango Counties – covering all species and all waters open to the public. The fishing comments and photos are offered by regional tackle shops and area anglers, compiled and published twice a month. The NW PA Fishing Report is based on experiences, obser-vations and opinions of individual contributors; information sources are considered relia-ble but comments are not independently verified. In providing information or pictures, you are agreeing to your comments being edited, and posted to websites and distributed electronically.
The NW PA Fishing Report is brought to you by:
Pennsylvania' Great Lakes Region (www.PaGreatLakes.com)
Black Knight Industries, Oil City (www.GammaFishing.com)
Wiegel Brothers Marine, Franklin (www.wiegelbrothersmarine.com)
The post April 21st issue of NW PA Fishing Report appeared first on ODU Magazine-North America's #1 Digital Fishing Magazine.