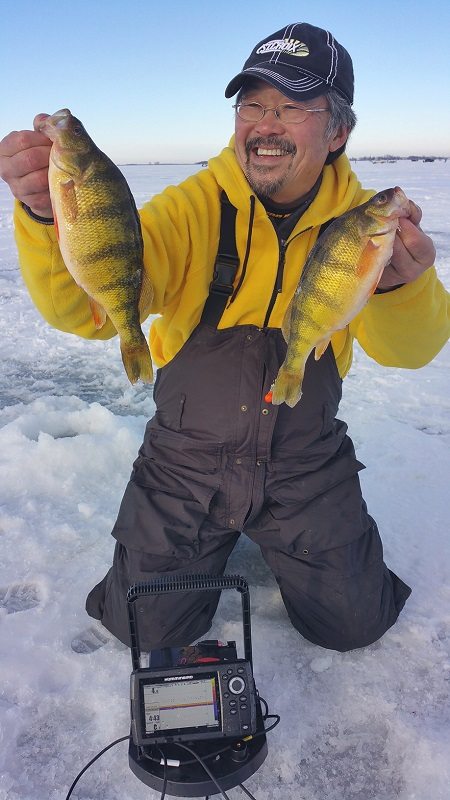 As the weather turns cooler, our thoughts turn to ice fishing. Although it may not seem like it, there is quite a bit of preparation needed before you even hit the ice.  While most anglers wind up following the crowd, the best ice anglers have been scouting their lakes all summer long.
I have noticed that many anglers tend to follow that first guy out on the ice – hoping that he has done his scouting (or that he doesn't end up through the ice). But he likely didn't do any more preparation than they did. So instead of catching fish, they will probably both end up spending most of the winter on community spots, and leave wondering why the ice catching diminishes soon after the ice appears. The common complaint is, "The fish have disappeared".  And they have – as they all have gone home in buckets.
But you can avoid disappointment by finding several spots on your own that are far away from the maddening crowds. This is your best approach to catching bigger fish, as the fish will stay on less-pressured areas longer. Once the hoards come trekking on the ice, the fish often stop biting. A longer trek across the ice will be worth it to get on a spot that you know holds fish.
The best time to find some of those private spots is well before ice up. It's easier to locate likely fish-holding structure by utilizing your electronics from a boat in the fall than using an auger to cut through a foot of ice in the winter. Pick a nice day, launch your boat, and follow some simple steps that will help you enjoy good fishing all winter long.
Mount a good fish finder on your boat (like the Humminbird HELIX 5) and get a good GPS mapping chip of the lake. There is a good probability that LakeMaster mapping chips will have your lake accurately marked in one-foot increments. If not, you can use Humminbird's AUTOCHART feature to create a map of your own.
As you're scouting, note environmental factors in the water – particularly weeds. Tall, green weeds standing straight up will hold fish well after the ice covers the lake. Live weeds give off oxygen that attracts microscopic plankton. Baitfish eat plankton and baitfish bring in larger species like panfish, walleyes, northern pike, and bass.
Determine the depths of these weed lines. Then, look at your LakeMaster map and find areas where the contour lines are widest at those depths. For example, if the weed line is at 10 feet, look for other areas on the map that have wide areas from 6 to 10 feet.  If the weed line is at 16 feet, then look for spots with wide areas from 12 to 16 feet.  Humminbird has a great feature built into their units called "Depth Highlight", where you can shade a depth which shows up in bright green. This makes it especially easy when you are looking for specific areas where the weed lines are. These wide areas are where the weed patches are likely to be the largest, and the bigger the patch, the more fish it will hold. Narrow, close contour lines signal sharp breaks that will be too steep to hold many weeds.
Check out those wide areas with your boat. If weeds are standing, they will hold fish. Look for the points, inside turns, and other irregularities within the weed line. Mark likely locations on the map and enter the coordinates into your fish finder.
If the weeds are dying, you'll need to move deeper. If the water clarity is poor, look for other likely structure that may hold fish, such as points and inside turns on the break lines closest to deep water. Look for suspended fish on your sonar. Watch for rock piles, brush piles, fallen logs and other cover fish will use. Enter those spots into your fish finder, as well.
By the time you're done, you'll have a good mental picture of what's below, and you will have done it far easier than if you'd waited until the ice forms. When you have all of the appropriate waypoints in your HELIX 5, you can easily convert that same unit into an ice fishing unit, which will be complete with a summer's worth of waypoints!
Once your fish finder is set, get your gear ready and do the little things right. Try starting with new line. Old line that has been in your garage for the summer has kinks in it, making it virtually impossible for your jig to hang straight and stay in contact with the bait. Check the eyelets on your ice rods with cotton swabs to identify the ones with sharp edges that need replacing. Go through your tackle box and get rid of the jigs that are rusty or did not produce last year. Sharpen your hooks. Even the littlest ones on your ice jigs can get dull. Check all the batteries you'll have to rely upon. Charge or replace the battery on your ICE HELIX 5 and do the same with your underwater fish camera. Check the charge of the battery on your snowmobile or ATV and make sure you service the oil and other fluids. Make sure you have ample light sources and that they are ready to use. Replace mantles and propane canisters on gas lanterns and the batteries in electric ones.
The Boy Scout motto is "Be Prepared."  Make it yours to ensure the best ice fishing season ever.
The post Ted Takasaki's Pre Plan For Ice Fishing appeared first on ODU Magazine-North America's #1 Digital Fishing Magazine.