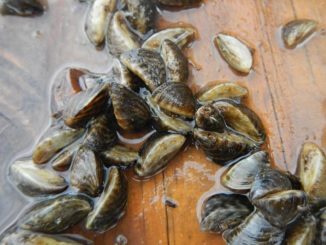 The Department of Natural Resources has confirmed five new reports of zebra mussels in central Minnesota lakes.
Infested waters signs have been posted at DNR accesses on West Battle Lake and Otter Tail Lake in Otter Tail County, Lake Florida in Kandiyohi County, Pocket Lake in Douglas County, and a network of abandoned mine pits in Cuyuna Country State Recreation Area in Crow Wing County.
"While any new infestation is serious, it's important to note that more than 98 percent of Minnesota lakes are not listed as infested with zebra mussels," said Ann Pierce, section manager for the DNR's Ecological and Water Resources Division. "Boaters and anglers, DNR-trained watercraft inspectors and enforcement officers, lake associations and many others are working to keep it that way."
DNR invasive species staff found one adult zebra mussel in the area of an initial citizen report and three adult zebra mussels about three miles from the initial report location on West Battle Lake. The DNR will monitor downstream lakes in Glendalough State Park.
A swimmer found a zebra mussel on a native clam in Otter Tail Lake. DNR invasive species staff searched more than 3,000 objects in the lake and did not find any other zebra mussels. They continue to conduct dock and lift searches, and ask the public to check their equipment and contact the DNR to report anything suspicious.
DNR researchers found zebra mussel veligers (larvae) in Lake Florida while doing other work in the lake. Veligers can be inadvertently but illegally transported in water from an infested lake as ballast, in live wells or in bait water. Boaters and anglers are required by law to open all drain plugs and drain all water when leaving any Minnesota lake or river and to keep drain plugs out during transport.
A swimmer reported a zebra mussel in Pocket Lake. No other zebra mussels were found during extensive snorkel searches by DNR invasive species staff, while connected lakes downstream have had relatively heavy infestations for some time.
Alert divers contacted the DNR upon finding numerous zebra mussels in two abandoned mine pits in the Cuyuna Country State Recreation Area. The DNR is surveying other mine pits in the area. Divers and all lake users are reminded to carefully clean and check their gear when leaving or entering any lake or moving from pit to pit, whether or not it is infested.
Reports from citizens are frequently the first indication of a new infestation, and the DNR appreciates the partnership of lake users, county watershed districts and lake associations.
To protect the state's waters from the spread of invasive species and the environmental, recreational and economic damage they cause, Minnesota law requires boaters and anglers to:
Clean their watercraft of aquatic plants and prohibited invasive species.

Drain all water by removing drain plugs and keeping them out during transport.

Dispose of unwanted bait in the trash.
In 2016, there are more DNR-trained watercraft inspectors and more decontamination units on Minnesota lakes than ever before. Watercraft inspectors check to ensure that boaters and anglers follow clean, drain, dispose laws and may deny access if necessary. Decontamination stations provide a free and thorough process of removing aquatic plants and animals.
More information is available at www.mndnr.gov/AIS.      
The post Zebra Mussels Confirmed in 5 Minnesota Lakes appeared first on .