Fresh off a whirlwind introduction at ICAST 2016, including a Best-in-Show performance in the New Product Showcase, Trapper Tackle reveals details about its ultra-versatile Dropshot/Live Bait/Finesse Trapper Hook. With applications that are as broad and far-reaching as the sport of fishing itself, this is truly a game changing tool that belongs in every angler's tacklebox.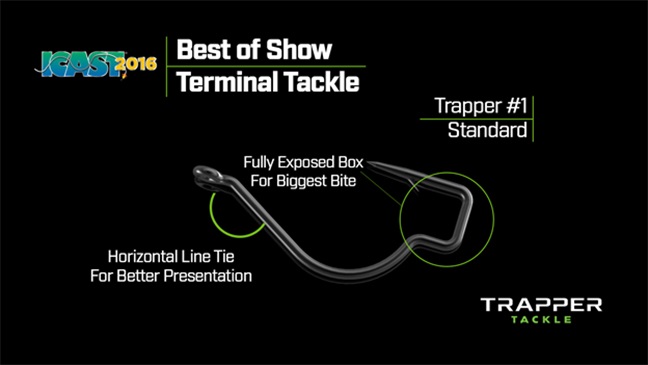 rapper Hooks are uniquely designed to address two persistent problems anglers face when using antiquated J-shaped hooks: First and foremost, J-hooks rock and rotate in a fish's mouth as the fish fights for freedom. The thrashing expands the initial point of entry and creates a path to escape. Second, the round bend of J-hooks allows soft plastics and live baits to slide freely along the hook shank as the bait is cast and retrieved, or fished through cover. That unwanted mobility leads to frequent adjustments between casts, consuming valuable time on the water. The patent-protected design of the Trapper Hook addresses both of these problems with two right-angle bends at the base of the hook shank, creating the Trapper Box, which locks fish – and baits – in place.
With Trapper Hooks, anglers spend less time re-rigging, while landing more striking fish. This is truly the ultimate "win-win" proposition for anglers, originating from a seemingly simple, "why didn't I think of that" change in hook geometry.
The Dropshot/Live Bait/Finesse hook from Trapper Tackle is poised to take the bass fishing scene by storm. Vince Hurtado, former B.A.S.S. Elite Series angler and Trapper Tackle pro, relies on Trapper Hooks for all of his finesse and dropshot presentations. "I fish with total confidence when I tie on a Trapper. The Trapper Box at the bottom of the hook keeps my baits rigged perfectly and keeps fish pinned so I know they are coming to the boat.," says Hurtato, who has logged thousands of hours and hundreds of California Delta bass testing Trapper Hooks over the past several seasons.
Far from a bass-only proposition, the Trapper Drophshot/Live Bait/Finesse hook also excels at securing and presenting a wide variety of live and natural offerings. Walleye anglers rejoice at how well Trapper dropshot hooks hold jumbo leeches, crawlers and live minnows, delectables that frequently tempt trophy whitetips from the depths. Carp and catfish chasers will find that corn and dough balls are accommodated equally well in the Trapper Box. Likewise, wader-clad anglers in pursuit of migratory trout and salmon will quickly learn that the Trapper dropshot hook excels when dressed with spawn bags and single egg presentations.
The award winning ultra-versatile Dropshot/Live Bait/Finesse hook from Trapper Tackle can truly find a home in any angler's tacklebox.
Anglers will find the Trapper dropshot/live bait/finesse hook in five sizes, ranging from #4 to 2/0, in packs of 6 (MSRP $3.79) or 25 (MSRP $14.99), with retail and on-line availability in December 2016. Until then, visit us at http://TrapperTackle.com to sign up for free samples and to learn more about the game-changing family of Trapper Hooks from Trapper Tackle.
The post Trapper Tackle Dropshot/Finesse Rigs appeared first on .