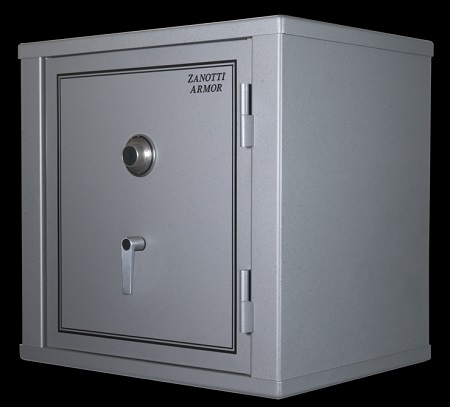 New developments for the Executive X-1 safe include a proprietary Fire Shield capable of protecting your valuables even if disaster strikes. Rest assured your personal belongings are safe wrapped in this extra layer of defense from Zanotti Armor.
Like all other Zanotti Armor safes, users have the ability to tailor their safe to their own specific style and preference. Exterior finishes include your choice of Black or Gun Metal Grey. A flexible interior offers users the ability to design a layout specifically set up for your personal belongings.
Pre-orders are being taken now with expected delivery in January 2019. The first 50 pre-orders will receive a $100 credit towards purchase of the safe.
Specifications for the X-1 Executive safe:
Weight: 375-400 Lbs

Expected Availability: January 2019

Dimensions:

Height – 30"

Width – 31"

Depth – 25"

MSRP: $1,450
About Zanotti Armor – Zanotti Armor is a manufacturer of premium safes and security options located in the Heartland of America. Established on a foundation of innovative design and craftsman-level quality, Zanotti Armor is the only choice for discerning home owners looking to protect valuables and personal property. Advanced security features, long-lasting durability, and an innovative modular design make your Zanotti Armor safe the only safe you'll ever need to buy.
Related:
Pointer Phenoma Semi- Automatic Shotgun
Escort Revolutionizes Shotgun Operation System
Retrograde Series of Pump-Action Shotguns From Mossberg
The post Zanotti Armor New Executive Safe, the X-1 appeared first on OutDoors Unlimited Media and Magazine.