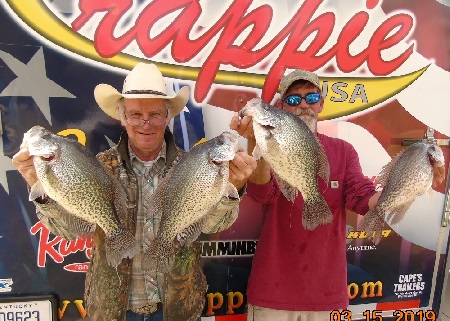 Crappie anglers from five states traveled to Lakes Marion and Moultrie at Santee, SC to participate in a Crappie USA (CUSA) Super Event presented by Bass Pro Shops Cabela's. Local and traveling anglers fished for cash, prizes, and an opportunity to compete at the 2019 CUSA Classic which will feature a guaranteed payout of $125,000 in cash and prizes.
Anglers were greeted with 80-degree weather on Friday, with winds SW at 10 to 15 mph. Rain moved in by late afternoon, followed by a cold front. Saturday challenged anglers with much cooler temperatures and high winds from the SW. Runoff from area creeks had muddied the water.
A total of 20 boats fished the Santee Cooper event on March, 15 and 16. Eleven boats in the Pro Division and 9 in the Amateur Division. A total of $10,600 was distributed to the winners.
Pro Division Results
The top spot in the two-day Santee Cooper event went to Charles Knight Jr. and Charles Knight III from Camden SC. They weighed had a weight of 30.17 pounds in the two days of fishing to earn a check for $3,000.00.
"We long line trolling in Taw Caw Creek in Lake Marion," said Charles Knight III, known to his friends as Chip. "We were using black and chartreuse AWD Swimming Minnows and chartreuse Charlie Brewer Sliders. They worked best in 12 to 15 foot of water."
"The storms came through on Friday night," continued Chip. "The cold front made the big fish move out and it was hard to find a big bite on Saturday. We had to fight the heavy winds both days. It was 10-15 SW on Friday and 10-15 N on Saturday."
The father/son team, who fish South Carolina Crappie Association tournaments regularly, caught 15 to 20 fish each day. Their Friday bag of 17.41 was the best weight they have ever had, a testament to the Santee Cooper fishery.
"The best part of all is that I got to fish Santee Cooper with my father," concluded Chip. "We have fished and hunted together as I was growing up but a few years ago I asked him to fish a tournament with me in NC. We finished second and he has only missed one with me since. We had won a few but not on this level."
The runner-up spot went to Dennis Outlaw from Camden, SC and Russell Rush from Columbia, SC. Their bag weighed 29.34 pounds and earned them the second spot and a check for  $2,000.
Outlaw and Rush fished lake Marion in 17 to 20 foot of water. The team choose long line trolling as their fishing method. They rigged with Garnett/Blk AWD baits to catch a total of 60 fish at the windy weekend tournament.
A local father/son team earned the third-place spot. Father and mentor, Whitey Outlaw, and his son Matt Outlaw know the Santee Cooper waters well. Living in Saint Matthews, SC they have had the opportunity to fish about every square inch of the local waters.
The B'n'M Poles team choose to target spawning fish by single pole jigging. They were fishing in 1.5 to 2 feet of water to bring a bag of 27.13 pounds to the scales and earn a check for $1,000.
They used Mid-South glow jigs to approach nervous spawning fish in the shallow water. Indicating that they had to approach the fish quietly, they put about 55 crappies in the boat in two days of fishing.
Lynn Robertson of Lancaster, SC and Robert Jackson of Camden, SC finished fourth
with 26.01 pounds. Their bag included a tie for the Big Fish award. Their weekend of fishing earned them a check for $300 for placing an additional $300 for splitting the Big Fish pot with a 2.84-pound Santee Cooper slab.
The Georgia team of Robert Harris and Richard Greer rounded out the top five. Harris from Warner Robins, GA, and Greer from Kathleen, GA Earned $250 for the Ranger Cup Bonus.
Sixth place went to the team of Ellis and Jon Cannon. They were the other side of the tie for Big Fish. Their 2.84-pound slap earned a $300.00 half of the Big Fish Pot.
Joe and Janette Carter won the Talon bonus of $250 
Amateur Division Results
A solo angler, Robert Denen, took the top place in the Amateur Division. Denen from Youngstown, OH weighed 16.13 pounds to earn $1,500. He added another $250 for the Ranger Cup Bonus.
"I was spending my time in the lower lake both days," reported Denen. "I was long lining in about 15 feet of water and finding crappie suspended around 13 feet deep. I had Jenko Cyprus Creek rods rigged with 6-pound Gamma line."
Denen was pulling 16th ounce Charlie Brewer jigheads tipped with Jenko Big T Curly Fry. After the cold front moved in, he found the fish were liking smaller baits.
"On day two I had to cut the Curly Fry down for a smaller profile," said Denen. "I used a bluegrass color and a chartreuse line. I was running at 0.6 mph. They wouldn't bite if I was going any faster."
Second place in the Amateur Division went to Matthew Varnadore and George Hutto from Swansea, SC.           They earned a check for $1,000 for a bag of 14.17 pounds.
Varnadore and Hutto fished 4 to 6 foot of water in Lake Marion. They were vertical jigging green or orange jigs. They targeted spawning fish to catch more than 45 fish for the weekend.
Ken Vinson from West Union, SC and Avery Hoilman from Easley, SC claimed the third spot in the Amateur Division. They brought 13.45 pounds to the scales to earn $500.
Vinson and Hoilman fished Lake Marion on Friday and moved to Lake Moultrie on Saturday to drastically improve their weight from 2.61 pounds on Friday to a total of 13.45 pounds for the tournament. They were pulling purple and black/chartreuse jigs to catch 10 crappies for the weekend.
Epilogue
Darrell Van Vactor, CUSA Operations Manager, sent special thanks to Joanie Pinter with Santee Tourism and Mayor Donnie Hillyard for their support of the event.
We were pleased to hold our Crappie USA event in conjunction with Lakefest at the beautiful Santee Town Center," said Van Vactor. "We will be back for this event next season and look forward to being a part of a growing Lakefest weekend celebration.  
The CUSA Classic Championship will be held October 23 – 26, 2019 on Old Hickory Lake, Gallatin, TN. It features a guaranteed payout of $125,000 in cash and prizes.
National Sponsors
National Sponsors of Crappie USA are: Bass Pro Shops Cabela's, Ranger Boats, Mercury Marine, Mustad Hooks, Minn Kota, Humminbird, Talon, Lake Master Maps, Gamma, B'n'M Poles, Driftmaster Rod Holders, Ego Nets, Xtreme Bait Systems, Cumberland Crappie Double Seats, Brushpile Crappie, Charlie Brewer Slider, Crappie Now Magazine, Church Tackle Co., Jenko Fishing, Big Bite Baits, Lake Cumberland CVB, Crappie Magnet, AWD Baits, EFX Graphics, Fin n' Frames, Crown Trophy, and JR Madd Breading.
For more information on the Classic and other CUSA events visit the website at  www.crappieusa.com and Crappie USA Tournament Trail Facebook Page. The CUSA office is available by phone at 502-384-5924.
Related articles:
B'n'M Pole Company – Catching Crappie in High Muddy Water
Crappie Masters – Carlile and Nichols A Single Pole Victory At D'Arbonne
The post CUSA Pro Division Victory at Santee Cooper, SC goes to Team Knight appeared first on OutDoors Unlimited Media and Magazine.