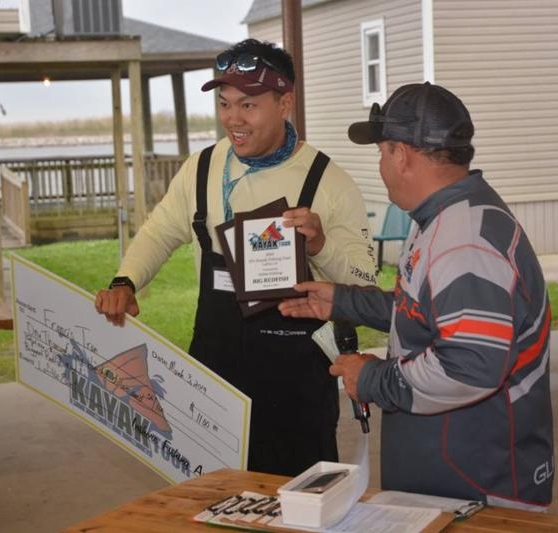 Francis Tran, of Pass Christian, Mississippi, measured a combined limit of 55.50 inches to win the first regular-season event for the 2019 Louisiana Division of the IFA Kayak Fishing Tour on March 3 at Lafitte, Louisiana.
Tran made a good showing despite this being his first year fishing the IFA Kayak Tour. The angler fished topwater baits and Berkley Gulp! in the Hopedale area. Tran's 41.00-inch redfish was the longest of the event and won the angler the $100 Berkely Gulp! Big Redfish award to go along with the $1,000 first-place cash.
Second-place finisher Terry Pham, of Gretna, Louisiana, measured a combined total of 53.50 inches to win a total of $900, including $345 in Anglers Advantage cash. Pham fished the waters along Highway 23 with Berkley Gulp! under a cork.
Longtime IFA Kayak Tour angler and former champion and Angler of the Year Mathew Vann, of Pensacola, Florida, measured a 29.88-inch redfish and a 23.25-inch trout to take third place. Vann's trout was the longest of the tournament and won the $100 Berkley Gulp! Big Trout award.
Vann reported wet and windy conditions while fishing around Hopedale. The angler targeted his fish by deep cranking and throwing topwater baits. For his efforts, Vann took home a total of $710.
The next stop for the IFA Kayak Tour is Port Aransas, Texas, on March 31. Anglers who enter at least two events and compete in at least one event will be qualified for the 2019 IFA Kayak Tour Championship.
The fastest-growing kayak fishing tournament trail in the country, the IFA Kayak Fishing Tour events are catch-photograph-release tournaments, offering inshore kayak anglers from a multitude of states the opportunity to participate in competitive fishing tournaments with low entry fees and minimal travel requirements.
IFA events are made possible through the sponsorship and continued support of these well-respected brands: Hobie Fishing, Ranger Boats, Bass Pro Shops, Cabela's, Mercury Marine, Garmin, Berkley Gulp!, Berkley Gulp! Alive!, PENN Reels, Spiderwire, Navionics, Power-Pole, Valley Fashions,  T-H Marine, ATLAS, G-Juice, and Powertex Group.
IFA Kayak Tour – Louisiana Division
Lafitte, La. (Top 6)
Francis Tran – 55.50 inches

Terry Pham – 53.50 inches

Matthew Vann – 53.13 inches

Matt Carr – 52.88 inches

Derrick Douglas – 51.13 inches

Aaron Clay – 50.00 inches

Brock Miller – 49.13 inches

Benton Parrott – 49.00 inches

Ian Gileski – 48.50 inches

10.Justin Miller – 46.00 inches
Related:
FLW – Catch Your Personal Best from a Kayak
Hobie Launches Elite Level Kayak Series on Lake Chickamauga
RAYMARINE Supporting Kayak Anglers
The post Tran Wins IFA Kayak Fishing Tour Event at Lafitte, Louisiana appeared first on OutDoors Unlimited Media and Magazine.