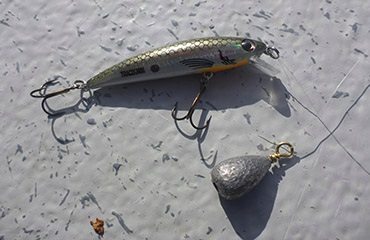 If you prefer trout fishing in a crowd, stop reading. If you favor elbow room, but maybe have always assumed the trout might not bite well in the middle of the winter, keep reading. 
I spent today fishing Arkansas' legendary White River, fishing between the seasonal catch-and-release area in White River State Park and the Wildcat Shoals access area. The air temperature was just below freezing when we launched, and the river was ripping, enough so that the posts of several parking lot signs were under water. Apparently eight floodgates at Bull Shoals Dam are staying open around the clock.

Sounds like tough conditions. Doesn't it? Here's the report. Outdoor writer Dave Mull and I caught 50 trout, all on artificial lures. Most were rainbows, which ranged from typical stocker size to about 16 inches. Several were brown trout up to 20 inches.
The truth, according to longtime White River guide Donald Cranor, is that winter is one of the best times of the year to catch trout on the White River, and the high flows that are common during winter lend themselves to throwing lures like Rebel Minnows and Crawfish and to catching big trout.
The fish we caught today all hit Rebel Tracdown Minnows or Tracdown Ghost Minnows, which we fished over gravel bars on what local guides call a "river rig." The rig is weighted with a 3/8-ounce bell sinker on a dropper line, and with that rig you can present a Rebel Minnow just off the bottom, where the fish are holding in the strong current.
If the river is fairly high, but not flooded, the same lures can be cast close to shoreline cover and reeled back or jerked and paused.
 For outstanding riverside lodging, check out CedarwoodsLodge.com.

The post Winter Trout Slam: Winter On The White River appeared first on ODU Magazine-North America's #1 Digital Fishing Magazine.