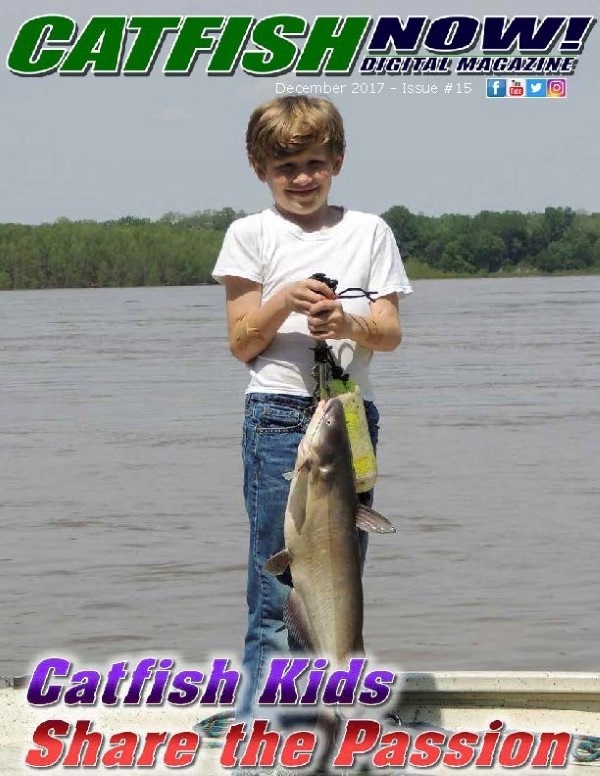 This month's issue of CatfishNow brings you stories of kids and catfish. Most people agree that the sport needs to recruit more youth to help it grow. This issue is full of tips that will help you provide a memorable fishing experience with youth. You will also hear from some kids that are likely to be involved in catfishing for years to come. Share the passion. 
December is the month of visiting and enjoying family, friends and especially children. Building a lifetime of memories during this blessed season and special times fishing. Based on this theme, we thought it would be a fit to dedicate the December CatfishNow edition to kids. Growing up in the boot …
8 Ways to Make Family Catfishing Trips Unforgettable for Kids>Story and photos by Keith "Catfish" Sutton-Fishing excursions with children should be about more than just catching fish. It's funny the things we remember. When I was 10 years old, my grandmother took me, my younger sister and two young cousins on a fishing trip that remains vivid in …

Catfish Basics #029 – Five Basic Fishing Tips – Cooper Jackson>Ten-year-old Cooper Jackson is this month's cover boy. He is lucky enough to have a catfishing father, Rusty Jackson, to take him fishing. Evidently, he has been paying attention on the river because he has some tips for other youngsters. Fishing is a lot like school. You need to do …
Catfish Profiles in Passion – Nicholas Lyon>By Ron Presley-What isn't there to love about cat fishing Nicholas Lyon compares his passion for fishing to Christmas morning. It's exciting, it's uplifting, and it's fulfilling. Fishing in general is an adrenalin rush for him, but there's something special about catfish. "I would describe my passion for catfishing …
Conservation Terms to Teach Your Kids>By Ron Presley-What should you teach your kids about conservation? To begin with, kids can understand, at a pretty young age, just what it means to conserve. In our efforts to teach them about catfish conservation we should first teach them what the word means. If they spend all …
Catfish Basics #030 – Practice, practice, practice ─ Hunter Fussell>Hunter Fussell caught a 41.83-pound blue cat to earn the Big Fish Championship belt in the Youth Division at the Santee Cooper Monster Cat Quest in 2017. The Goose Creek, SC, angler believes in taking care of the fish. He was spotted in the water at the release point accepting …
Bringing Them up Right>By Brad Durick- How I got my boy interested in catfishing As anglers there are two things that we all must take very seriously. First, we must be conservationists to protect the fish and fisheries so there is clean water and fish to catch for generations to come. Second, we …
Catfish Kids: Low Country Field of Dreams>By Ron Presley- It's all about the kids Low Country Field of Dreams started out providing deer hunts for kids. Now, in their 13th year they still provide deer hunts, but have expanded to offering turkey hunting, dove hunting, and two fishing trips – a striper trip and a catfish …
The Importance of Taking Kids Fishing>By Joe Schmitt, Ph.D.-Candidate, Virginia Tech Department of Fish and Wildlife Conservation Take a kid fishing, the future of the sport may depend on it! Our digital culture We live in a digital era. We are constantly distracted by thousands of TV channels, Netflix, video games, Facebook, and YouTube …
Personal Best ─ Conner King>By Ron Presley-The enthusiasm of youth Like most anglers do, 13-year-old Conner King reminisces about his personal best (PB) catfish. Also, like most catfish anglers, he looks forward to breaking it. Conner comes from a catfish family, so it's no mystery that he would have a passion for catfishing …
Why We Catfish>A Guest Editorial with Madison Atkins and Christopher Grose Editor's note: In this special issue of CatfishNow, dedicated to catfish youth, we ask two tournament catfishing youth why they catfish. Their answers are recorded below. It is our hope at Catfishnow that more young anglers like these two will join …
Catfish Calendar>DEC 16th CATFISH MAFIA LOWER POTOMAC CLUB JAN 6TH SOUTHEASTERN CATFISH CLUB LAKE WYLIE CLUB JAN 20th CATFISH MAFIA LOWER POTOMAC CLUB JAN 20th FISHIN BLUES ELLSWORTH SHOOTOUT JAN 27th JKV CATFISHING GREEN RIVER CLUB FEB 3rd CABELA'S KING KAT TENN/TOM WATERWAY CLUB FEB 3rd SOUTHEASTERN CATFISH CLUB LAKE WATEREE …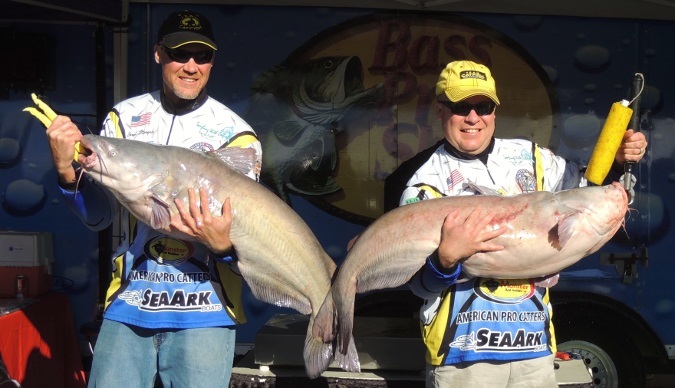 Catfish Profiles in Passion – Masingale Catfishing
By Ron Presley
Consistency is the word most often used to describe Masingale Catfishing. "Brothers Jason and Daryl Masingale will catch fish 99 percent of the time in any water," said one fellow angler.
"What can I say," asked a tournament competitor. "They are tough and know how to fish. They always do what needs to be done to catch fish."
The two anglers, from Paragould, Arkansas, got their fishing start early in life. They both credit their dad for instilling the love of fishing in them. Their passion started in small ponds and ended up in the Mississippi River and beyond.
"From as early as I can remember our dad would take us fishing at small ponds near our house and at my grandparents," recalls Jason. "We fished for every species of fish that was big enough to get on a hook."
"We fished those farm ponds for bass, bluegill, and catfish," added Daryl. "Dad taught us how."
The brothers have been addicted to fishing since they were four or five years old. "Instead of begging for toys on a trip to Walmart we were in the fishing isle looking at fishing baits," said Jason. "We would try to convince mom or dad why we had to have whatever fishing lure we were wanting."
As the brothers got older they started fishing the ponds on their own. When they were old enough to drive they expanded their adventures to other ponds, lakes and rivers.
 "A couple of our friends would borrow their dad's jon boats and we would fish out of them. We thought we were big time when we were able to do that," joked Jason.
In their high school and early college years they started to target catfish and consequently discovered tournament fishing. It was a fellow catfishing enthusiast that took them fishing on the Mississippi and peaked their interest in tournament fishing.
Whether it's tournament fishing or recreational, the fun is in the fishing for the Masingale brothers. Bent poles are something that makes them happy, and it doesn't necessarily have to be their poles.
Like most tournament catfishers, the Masingale brothers hold catfish conservation high on their list of priorities. They recognize that catfishing is not like it used to be and more anglers need to play a role in conserving what we have.
"I would love to be able to go back 300 years and see the rivers like they were before human influence," suggested Daryl. "We will never see it like that, and won't be able to undo what has been done, but what we can do is take care of what we currently have. Anglers should promote taking care of our natural resources, and keep them clean. I ask everyone not to litter, leave it like you found it or better."
Practice CPR," advised Daryl. "If you want to catch fish to take home for dinner, take the smaller fish. Return the trophy size fish for breeding stock. The genetics needed to grow trophy fish can only be passed on if they are allowed to spawn. I hope that fishermen in the future are able to have the same opportunity we have today. Better yet, if we all do our part, the future anglers will have a better opportunity to catch trophy fish."
"I feel it is everyone's responsibility to protect the resources and environment to the best of their ability," added Jason. "Natural resources, such as fish and game, are totally dependent on the rules and regulations that are applied to them. It is up to us, as sportsmen and sportswomen, to protect, maintain, and improve these resources. Whether it be through trophy length limits or restriction of overall limits, it is very important that appropriate measures ensure that future generations will continue to enjoy these resources."
Jason says it's not too late. "We still have the opportunity to protect the waters that produce trophy fish. We can improve those waters that have suffered from over harvest."
"When I first started tournament fishing I recall how I enjoyed being able to go talk to the sponsored tournament fishermen," said Daryl. "I would like to be remembered as the guy that anyone could talk to. I love sharing what I know and helping other anglers catch fish."
 "Fishing for me has always been a way to escape the stresses of everyday life and work," offered Daryl. "It's a way to enjoy the beauty of nature and enjoy the simple pleasure of feeling the tug of a fish on the end of my line." 
"I like the challenge that fishing provides," continued Daryl. "It is the challenge to catch a fish bigger than you have ever caught. You never know if the next bite will be the one you are looking for. Everything can change in a split second. The anticipation of that possibility is why I love fishing."
 "Whether it's watching a bobber go down, catching skipjack, or drifting in 80 feet of water on the Mississippi River, the excitement is the same," explained Jason.  "It is an escape from the stresses of work and life. I can fish all day and realize at the end of the day that I was so focused that all I thought about was what can we do to catch more fish."
Daryl at 46 and Jason at 44 are proof positive that hard work, determination, and teamwork pay off. They have plenty more tournaments to fish, and an abundant amount of catfishing tips and techniques to share.
For more Masingale Catfishing an extended version of this article can be found in the FREE September 2017 issue of CatfishNow Digital Magazine at www.catfishnow.com. 
The post The December CatfishNow Mag Is Out appeared first on ODU Magazine-North America's #1 Digital Fishing Magazine.