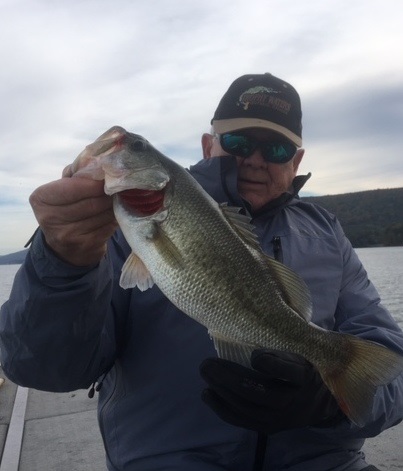 The bravest of hearts and determination is the only thing that can lead you to the right spot on a cold winter day; and even in North Alabama we can see winter time morning temperatures in the teens forcing you to pick the correct targets. I have personally put my boat in the water with the temperature about 17 degrees and the wind blowing out of the north and believe me it's not for chickens; couple that with fishing for just a few bites can really test your fortitude.
The good news is when you do land a fish its one you have been looking for all year; as 2013 proved to me one day in early February with 3 bites and 34 pounds of bass that it is all worth it. The key is getting to the right locations; the old saying fish where the fish are and here are a few places to look.
I have three types of bottom locations I go to regularly in the cold; the first being rocky areas, rocky hard bottom areas of the lake are ideal spots for those big winter time fish. Its easy feeding for bass as most crawfish hold around rock and bass find safety around bottom structure that has constant depth change like a rocky bottom does. Next are ditches, and road beds these bottom areas create highways for bass to feed and move along the bottom when it's cold. The coldest nastiest winter days these roadbeds and ditches are always where the bass move too as bass get right on the bottom when the weather is at its worse. Look for the change in the roadbed where it dips or comes up or ends to find where the bass will be located. My 2013 haul of 34 lbs. came off a road bed, the road bed ended at a rocky bank and the bass were all within 20 yards of each other. It was about 15 casts in this short area that produced this enormous stringer. Lastly I look for quick drops where steep depth change and current come together to give bass an ambush point along a river channel or at the end of a quick dropping point; step drops are ideal when we find a winter day with weather really cold early but some warming as the day moves on.
If you brave the cold, and find the right locations those nasty winter days can be worth it!
Fish Lake Guntersville Guide Service
www.fishlakeguntersvilleguideservice
www.facebook.com/FishGuntersville
Email: bassguide@comcast.net
Call: 256 759 2270
Capt. Mike Gerry
The post Winter Locations For Big Largemouth appeared first on .